tThere must be a compelling reason as to why the London Bucket List destinations rank top each year as some of the world's best travel destinations! Just think that they compete with the azure waters of Maldives and Bali, the romantic atmosphere of Paris, or the eerie and enchanting lights of Aurora Borealis!

And yet, London with its timeless charm and cultural riches, manages to bewitch travelers to embark on a remarkable journey filled with historical wonders, iconic landmarks, and memorable experiences.  To guide you through this vibrant metropolis, we've meticulously curated a comprehensive London Bucket List featuring 35 unmissable sights and experiences.

Each item on this list will answer essential, frequent questions about London for your visit to the heart of the United Kingdom. So, let's dive into your ultimate London adventure!
London's most famous Bucket List Destinations  – London Bucket List
1. Tower of London: Unveil Centuries of Secrets
The Tower of London, an unmissable gem of historical significance, invites you to step back in time and unravel centuries of captivating secrets. Dating back to the 11th century, this iconic fortress and royal palace has witnessed it all. Its renowned exhibit of the British Crown Jewels showcases the splendor of regal opulence, with the Imperial State Crown and the Koh-i-Noor diamond as its dazzling stars.
But the Tower's allure extends beyond gemstones. Within its ancient walls lie the chambers that once held infamous figures like Anne Boleyn and the enigmatic Princes in the Tower. These stones breathe history, echoing tales of political intrigue, betrayals, and the harsh realities of life within.
Amidst it all, the Tower's guardian ravens continue to watch over their presence shrouded in legend. This iconic landmark promises a journey through time and a glimpse into the secrets that have shaped the course of history.

📌 London EC3N 4AB, United Kingdom
ℹ️ Official website|📱 Instagram
2. London Eye: Elevate Your Perspective 
The London Eye is London's modern marvel, offering a unique experience that redefines your perspective of the city. As you ascend this iconic Ferris Wheel, you're treated to breathtaking panoramas, providing an enchanting way to see London. 
From this lofty vantage point, you'll witness the city's landmarks, the meandering River Thames, and a harmonious blend of historical and modern architectural wonders. The London Eye is more than a ride, it is one of the most special ways to view London, offering a comprehensive grasp of the city's vastness, history, and ever-evolving spirit in one awe-inspiring panorama.

📌 Riverside Building, County Hall, London SE1 7PB, United Kingdom
ℹ️ Official website|📱 Instagram
3. British Museum: A Journey Through Human History – London Bucket List
The British Museum is an unparalleled window into human history. And it is without a doubt a must-visit for travelers with any length of stay. 
This museum's compact layout ensures you can make the most of even a short visit. Explore the galleries dedicated to ancient civilizations, where you'll encounter the Rosetta Stone, the Elgin Marbles, and countless other artifacts that bridge the past to the present. Whether you're captivated by Egyptian mummies, Greek sculptures, or Mesopotamian relics, the British Museum offers a fascinating journey through the chronicles of humanity, making it a treasure trove of history that's open to all.

📌 Great Russell St, London WC1B 3DG, United Kingdom
ℹ️ Official website|📱 Instagram
4. Paddington: Quaint Charm in the Heart of London
Paddington is a charming district that oozes a welcoming, village-like atmosphere amidst the bustling city. Explore its streets lined with colorful houses, enjoy a serene stroll along the Regent's Canal, and be sure to visit Paddington Station to pay homage to the beloved fictional bear, Paddington Bear, whose adventures began here.
📌 Subway station in London, Praed St, London W2 1RH, United Kingdom
5. Thames Boat Trip: London's Landmarks from a Liquid Perspective
What else can you not miss in London? Embark on a boat trip along the Thames River, an absolute essential. This liquid perspective unveils iconic landmarks like the striking Tower Bridge, the majestic Houses of Parliament, and the resplendent St. Paul's Cathedral, all from the serene waters. It's a journey that combines history and scenic beauty as you glide beneath the bridges that have become symbols of London. Whether you opt for a leisurely cruise or a high-speed adventure, exploring the city from the river is a captivating way to witness the beating heart of London's iconic landmarks.
6. Buckingham Palace: Royal Elegance in the Heart of London – London Bucket List
London's royal allure culminates at Buckingham Palace, a symbol of regal elegance. It stands as a tribute to the British monarchy, and a visit here is synonymous with London's rich heritage. Witness the grandeur of the Changing of the Guard, a time-honored tradition that exudes pageantry and precision. Inside, the opulent staterooms reveal the splendor of royal life, offering a glimpse into the world of queens and kings. Buckingham Palace is where tradition meets contemporary royalty, a place where London's history and the enduring legacy of the monarchy come together in a remarkable and elegant display.

📌 London SW1A 1AA, United Kingdom
ℹ️ Official website|
7. Madame Tussauds: Celebrities in Wax
Step into the world of fame at Madame Tussauds in London, where the most famous personalities in the world are brought to life in astonishingly realistic wax figures. From movie stars to historical figures, sports legends to pop icons, this attraction offers a unique opportunity to get up close and personal with your favorite celebrities, all under one roof. Madame Tussauds is an unmissable stop on your London bucket list!

📌 Marylebone Rd, London NW1 5LR, United Kingdom
ℹ️ Official website|📱 Instagram
8. Hyde Park: Nature's Respite in the Urban Jungle
One of London's most special treasures is undoubtedly Hyde Park. Nestled in the heart of the bustling city, it provides a serene escape into nature. This sprawling green oasis is a place where the urban jungle gives way to the tranquility of meandering pathways and the glassy waters of the Serpentine Lake. Hyde Park invites you to unwind, offering peaceful strolls, picnics, and even boating. The park also hosts various cultural events and festivals, adding vibrancy to its timeless beauty. It's where the city's pulse slows down, letting you savor the natural charm at the heart of London.
📌 Hyde Park Corner, London Underground Station
ℹ️ Official website|📱 Instagram
9. St. Paul's Cathedral: Ascend for Unforgettable Vistas – London Bucket List
No matter the duration of your stay, a visit to St. Paul's Cathedral is an absolute must. The majestic dome of this iconic church beckons you to ascend, promising unforgettable vistas of the city. As you climb to its summit, London unfolds beneath you in a breathtaking panorama. Marvel at the sprawling metropolis, from historic landmarks to the modern skyline. Inside, explore the crypt, where famous figures like Sir Christopher Wren rest in peace. St. Paul's Cathedral is a symbol of London's grandeur, offering an experience that marries history and awe-inspiring views for every traveler to cherish.

📌 St. Paul's Churchyard, London EC4M 8AD, United Kingdom
ℹ️ Official website|📱 Instagram
10. Natural History Museum: A World of Wonders Awaits
The Natural History Museum is a treasure trove of marvels, captivating visitors of all ages. Here, you'll embark on a journey through time and life on Earth. Encounter awe-inspiring dinosaurs, their colossal skeletons taking you back to prehistoric ages. Explore the intricate workings of the human body in captivating detail. This renowned institution houses a breathtaking array of exhibits, from rare gemstones to meteorites, offering a deeper understanding of our planet and its history. With its interactive displays and immersive experiences, the Natural History Museum is a world of wonder where learning becomes an adventure, making it an essential stop on your London itinerary.

📌 St. Paul's Churchyard, London EC4M 8AD, United Kingdom
ℹ️ Official website|📱 Instagram
11. Tower Bridge: History in Suspension
Tower Bridge is celebrated for its iconic design and status as a symbol of London. Strolling across this marvel is more than just crossing a river; it's a journey through history.
While traversing its suspension walkways, you'll witness the intricate mechanics that allow this engineering masterpiece to lift passing vessels. Delve even deeper by visiting the Tower Bridge Exhibition, where you'll uncover the bridge's fascinating past. Learn about its construction, pivotal role in London's development, and the stories behind its imposing twin towers. Walking across Tower Bridge is a captivating blend of historic exploration and awe-inspiring views.
📌 Tower Bridge Rd, London SE1 2UP, United Kingdom
ℹ️ Official website|📱 Instagram
12. Harrods: Luxury Shopping Extravaganza – London Bucket List
Harrods, a world-renowned icon among department stores, offers an unparalleled shopping experience in Knightsbridge. Its opulent interior, adorned with sumptuous décor, beckons you into a realm of luxury. Explore its exquisite gourmet food halls, where culinary delights from around the world await your palate. Peruse a vast array of luxury goods, from haute couture to fine jewelry, in an ambiance that exudes sophistication. Even if you're not planning an extravagant shopping spree, a visit to Harrods is a chance to witness sheer retail splendor and immerse yourself in the essence of this legendary store, which has defined luxury shopping for generations.

📌 87-135 Brompton Rd, London SW1X 7XL, United Kingdom
ℹ️ Official website|📱 Instagram
13. Westminster Palace and Big Ben: London's Icons
The Houses of Parliament, where the iconic Big Ben stands as its centerpiece, embody the very heart of British democracy.
Its striking Gothic architecture overlooks the River Thames, and within its historic walls, the intricate workings of the UK government unfold. Embark on a tour of this distinguished building to delve into its rich history, including the famous Big Ben clock tower and the hallowed House of Commons. Gaze in awe at the grandeur of Westminster Hall, where momentous events in British history have played out. The Houses of Parliament are a symbol of democratic tradition, open for exploration and appreciation.

📌 London SW1A 0AA, United Kingdom
ℹ️ Official website|
14. National Gallery: A Treasure Trove of Art
A visit to London demands a pause at the National Gallery in Trafalgar Square, an artistic treasure trove. 
Here, you'll walk amidst the world's most renowned masterpieces by the likes of Leonardo da Vinci, Van Gogh, Turner, and countless other artistic luminaries. The gallery's halls resonate with the timeless beauty of these works, offering an unparalleled opportunity to immerse yourself in the world of art. From Renaissance classics to contemporary marvels, the National Gallery is a sanctuary of creativity, enriching your London experience with the depth and breadth of human artistic achievement. It's a must for any art lover and cultural explorer.

📌 Trafalgar Square, London WC2N 5DN, United Kingdom
ℹ️ Official website|📱 Instagram
15. Oxford Street: Shop 'Til You Drop – London Bucket List
For avid shoppers, Oxford Street is the quintessential retail paradise. This world-renowned shopping destination boasts an impressive array of over 300 shops, making it one of the busiest and most diverse shopping districts globally. 
Whether you're a fashion aficionado or just looking to explore the latest trends, Oxford Street has something for everyone. From international brands to unique boutiques, you'll find a plethora of choices that cater to various styles and budgets. It's not just a shopping spree; it's a retail adventure that immerses you in the heart of London's dynamic fashion scene, making Oxford Street an unmissable retail haven.
📌 Nearest Tube station: Marble Arch; Bond Street; Oxford Circus; Tottenham Court Road
West end – Marble Arch //  East end – Tottenham Court Road / Charing Cross Road
16. Tate Modern: Where Modern Art Reigns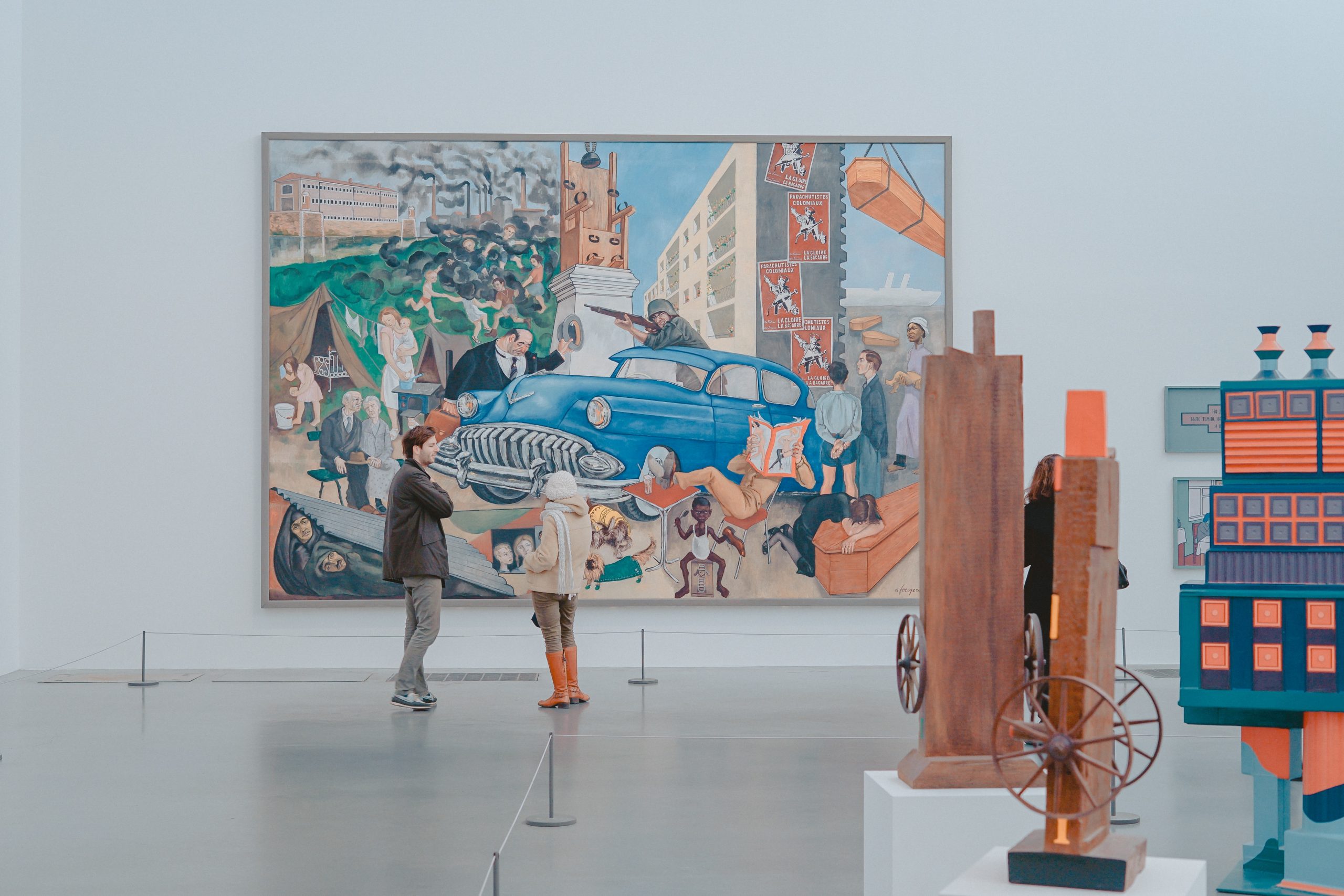 Tate Modern stands as a mecca for art enthusiasts, a bastion of contemporary creativity nestled on the banks of the River Thames. Explore its vast galleries, where you can marvel at works by visionary artists like Picasso, Warhol, and a diverse array of contemporary talents from across the globe. The museum's striking industrial architecture provides a unique backdrop for the ever-evolving world of modern art. It's a place where boundaries are challenged, and artistic expression knows no limits, offering a profound insight into the evolution of visual culture. For those seeking an artistic odyssey, the Tate Modern is an essential destination in the heart of London.
📌 Bankside, London SE1 9TG, United Kingdom
ℹ️ Official website|
17. Greenwich: Where Time Begins
A day trip to Greenwich promises a wealth of historical and scenic treasures. Explore the Royal Observatory, where time itself begins, and stand astride the Meridian Line, marking the division between the Eastern and Western Hemispheres. The breathtaking vistas of the Thames River provide a picturesque backdrop as you uncover the heritage of this historic area. Greenwich offers an enthralling blend of history and natural beauty, making it a perfect day escape from the bustle of central London. It's a journey through time and place, where every step is a discovery of unique significance.
📌 The nearest rail stations are Greenwich and Maze Hill. Direct trains run to these stations from London Cannon Street and London Bridge. If you are using the London Underground, the Docklands Light Railway (DLR) will take you straight to Cutty Sark station.
18. Camden Market: Eclectic Treasures – London Bucket List
This marke is an irresistible treasure trove of all things. Stroll through its vibrant lanes and discover an array of unique finds, from vintage clothing that carries tales of bygone eras to handcrafted artworks that celebrate contemporary creativity. 
The market's diverse street food stalls offer a culinary journey around the world, from exotic flavors to comfort classics. As you explore the labyrinthine market, you're bound to encounter unexpected gems at every turn. It's an emblem of Camden's artistic spirit and a place where individuality thrives, inviting you to embrace the eclectic essence of London's cultural tapestry.
📌 54-56 Camden Lock Pl, London NW1 8AF, United Kingdom
ℹ️ Official website|📱 Instagram
19. Churchill War Rooms: Step into History
For history enthusiasts, the Churchill War Rooms are a portal to World War II's pivotal moments. Step into the underground bunker where Winston Churchill and his cabinet orchestrated the British war effort. Explore the very chambers where vital decisions were made, preserving the free world's future. The rooms stand as a time capsule, offering a vivid glimpse into the life and times of those who steered the course of history. It's an immersive journey into wartime strategy and leadership, a must-visit for those who wish to comprehend the monumental challenges and triumphs of a bygone era.

📌 King Charles St, London SW1A 2AQ, United Kingdom
ℹ️ Official website|
20. Soho: Nightlife and Diversity
Soho stands as a symbol of London's vibrant nightlife and diversity, a place where the city's pulse quickens as the sun sets. Explore the dynamic music scene, where live performances and theater take center stage. Immerse yourself in the electrifying atmosphere of a neighborhood known for its LGBTQ+ community and welcoming diversity. Soho's streets come alive with an array of entertainment options, from bustling bars and clubs to cozy cafes and restaurants. It's a district that embraces all forms of expression, making it a quintessential London experience for those who seek the heartbeat of the city's nightlife and the warmth of its diverse community.
📌 The closest London Underground stations are Oxford Circus, Tottenham Court Road and Piccadilly Circus // The nearest train station to Soho is Tottenham Court Road. It's a 11 min walk away.
21. Portobello Market: Antiques and Ambiance – London Bucket List
Portobello Market in the heart of Notting Hill is renowned for its captivating fusion of antiques, vintage clothing, and delightful ambiance. As you stroll through its charming streets, you'll uncover hidden gems, from retro fashion finds that transport you to bygone eras, to ornate antiques that whisper tales of history. The market is a treasure trove where every corner reveals something unique and unexpected. The lively atmosphere, filled with street performers and aromatic food stalls, adds to the overall charm. Portobello Market offers an enchanting blend of shopping and the joy of exploration, making it a beloved cultural institution in London.
📌 London W11 1LJ, United Kingdom
22. Camden Town: The Alternative Side of London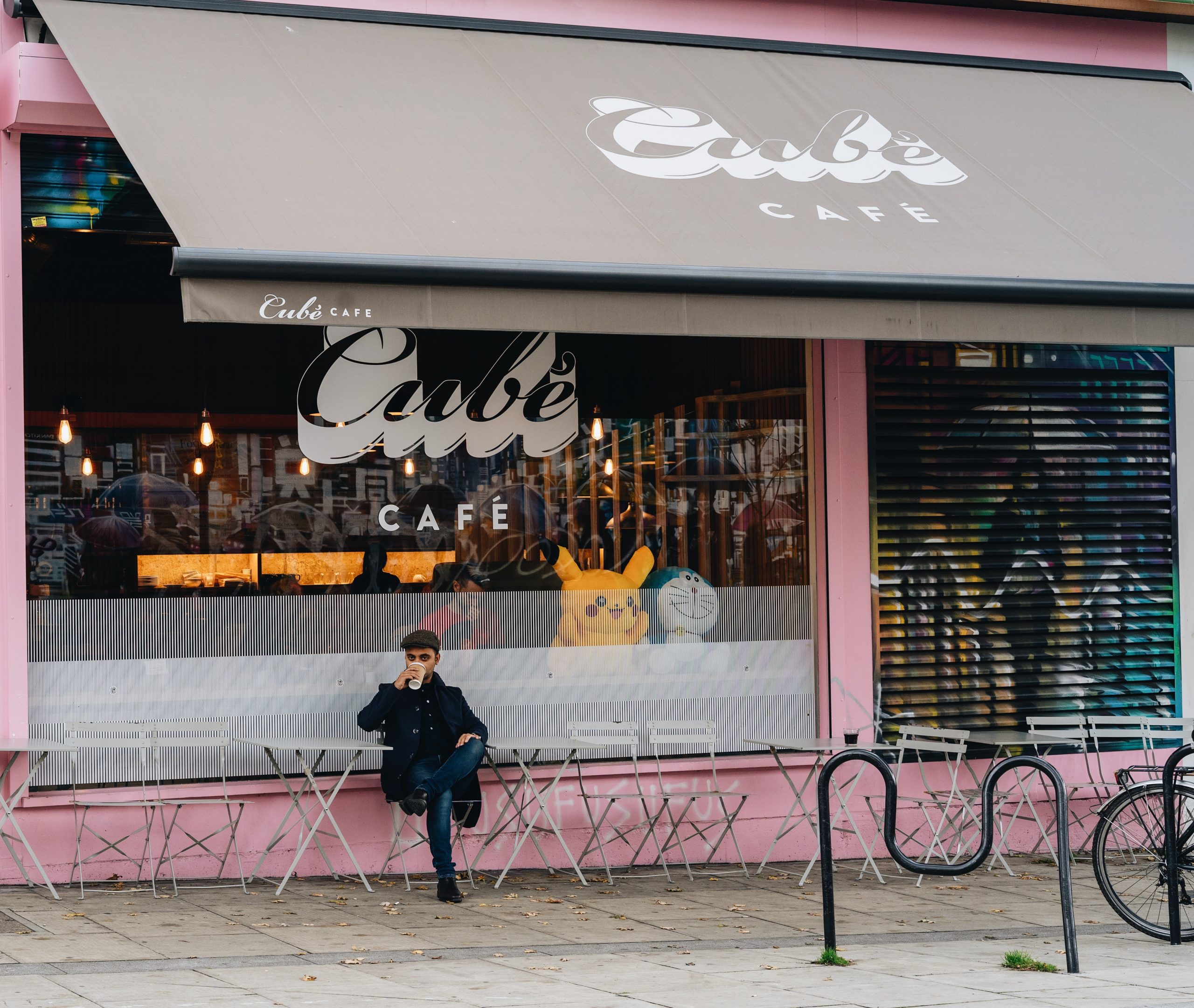 Camden Town proudly showcases London's alternative culture, inviting you to delve into its eclectic spirit. Wander through its famous market, where stalls brim with unique curiosities, vintage fashion, and artisanal crafts. The area's live music venues pulse with the energy of aspiring and established talents, making it a hub for music enthusiasts. While strolling its streets, you'll find vibrant street art adorning walls and hidden corners, a testament to Camden's artistic essence. This neighborhood is a tapestry of individuality and creativity, encapsulating the dynamic heart of London's alternative scene, where every visit guarantees a discovery of something different and exciting.
📌  The nearest stations to Camden Market are: Kentish Town Road (L, bus stop) is 24 meters away, 1 min walk. Camden Town is 90 meters away, 2 min walk. Camden Town Station (X, bus stop) is 189 meters away, 3 min walk. Also, there are two underground stations at which to get off, Camden Town and Chalk Farm Road, both of which are on the Northern Line.
23. Shoreditch and Brick Lane: Hipster Haven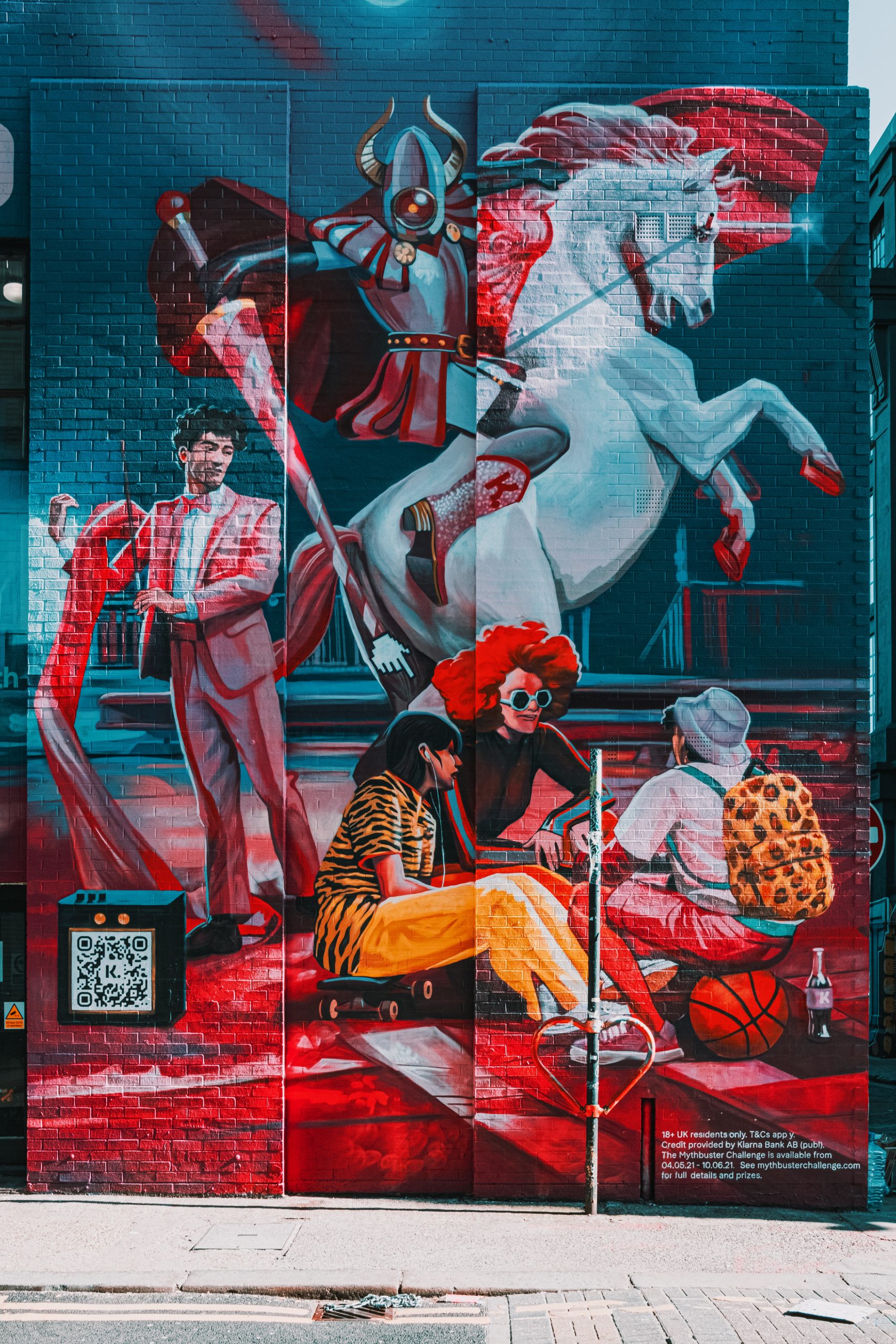 Embrace London's hipster spirit with an exploration of Shoreditch and Brick Lane. These dynamic neighborhoods offer a vibrant showcase of contemporary creativity. Street art decorates walls, vivid expressions of artistic freedom, while vintage shops beckon with unique finds that redefine fashion. In the midst of it all, delectable curry houses present a tantalizing fusion of flavors. These areas are an ode to individuality, attracting a diverse community of creative souls. Shoreditch and Brick Lane unveil a dynamic urban landscape where the pulse of London's alternative scene beats strong, inviting you to immerse yourself in a different, culturally rich facet of the city.
📌  The nearest train station to Shoreditch is Old Street; it's a 6 min walk away // The nearest underground station is Old Street and the nearest overground station is Shoreditch High Street (bus)
24. Bishopsgate: History of the City – London Bucket List
Experience London's historic essence in Bishopsgate, where the past and present seamlessly intertwine. Explore the timeless beauty of St. Botolph's Church, a serene sanctuary in the midst of the city's hustle and bustle. Nearby, marvel at modern architectural marvels, with the towering presence of the iconic Gherkin skyscraper symbolizing the contemporary spirit of the city. Bishopsgate offers a compelling blend of historical charm and modern innovation, an area where the city's evolution and its enduring heritage coexist harmoniously. It's a captivating chapter in London's story, where every step holds a unique piece of the city's rich history.
📌 Liverpool Street Underground is 12 meters away, 1 min walk // Gherkin: 30 St Mary Axe, London EC3A 8BF
25. Dunstan-in-the-East: A Hidden Gem Park
Dunstan-in-the-East is a place of poignant transformation, echoing the resilience of London's spirit. What was once a revered church, tragically destroyed during World War II, has emerged anew as a tranquil green oasis in the heart of the City of London. Amidst the historic remnants of the church's walls, lush vegetation has reclaimed the space, creating an enchanting contrast between nature and history. It's a place where past and present intermingle, reminding us of the city's ability to rejuvenate and renew, even in the face of adversity. A visit to Dunstan-in-the-East is a contemplative journey through time and a testament to nature's enduring beauty.

📌 St Dunstan's Hill, London EC3R 5DD, United Kingdom
ℹ️ Official website|
26. Science Museum: Wonders of Science and Technology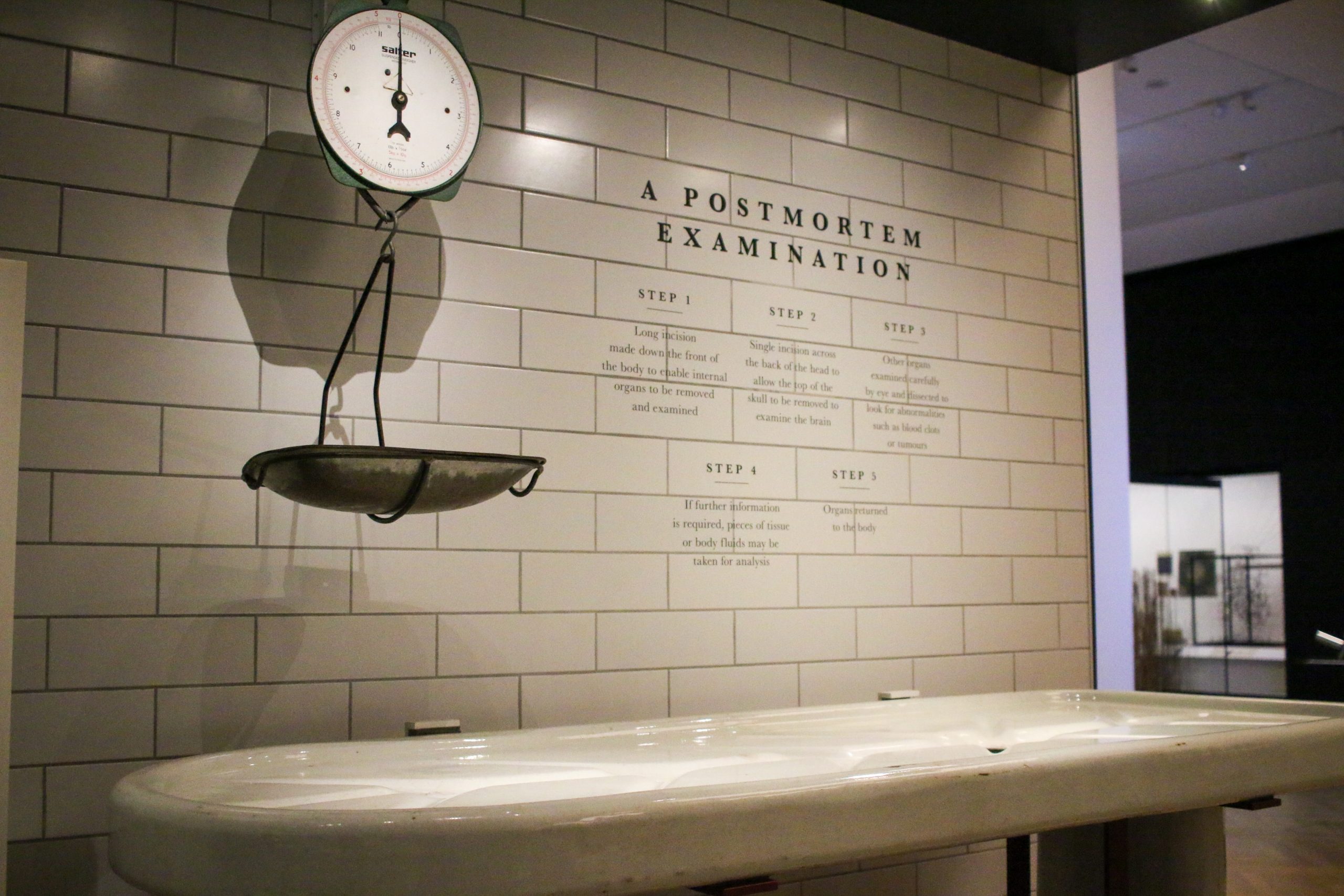 The Science Museum is a realm of scientific marvels, offering a captivating journey through the wonders of technology and discovery. Immerse yourself in interactive exhibits that unravel the mysteries of our world. From the evolution of communication to the exploration of space, the museum's displays narrate the story of human ingenuity. Step back in time as you encounter historic objects, including the iconic Stephenson's Rocket, a symbol of innovation and progress. The Science Museum is an educational adventure, an exploration of scientific progress, and a tribute to human curiosity, making it an essential destination for those who seek to unravel the mysteries of our universe.
📌 Exhibition Rd, South Kensington, London SW7 2DD, United Kingdom
ℹ️ Official website|📱 Instagram
27. Battersea Power Station: London's New Retail and Leisure Hub – London Bucket List
Battersea Power Station, a Grade II* listed icon, has transformed into London's most exciting shopping and leisure destination. The word on the street is that Battersea aims to retain local retail and leisure spending, capturing the essence of a 15-minute city and not pose a threat to London's famous shopping paradise, Oxford Street. While the West End remains a key focus, the project primarily caters to Wandsworth residents. The retail selection offers an array of fashion, beauty, and athleisure brands, but it's the industrial interior architecture that steals the show.

📌 Circus Rd W, Nine Elms, London SW11 8DD, United Kingdom
ℹ️ Official website|📱 Instagram
28. Sherlock Holmes Museum: Time-Travel to Victorian London
If you are still looking for the best museums to visit in London, take another step into the intriguing world of Victorian London at the Sherlock Holmes Museum. This unique establishment recreates the home of the world's most famous detective with meticulous attention to detail. Step inside to find yourself amidst period furnishings and memorabilia, bringing the tales of Sherlock Holmes to life. From the iconic address of 221B Baker Street to the iconic deerstalker hat and pipe, it's a chance to immerse yourself in the world of Arthur Conan Doyle's beloved detective. As you explore the rooms, you'll be transported back in time, making this museum a must-visit for literature and history enthusiasts alike.
📌 221b Baker St, London NW1 6XE, United Kingdom
ℹ️ Official website|📱 Instagram
29. The 8 Royal Parks of London: Green Oases
When in London, you cannot miss the tranquil allure of the 8 Royal Parks. From the expansive serenity of Hyde Park to the untamed beauty of Richmond Park and the regal ambiance of St James's Park, these green oases beckon. They provide a respite from the city's hustle and bustle, inviting leisurely walks, picnics, and cycling adventures. Each park* possesses its unique charm, offering a diverse natural escape within the urban tapestry of London.

* If you are curious as to which is the most beautiful of them all, take your pick from Hyde Park, Green Park, Richmond Park, Greenwich Park, St James's Park, Bushy Park, The Regent's Parks, and Kensington Gardens.
30. Chelsea: Elegance and Boutiques – London Bucket List
Chelsea stands as a paragon of elegance in the heart of London. Renowned for its designer boutiques, the neighborhood offers a shopping experience that is both luxurious and diverse. From high-end fashion to unique artisanal finds, Chelsea's streets are a sartorial paradise. The area also boasts its famous flower shows, an annual celebration of nature's beauty. As you explore the neighborhood, you'll be captivated by the elegant townhouses that line its avenues, a testament to Chelsea's timeless allure. It's a district that effortlessly marries style, refinement, and a reverence for natural beauty, making every visit a sophisticated and enriching experience.
📌 The two most convenient stations for Chelsea are Sloane Square (served by the Circle and District lines) and South Kensington (served by the Circle, Piccadilly, and District lines).
31. Covent Garden: A Lively Bustle of Street Performers and Boutiques
Even a brief sojourn in London warrants a visit to Covent Garden, a district that pulsates with life and charisma. This eclectic area is ideal for a leisurely day of shopping and reveling in captivating street performances. Meander through its cobblestone streets, where you'll encounter a treasure trove of boutiques, craft stores, and artisanal shops. The ambiance is elevated by the enchanting street performers who transform this district into a stage of merriment. Covent Garden promises a microcosm of London's cultural vibrancy, offering a compact yet captivating slice of the city's character that is impossible to resist.
📌 Covent Garden is on the Piccadilly Line. Covent Garden's tube station is a very short walk from the Market Building at the end of James Street.
32. Wembley Stadium: A Shrine for Sports Enthusiasts
Wembley Stadium, known as the "Home of Football," is a place of pilgrimage for sports enthusiasts. This iconic venue has hosted historic football matches, music concerts, and major events. Take a guided tour to explore the stadium's rich history, see the Royal Box, and even walk in the footsteps of sporting legends. Whether you're a football fan or not, Wembley Stadium is a special experience in the heart of London.

📌 London HA9 0WS, United Kingdom
ℹ️ Official website|📱 Instagram
33. West End: A Night of Theatrical Magic – London Bucket List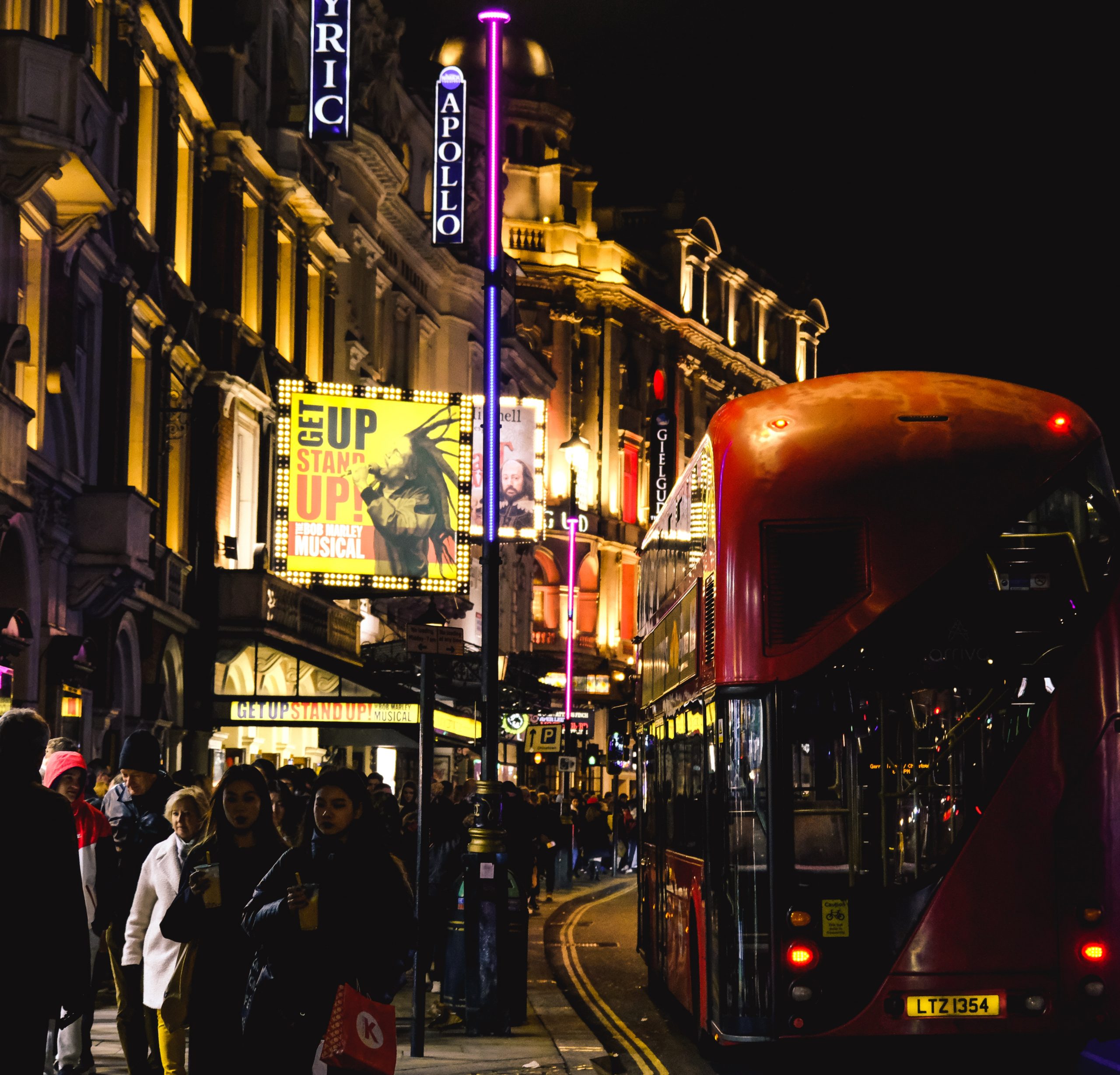 A night in London's famed West End is a quintessential experience for all. The heart of the city's theatrical scene, it offers a spectrum of shows that cater to every taste, from timeless classics to cutting-edge performances. As the curtains rise, you'll be immersed in a world of dramatic artistry and storytelling. Post-show, the West End's vibrant nightlife and dining scene come to life. From trendy bars to delectable restaurants, this central area guarantees a memorable night of cultural enrichment and culinary delight. The West End is where the magic of theater and the allure of the city's nightlife intertwine, ensuring an unforgettable evening.
📌 Traveling to London theaters is stress-free via public transport, with underground tubes and buses conveniently stopping within a five-minute walk of most West End theaters. Shaftesbury Avenue's closest tube stations are Piccadilly Circus, Leicester Square, and Tottenham Court Road, while theaters around Covent Garden are near Covent Garden, Holborn, and Temple stations.
34. South Bank Area: Where River and Culture Converge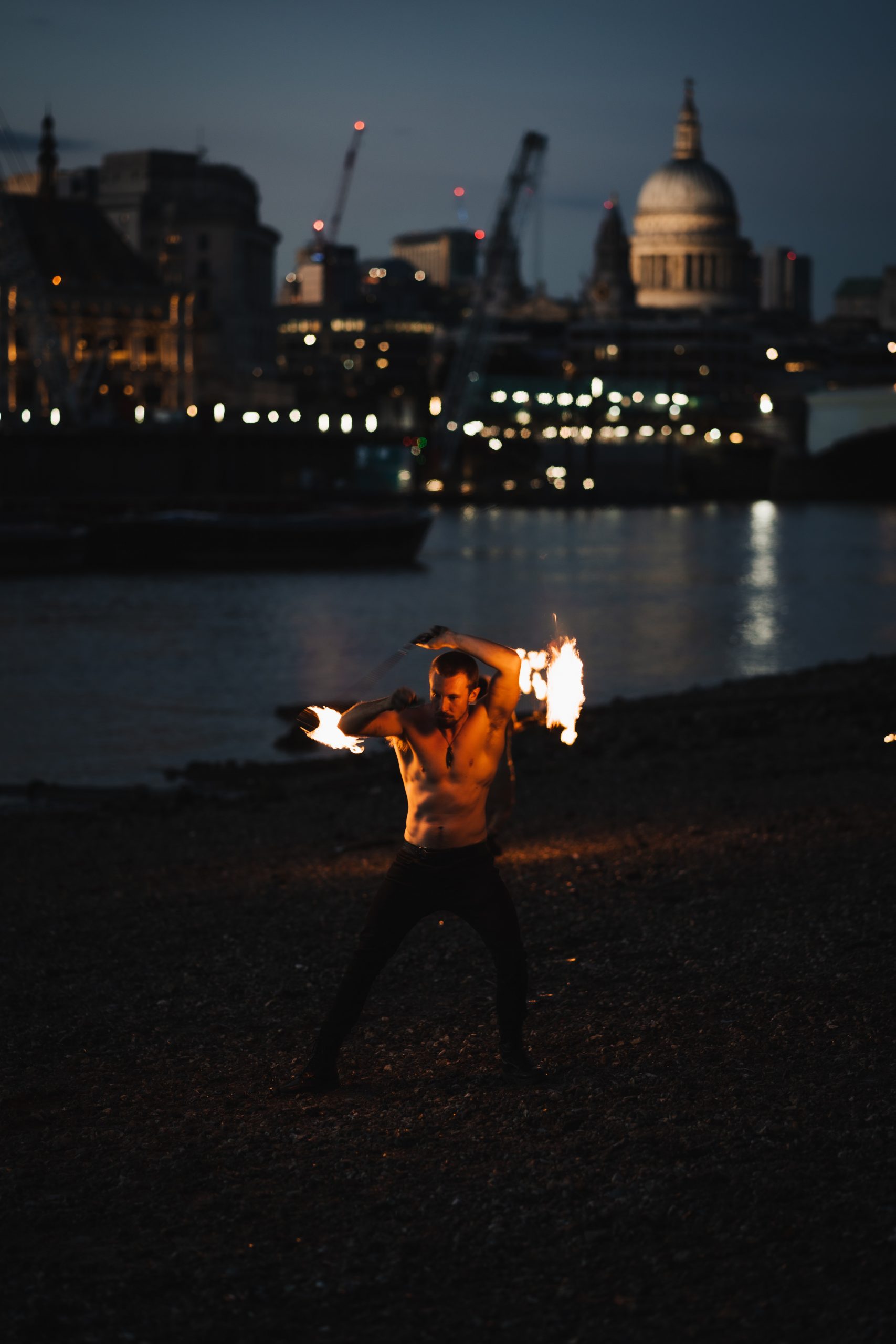 London's cultural heritage shines brightly on the South Bank, where art, theater, and the majesty of the river Thames converge. Stroll along its iconic promenade, with panoramic views of some of the city's most treasured landmarks. Visit the renowned Tate Modern or catch a world-class performance at the National Theatre. The South Bank encapsulates London's artistic spirit and creative energy, making it a hub of cultural expression. As you explore this vibrant district, you'll uncover the soul of the city, where past and present merge harmoniously to celebrate the enduring legacy of London's rich cultural tapestry.
📌  Get there by Tube: Waterloo (Northern, Bakerloo, Jubilee, and Waterloo & City lines) is 200 meters away.
35. Leicester Square: The Heart of London's Entertainment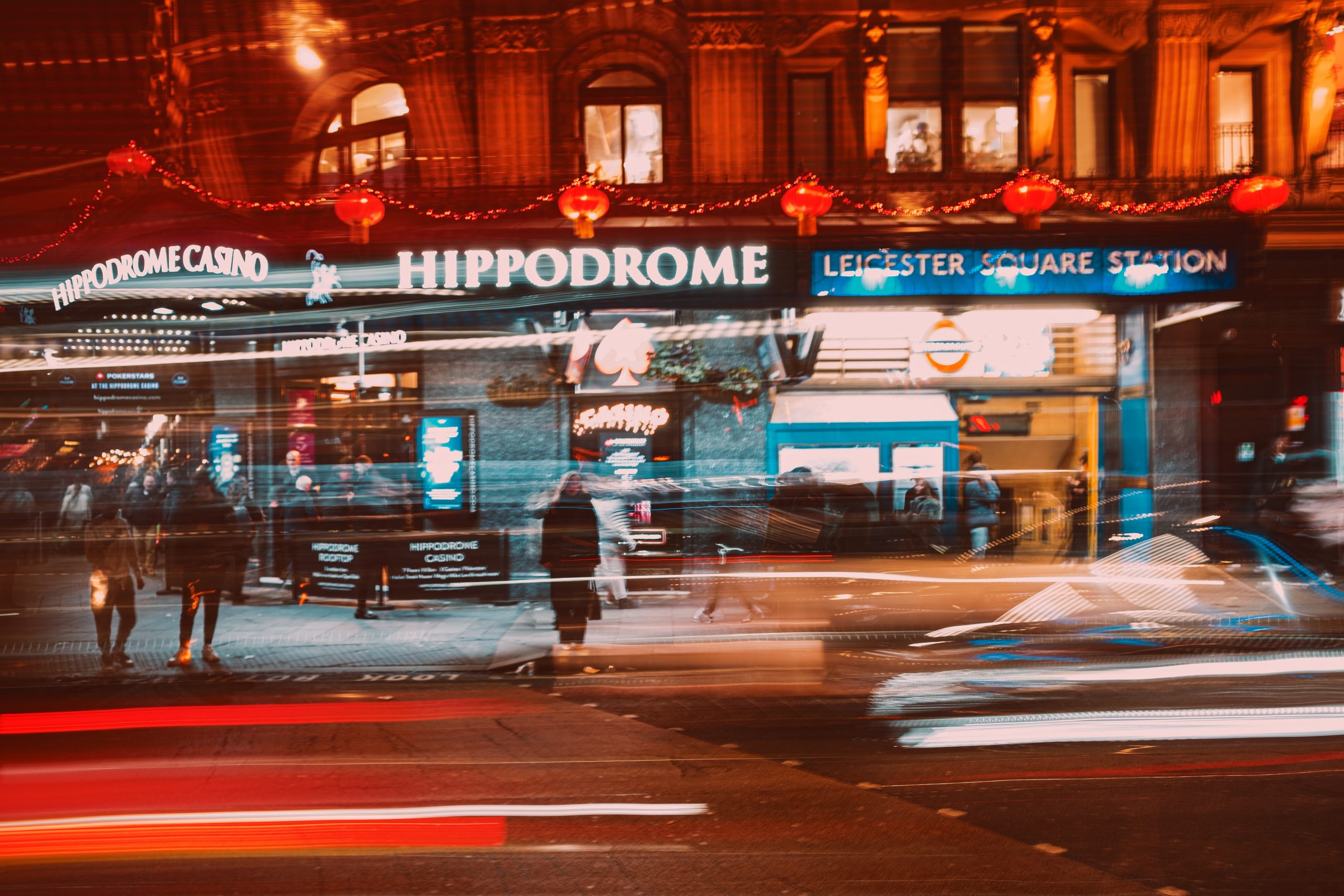 Leicester Square is London's entertainment hub, known for its cinemas, theaters, and lively atmosphere. Catch a blockbuster movie premiere or enjoy a West End show at one of the nearby theaters. The square is also home to a plethora of restaurants, making it a great spot for pre or post-show dining. Leicester Square embodies the vibrant spirit of London's entertainment scene.
What is the most special thing in London?
London is a city globally renowned for its emblematic attractions. No secret here! The resounding Big Ben, the regal Buckingham Palace, the cultural treasure trove of the British Museum, and the majestic Tower Bridge are just a glimpse of what this city has to offer. And let's not forget the panoramic views of the London Eye or the tranquil beauty of Hyde Park. All make London the treasure trove that it is.

But, London's fame extends beyond its landmarks. It's a city steeped in rich history, known for its iconic double-decker buses, classic red phone booths, world-class museums and galleries, expansive green parks, bustling financial districts, and a vibrant, cosmopolitan atmosphere that welcomes all who visit. That brings us to the next important question:
How many days in London is enough?
For first-time visitors to London, I would say that it is highly recommended to think in terms of a four to five-day stay. This way you might have the time to soak up the city's ambiance and explore many, but not all, of its major attractions. After all, London has a wealth of experiences to offer, so to make the most of your visit, be sure to check out this article on optimizing your time in the city.

As for the famous British weather and the best time to schedule your stay in London, late spring might be a strategic choice. Enjoying the city with fewer crowds and shorter queues at popular tourist destinations might improve the flavor! Additionally, late spring offers the delightful opportunity to witness gardens and flowers in full bloom, creating picturesque scenes throughout the city.
On the other hand, if you're looking for moderate weather and a unique atmosphere, consider planning your London trip starting in September. This time of year is perfect for enjoying various events and celebrations, such as Halloween and the pre-Christmas festivities that London is renowned for. As for the Christmas Markets, just know that London's market ranks as one of Europe's best Christmas Markets as you can see in the following Framey's Christmas collection. The milder temperatures make it an ideal period to immerse yourself in the city's vibrant culture and entertainment while avoiding the peak tourist season.
What is the newest addition to the London bucket list this year? 
The captivating BBC Earth Experience is the answer! Started in March 2023, and set within the specially designed Daikin Centre in Earl's Court, it is a journey! This virtual safari spans all seven continents and features the iconic narration of the one and only David Attenborough. What a treat!
Ending Wonds: Enjoy your London experience like no other!
With this 35-stop London Bucket List, you're primed for an extraordinary adventure. Whether you're exploring the city's historic heart, embracing its art and culture, or savoring moments of relaxation, London offers it all. Now, as you prepare to embark on your London journey, or hop on one of the famous Hop-on Hop-Off sightseeing buses, use Framey's London guide to ensure you don't miss any of the city's most iconic experiences.

How many iconic sights did you add to your Bucket List in London? Cause if you need more inspiration, Framey, has you covered. Download the Framey App now and make your start crossing off those incredible Londoner experiences!