Welcome to a gastronomic journey through the best outdoor restaurants in Europe, where culinary excellence harmonizes with breathtaking vistas.Europe, renowned for its rich history and diverse cultures, also boasts an abundance of outdoor dining gems that beckon food enthusiasts and wanderlust seekers alike. From romantic cliffside terraces to mountaintop marvels accessible by cable car, these exquisite establishments offer not just sumptuous dishes but also unparalleled views. 
Let's embark on an adventure that will tantalize your taste buds and feed your soul, exploring why Europe has some of the best outdoor restaurants in the world.
Read more on Europe, a Gourmet Haven for Al Fresco Dining:
Al Fresco Dining: Discover Europe's 20 Best Outdoor Restaurants
Chic Athens Riviera – Best Restaurants with a View
1. La Grotta – Polignano a Mare, Italy – Best Outdoor Restaurants in Europe
Our culinary expedition begins in Italy, where La Grotta at Grotta Palazzese Hotel presents a dining experience like no other. Nestled within a natural sea cave overlooking the Adriatic, this restaurant exudes romance and mystique. Picture yourself savoring exquisite Italian cuisine while the waves gently serenade you. La Grotta isn't just a meal. It's a captivating rendezvous with nature that enchants all your senses.
⭐ Fine Dining
📌 Via Narciso, 59, 70044 Polignano a mare BA, Italy – Located at Grotta Palazzese Hotel 
ℹ️ Official website|📱 Instagram
2. Casa de Cha Boa Nova – Leca da Palmeira, Porto, Portugal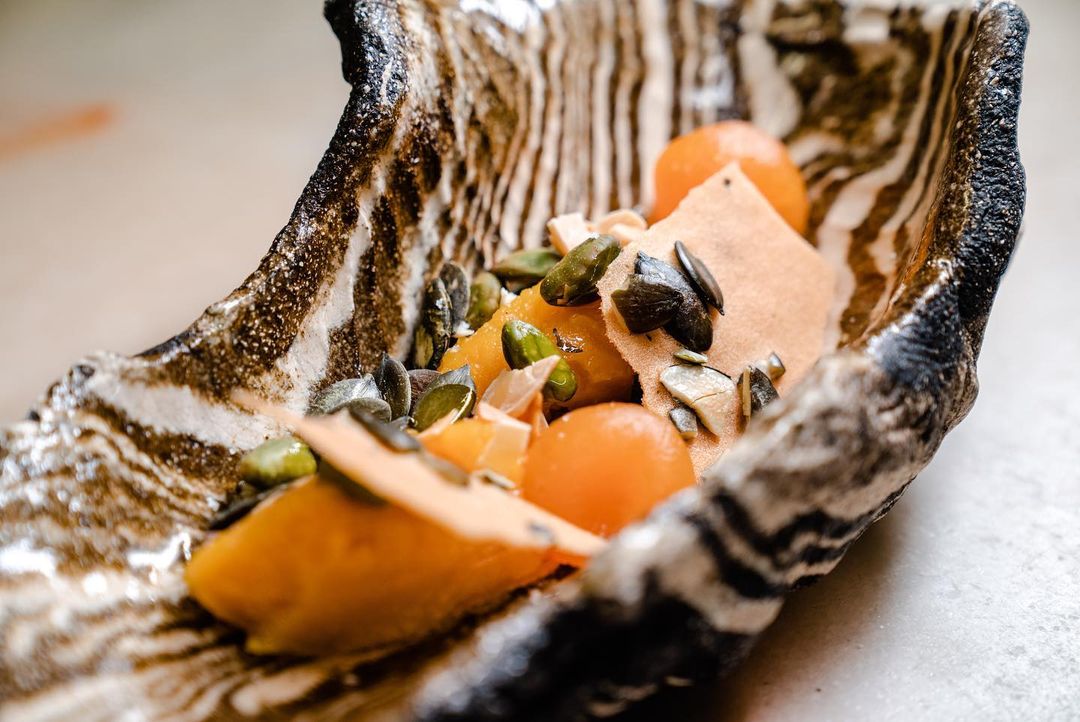 Our next stop takes us to Portugal's Casa de Cha Boa Nova, perched on seaside rocks in Porto. This intimate teahouse-style restaurant not only offers sweeping ocean views but also boasts a Michelin-starred menu. Creative dishes are presented as works of art, accompanied by a meticulously curated selection of sommelier-chosen Portuguese wines, transporting you to the heart of Portuguese gastronomy.
⭐ Fine Dining
📌 Av. Liberdade 1681, 4450-718 Leca da Palmeira, Portugal
ℹ️ Official website|📱 Instagram
3. Le Panoramic – Chamonix, France – Best Outdoor Restaurants in Europe
For those who yearn to dine in the sky, Le Panoramic in Chamonix, France, makes your dream a reality. Situated at the summit of Brevent, access this culinary gem via cable car or gondola. Whether you opt for lunch indoors or indulge in snacks on the heated patio, you'll feel as though you're touching the clouds, with Mont-Blanc and the French Alps as your backdrop.
⭐ French Cuisine
📌 Brevent, 74400 Chamonix-Mont-Blanc, France
ℹ️ Official website|📱 Instagram
4. Lycabettus Restaurant – Oia, Santorini, Greece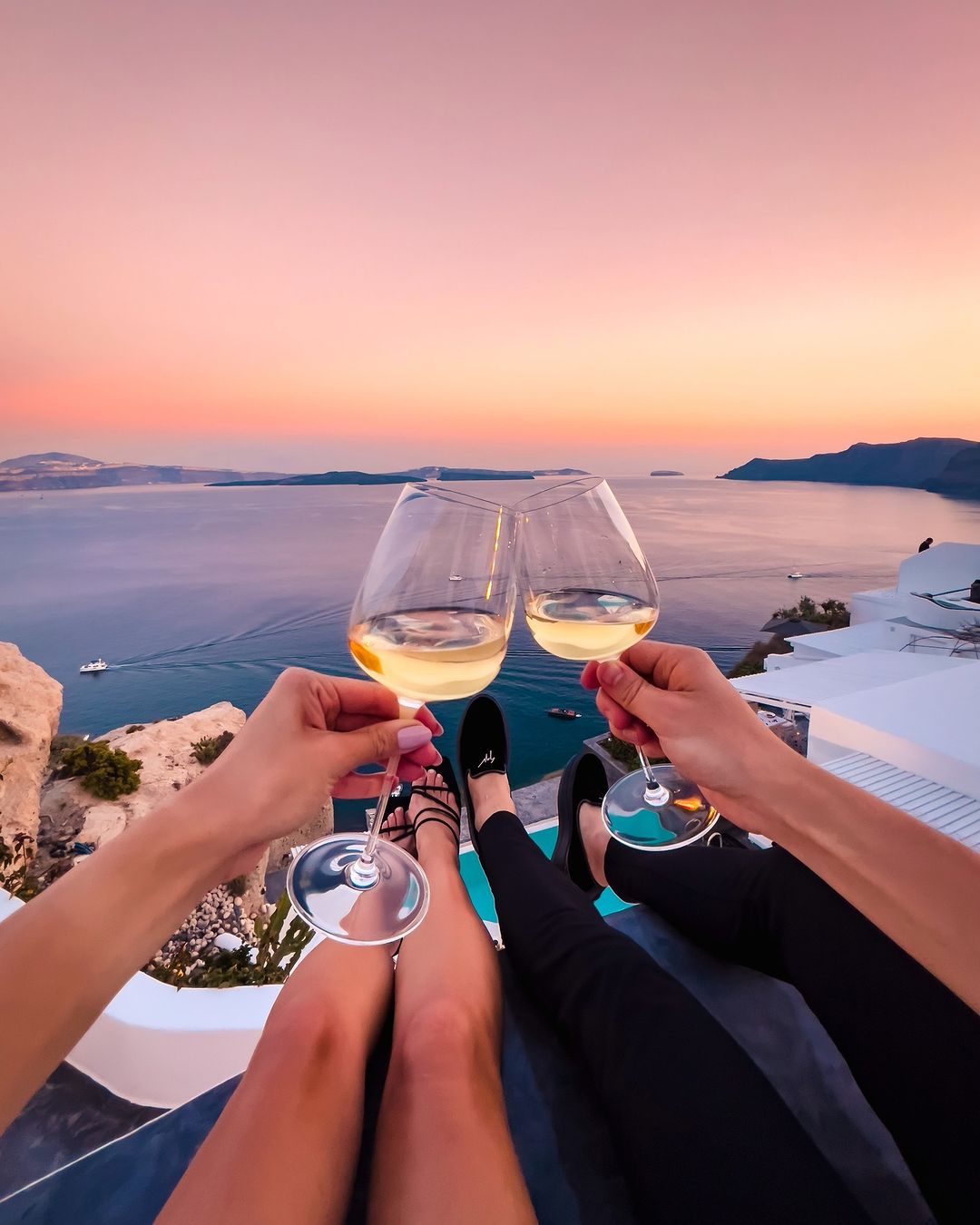 Santorini, Greece is synonymous with exquisite. The views, the vibe, and the venues make it one of the best travel destinations in the world. As for bars and restaurants, everything is top-nudge for any taste as you can read in Framey's 20 Must-Visit Restaurants in Santorini collection.
But, on our list, we have an incredible stop to delight and enchant our taste buds: the Lycabettus Restaurant. This cliff-top terrace, jutting over the Aegean Sea, ranks among the world's most romantic dining spots. Elegant yet unpretentious, it features a menu of fresh Mediterranean cuisine crafted from locally sourced ingredients. Join them for a sun-drenched lunch or a starlit dinner beneath the Greek skies.
⭐ Fine Dining
📌 Nik. Nomikou, Oía 847 02, Greece –  at Andronis Luxury Suites Hotel
ℹ️ Official website|📱 Instagram
5. Mirablau – Barcelona, Spain –
 Best Outdoor Restaurants in Europe
Barcelona's Mirablau Restaurant, nestled on the slopes of Tibidabo, beckons with its captivating ambiance and tapas-forward menu. The restaurant boasts views of iconic landmarks like the Sagrada Familia, Montjuic, and the Mediterranean Sea, making it a beloved spot among both locals and visitors. As dusk descends, take the tramway to Mirablau and savor tapas as millions of city lights illuminate Barcelona's enchanting panorama.
⭐ Mediterranean Cuisine
📌 Placa del Doctor Andreu, s/n, 08035 Barcelona, Spain
ℹ️ Official website|📱 Instagram
6. Ice Q, Solden, Austria
Our adventure takes us to Austria, where Ice Q restaurant perches atop the Gaislachkogl peak, 3,048 meters (10,000 feet) above sea level. 
With impressive cinematic credentials, having appeared in the James Bond film "Spectre," Ice Q features glass walls that provide uninterrupted views of the Otztal Alps. Open from late November to April, it serves gourmet Alpine cuisine, including dishes like wiener schnitzel, venison Wellington, and suckling pig. Also, the wine list is not bad at all: the unique Pino 3000, a Pinot Noir matured in oak barrels at altitude. 
⭐ Austrian, European, Central European Cuisine
📌 Gaislachkogl Bergstation Dorfstrase 115, 6450 Solden, Austria
ℹ️ Official website|📱 Instagram
7. Il Tridente, Positano, Italy –
Best Outdoor Restaurants in Europe
Italy is once again back on the list with Il Tridente, located atop the renowned Hotel Poseidon in Positano. 
This rooftop terrace is a true Italian dream, featuring a sprawling balcony, spectacular cliffside views, and verdant draping greenery. Recognized as one of Italy's best rooftop bars, Il Tridente, under the guidance of Chef Antonio Sorrentino, offers a diverse menu, from seafood to comforting Italian pasta, and even vegan and gluten-free options. Arrive early for your dinner reservation and enjoy a cocktail on the spacious patio with cozy loungers. As an added delight, indulge in complimentary appetizers and pre-dinner snacks.
⭐ Mediterranean Cuisine
📌 Viale Pasitea, 140, 84017 Positano SA, Italy – at Hotel Poseidon
ℹ️ Official website|📱 Instagram
8. De Bokkedoorns – Overveen, Netherlands 
Our journey continues to the Netherlands, where De Bokkedoorns graces the beautiful dunes of Haarlem and Zandvoort. Boasting a lakeside setting, this restaurant proudly bears two Michelin stars.
De Bokkedoorns thrives on the simplicity of natural ingredients, ensuring that every dish shines with authenticity. Experience exceptional dining without fuss and revel in the splendid surroundings.
⭐ Haute French Cuisine, Fine Dining
📌 Zeeweg 53, 2051 EB Overveen, Netherlands
ℹ️ Official website|📱 Instagram
9. Mlynec Restaurant – Prague, Czech Republic
– Best Outdoor Restaurants in Europe
The enchanting Prague city brings us Mlynec Restaurant, where Czech cuisine by Chef Marek Sada takes center stage. 
This must-visit restaurant offers romantic views of the Charles Bridge from its terrace and provides a glimpse inside the vibrant open kitchen. Attention to detail is paramount, ensuring a memorable dining experience from the moment you step in.
⭐ International Cuisine
📌 Novotneho lavka 5, 110 00 Stare Mesto, Czech Republic
ℹ️ Official website|📱 Instagram
10. La Tagliata – Positano, Italy 
Back to Positano, Italy,  we have another treat, in the form of La Tagliata, a restaurant spectacularly perched over the sea. 
With not one, but three terraces, this dining haven offers breathtaking views of the Mediterranean. La Tagliata prides itself on serving wholesome, traditional cuisine made from organically grown vegetables and locally sourced, free-range meat. The restaurant goes a step further by offering cooking classes, allowing you to immerse yourself in Italian culinary traditions. Guests can also arrange weddings and private functions in this idyllic setting.
⭐ Mediterranean Cuisine
📌 Via Tagliata, 32B, 84017 Positano SA, Italy
ℹ️ Official website|📱 Instagram
11. Jastozera – Vis, Croatia –  Best Outdoor Restaurants in Europe
Croatia captivates with Jastozera, a scenic seafood restaurant featured in the movie Mamma Mia 2. 
This wooden tavern extends over the sea in the picturesque fishing village of Komiza. With a menu showcasing live lobsters for your selection and local wines, the restaurant provides the perfect outdoor setting. Be sure to reserve the cozy table for two underneath the stone arch for the most romantic dining experience.

⭐ Mediterranean Cuisine
📌 Ul. Ivana Gundulica 6, 21485, Komiza, Croatia
ℹ️ Official website|📱 Instagram
12. La Sponda, Positano, Italy
Positano dazzles us once more with La Sponda, a Michelin-starred restaurant on the Amalfi Coast. 
La Sponda's menu celebrates fresh local ingredients and draws inspiration from the culinary traditions of Naples. A romantic dinner is guaranteed as 400 candles are lit each evening, creating an enchanting atmosphere that perfectly complements the Mediterranean flavors.
⭐ Mediterranean and Italian Cuisine
📌 Via Cristoforo Colombo, 30, 84017 Positano SA, Italy – at Le Sirenuse Hotel
ℹ️ Official website|📱 Instagram
13. La Chevre d'Or – Eze, France – Best Outdoor Restaurants in Europe
France invites us to Chèvre d'Or, the Golden Goat, a two Michelin-star restaurant perched on a hilltop with commanding views of the Mediterranean Sea. 
Huge windows frame the intense blue waters, and this luxurious restaurant is part of an equally luxurious hotel. To make the best of the entire experience, after the gourmet meal, take a leisurely stroll through the cobblestone streets of the medieval village, savoring the ambiance.
⭐ Mediterranean and French Fine Dining
📌 Rue du Barri, 06360 Eze, France
ℹ️ Official website|📱 Instagram
14. Lo Guarracino – Positano, Italy
For those seeking a quieter restaurant atmosphere without compromising on views, Lo Guarracino in Positano offers a unique blend of exclusivity and casual charm. 
Perched above Fornillo, one of the finest beaches in Positano, Lo Guarracino specializes in regional pasta and fish dishes. While Lo Guarracino offers a casual environment, its views are anything but average, offering brilliance from every angle.
⭐ Italian Cuisine
📌 Via Positanesi d'America, 12, 84017 Positano SA, Italy
ℹ️ Official website|📱 Instagram
15. Ambrosia – Santorini, Greece – Best Outdoor Restaurants in Europe
Ambrosia restaurant takes us back to the white and blues of the picturesque Santorini. The hilltop restaurant is located in the village of Oia. 
The beautiful terrace overlooks the famous Caldera, creating a dream setting for a romantic meal. Whether you dine by candlelight or amidst the antique-filled indoor Salas, watching the sunset with a glass of Greek wine in hand is a memory well worth sharing. The panoramic views add a touch of magic to every bite.
⭐ International Cuisine
📌 Cliffside Terrace at Village Center, Oía 847 02, Greece
ℹ️ Official website|📱 Instagram
16. TERASA U Zlate Studne – Prague, Czech Republic 
Prague's culinary scene delights us once again with Terasa U Zlate Studne. The views from this terrace are unbeatable, providing a stunning sight of Prague's terracotta rooftops and church spires. 
The restaurant serves Czech and international cuisine on three decks, including two outdoor heated areas and one indoor. Enjoy clinking glasses with your date, toasting to the magnificent views, regardless of the weather.
⭐ International Cuisine
📌 U Zlate studeě 166 /4, 118 00 Mala Strana, Czechia
ℹ️ Official website|📱 Instagram
17. Nautika – Dubrovnik, Croatia
– Best Outdoor Restaurants in Europe
Croatia captivates us once more with Nautika, without a doubt, one of the most romantic restaurants in Europe. 
Sit on the terrace to best enjoy the romantic view of the Adriatic Sea and ancient fortresses. Live piano music fills the air, and the thoughtful staff ensures that you feel like you're the only two people in the world, adding a touch of magic to your evening.
⭐ Fine Dining
📌 Brsalje ul. 3, 20000, Dubrovnik, Croatia
ℹ️ Official website|📱 Instagram
18. Clos Maggiore – London, England 
Covent Garden in London unveils Clos Maggiore, a romantic oasis, rightfully ranked among Europe's most romantic restaurants. 
The conservatory room is adorned with thousands of cherry blossoms, with a retractable roof for summer and a cozy fireplace and candles for colder months. Booking a table in the conservatory may require some planning, but the wait is well worth it for a truly memorable romantic exquisite experience.
⭐ Modern French Fine Dining
📌 33 King St, London WC2E 8JD, United Kingdom
ℹ️ Official website|📱 Instagram
19. The Medina – Mdina, Malta
– Best Outdoor Restaurants in Europe
Our culinary journey concludes in Mdina, Malta, where The Medina beckons in one of the Silent City's typical winding alleys. But let me assure you that Malta is a rare jewel amongst gourmet and food aficionados. Framey's collection of the best Maltese restaurants with a view is proof of that. 
Housed in an 11th-century Norman building, The Medina boasts a vine-covered inner courtyard and an open fireplace to cozy up beside in cooler months. The menu features Mediterranean and International delights that will make you want to return for every special occasion.
⭐ International and Maltese Cuisine
📌 Holy Cross Street Mdina MT MDN, 1231, L-Imdina, Malta
ℹ️ Official website|📱 Instagram
BONUS! 3 Amazing indoor restaurants that are worth the visit too:
Babel – Budapest, Hungary 
Hungary, and especially the charming city of Budapest, joins our list with Babel restaurant, an intimate location with a coveted Michelin star.

This restaurant effortlessly marries the rough walls of the original Piarist College with modern, cozy accents. Unique lace-covered plates and a selection of over 200 Hungarian wines contribute to the dining experience. Babel presents an extraordinary culinary journey through Hungary's rich gastronomic heritage.
⭐ European & Hungarian Cuisine
📌 Budapest, Piarista koz 2, 1052 Hungary
ℹ️ Official website|📱 Instagram
Kornhauskeller – Bern, Switzerland
Switzerland enters the stage with Kornhauskeller Restaurant, located in the splendid vaulted cellar in Bern. It might be an outdoor space but it is a spectacular, worth flying over.

This grand space boasts a Baroque design and wall frescoes, creating a majestic atmosphere. After your meal, relax in a lounge chair and soak up the ambiance with one of their exceptional whiskey cocktails. For a different experience, attend their legendary Sunday brunch, featuring live music and local delicacies that will tantalize your senses.
⭐ Mediterranean, Swiss & Bernese Cuisine
📌 Kornhauspl. 18, 3011 Bern, Switzerland
ℹ️ Official website|📱 Instagram
Silo – Copenhagen, Denmark – Best Outdoor Restaurants in Europe
Our culinary journey now transports us to Copenhagen, Denmark, where Silo Restaurant awaits. 
This glass-encased dining destination soars 17 stories above the Northern Harbor area, offering panoramic views of the city, water, and sky. As you admire the uninterrupted vistas through the restaurant's window frame-free design, indulge in a menu that changes with the seasons, celebrating Danish culinary craftsmanship.
⭐ New Nordic Cuisine
📌 Helsinkigade 29, 2150 Kobenhavn, Denmark
ℹ️ Official website|📱 Instagram
The Best Outdoor Restaurants: A Memorable Culinary Journey That  Awaits You
As our culinary trip through Europe's outdoor restaurants comes to an end, we invite you to extend your exploration of these exquisite dining destinations. Each one offers a unique blend of culinary artistry and stunning scenery, making it a must-visit for any food enthusiast or traveler seeking unforgettable experiences.
Ready to continue your journey? Download Framey, your ultimate companion for travel and dining inspiration for endless inspiration. Uncover hidden gems, plan your next extraordinary meal, and create lasting memories as you explore the world of gastronomy. Europe's culinary wonders are just a click away from Framey. Bon appetit!