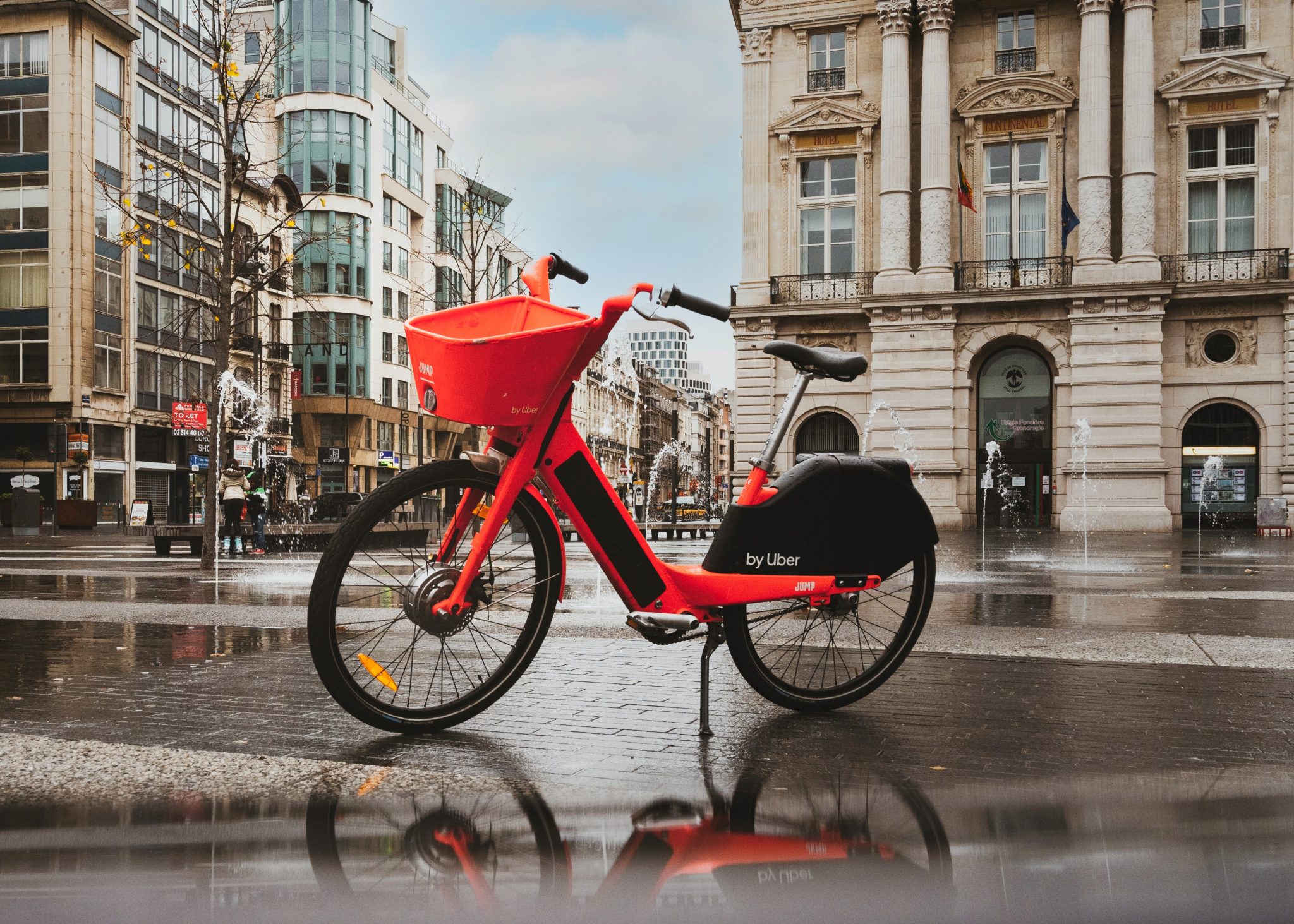 A Belgian proverb says: "The beautiful is less what one sees than what one dreams." Brussels, the capital of Belgium is a true dreamland that makes your soul soar and your thoughts fly. It is a city of chocolate, sweets, liberty, and the heart of the European Union.
If you want us to share even more dreamy locations in Brussels, tell us about them on Framey. That app is a true treasure for travelers who want to broadcast their favorite places with others. We also made collections to make it more convenient, like "Great photo spots" or the "Best places to visit."
1. Royal Gallery of Saint Hubert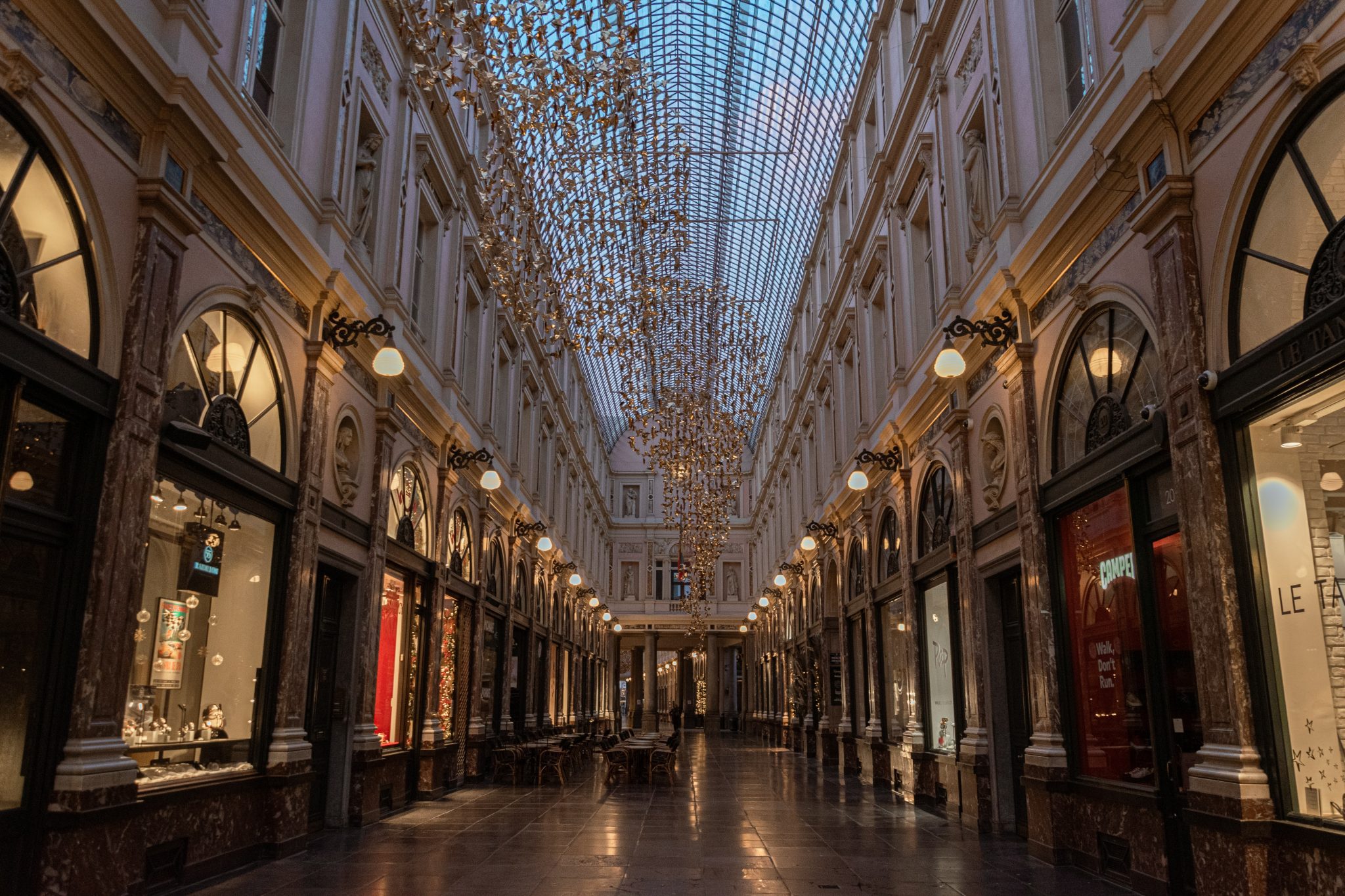 This trading gallery was founded in 1847 and had a great influence on the design of trading passages afterward. The gallery was built in the Cinquecento style – a type of Italian High Renaissance. Now it is a cozy isle in the heart of Brussels where you can hide from the rain, buy anything you want in chocolate shops, and have a walk. It was also a place where Brothers Lumière showed their films outside of Paris.
2. Brussels City Museum
The discovery of a country is not possible without learning more about its history. The museum tells you about the foundation of Brussels and its development up to modern times. It has 7000 items including paintings, sculptures, tapestries, engravings, photos, and models. It is small but tells you wondrous stories – oh, and don't forget to find the highest floor! Be aware that the museum is closed on Monday and at the weekend.
3. Palais de Justice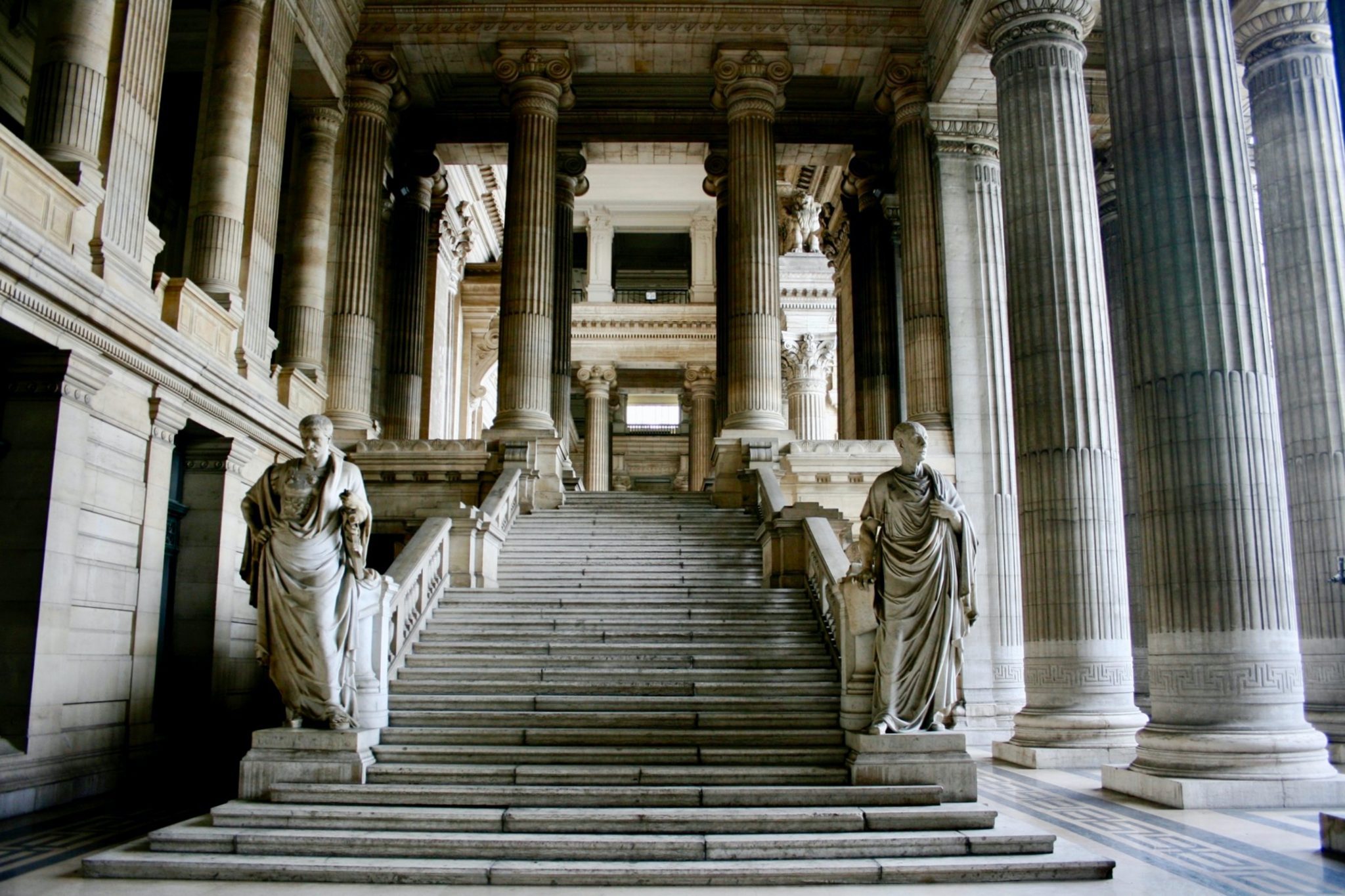 The Palais de Justice in Paris inspired the foundations of courts throughout the whole of Europe – and the one in Brussels was one of the first of them. This palace is the most important courthouse in Belgium. Its style is eclectic historicism – a mixture of elements of different historical styles. It is a national symbol of united Belgium and is especially stunning outside. The whole building is just grande and astonishing.
4. St Michael College
On Framey, we've already told you about Stockholm and the spots for photoshoots there. This place would give you the same vibe but in Brussels – this Catholic secondary school looks like a castle from fairytales. The college was built by the Jesuits in the neo-traditionalist style. The college is French-speaking and was the alma-mater of Georges Lemaître who is considered the author of the Big Bang theory!
5. The Ferris Wheel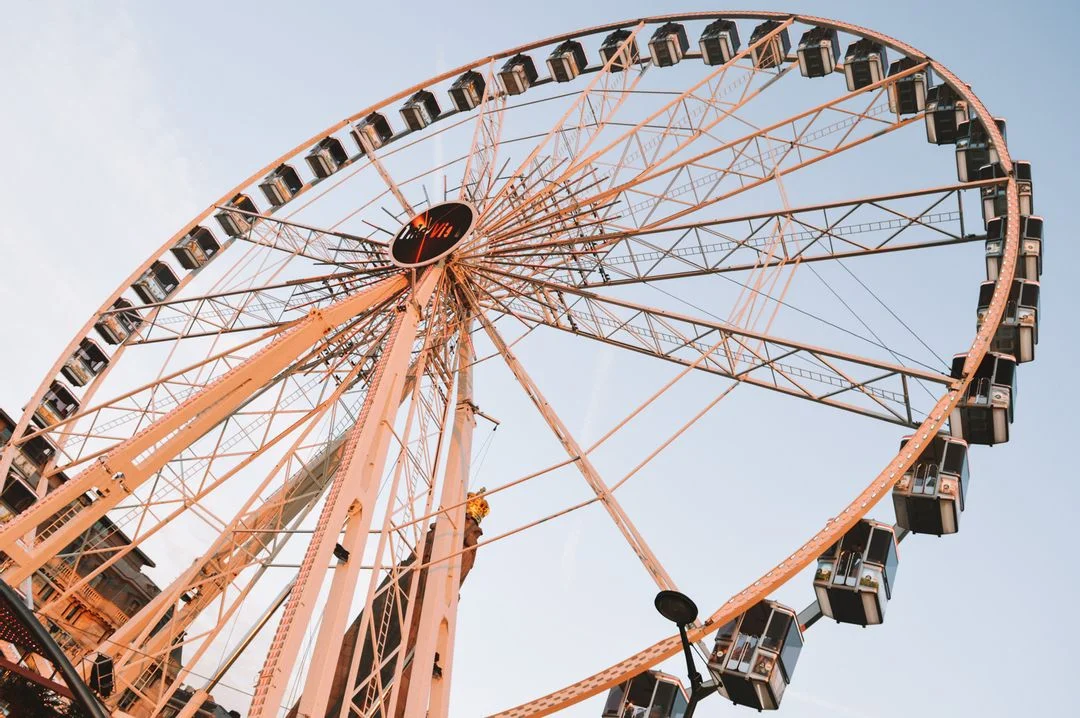 A nice location if you are traveling with kids – yet, be prepared to stand in line for a bit. This wheel shows a nice view of Brussels on your hand. If you are impatient, just as we were, to see all the city at once, make sure to go there! It is the highest point of Brussels being 55 meters high, can fit 8 passengers per cabin, and is inspired by the Budapest Eye.
6. Grand Place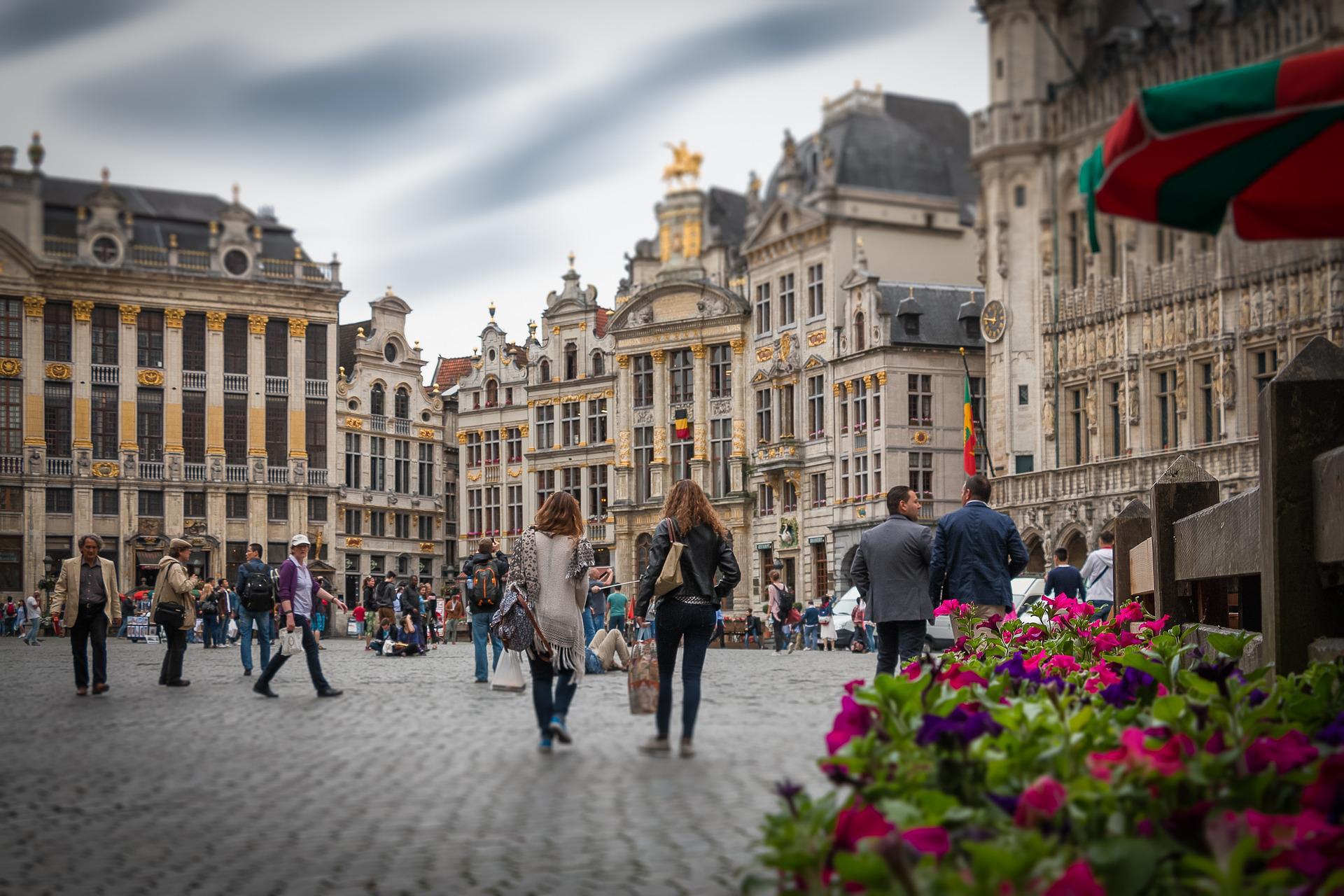 If you google Brussels, the photos you probably see were taken there. It became a UNESCO heritage due to its Gothic town and baroque façade – and it is thought to be one of the most beautiful squares in Europe. The place was earlier a square for merchants until Brussels decided to claim its own independence auild a Town Hall. It became a place for political meetings, festivals, and even executions! Take a walk here under the sun. We promise it will take your breath away!
7. The Royal Greenhouse of Laeken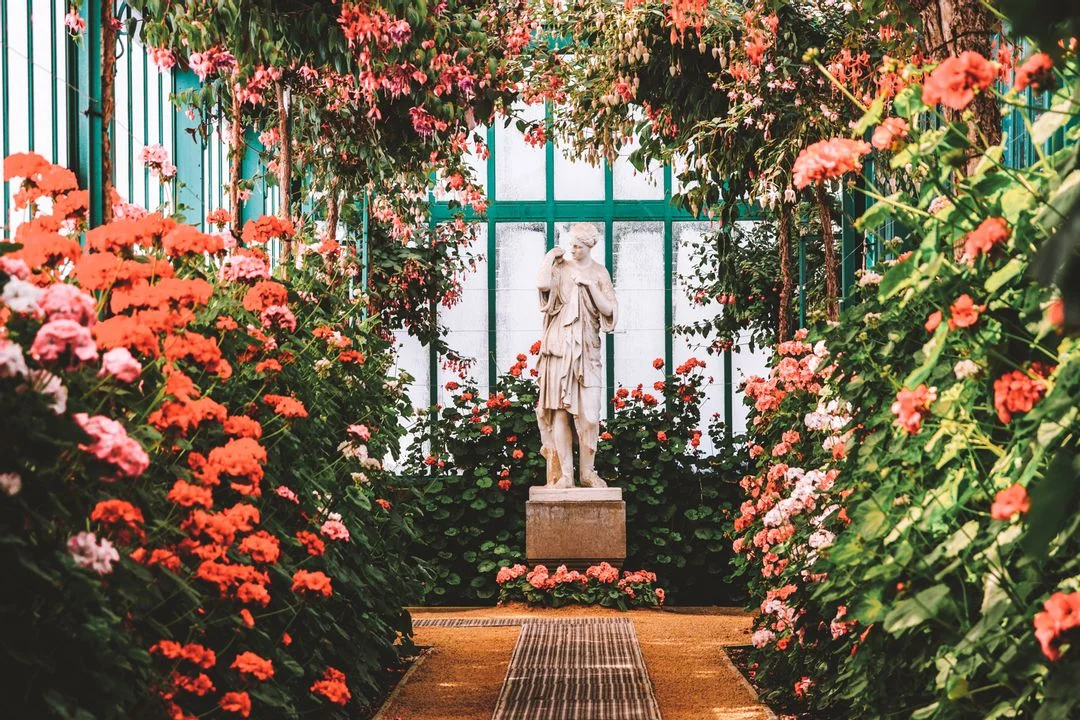 We put this place on the list in case you're traveling in spring and want to take pics with breathtaking flowers. We've already described to you the magnificent gardens of Istanbul – the atmosphere here is similar. It is a huge complex of greenhouses that earlier served as a royal chapel. Can you imagine they need 800 000 liters of oil per year to heat those buildings? It costs only 2 euros and is only open for a few weeks in May – so have a drink in a tea room there and enjoy plants you've never seen before.
8. Autoworld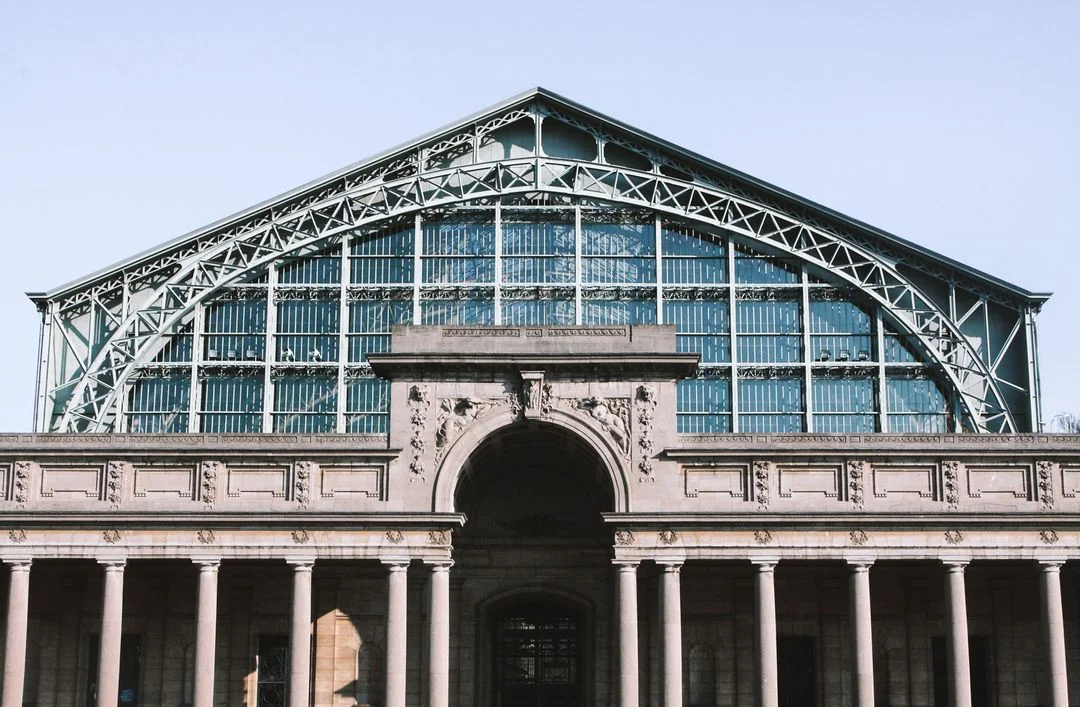 Even if you don't like cars, this museum won't make you feel bored. It has several zones and can show you the rarest sports cars, the oldest machines, carriages from the different époques and even cars from cartoons! The place is exotic and its chaotic organization will make you lost but in a good way. Oh, and there is also a steampunk exhibition!
9. Arcade du Cinquantenaire
A memorial arcade facing Brussels' city center is topped with bronze statues and is one of the most important landmarks here. A design of the arch was presented by Charles Girault and the quadriga (the carriage) on the top was created by Gédéon Bordiau. It reminded us of the wonderful monuments we saw the other day in Lisbon. There is a garden nearby where you can take a walk and a board where you can read the history of the arch.
10. Hotel Solvay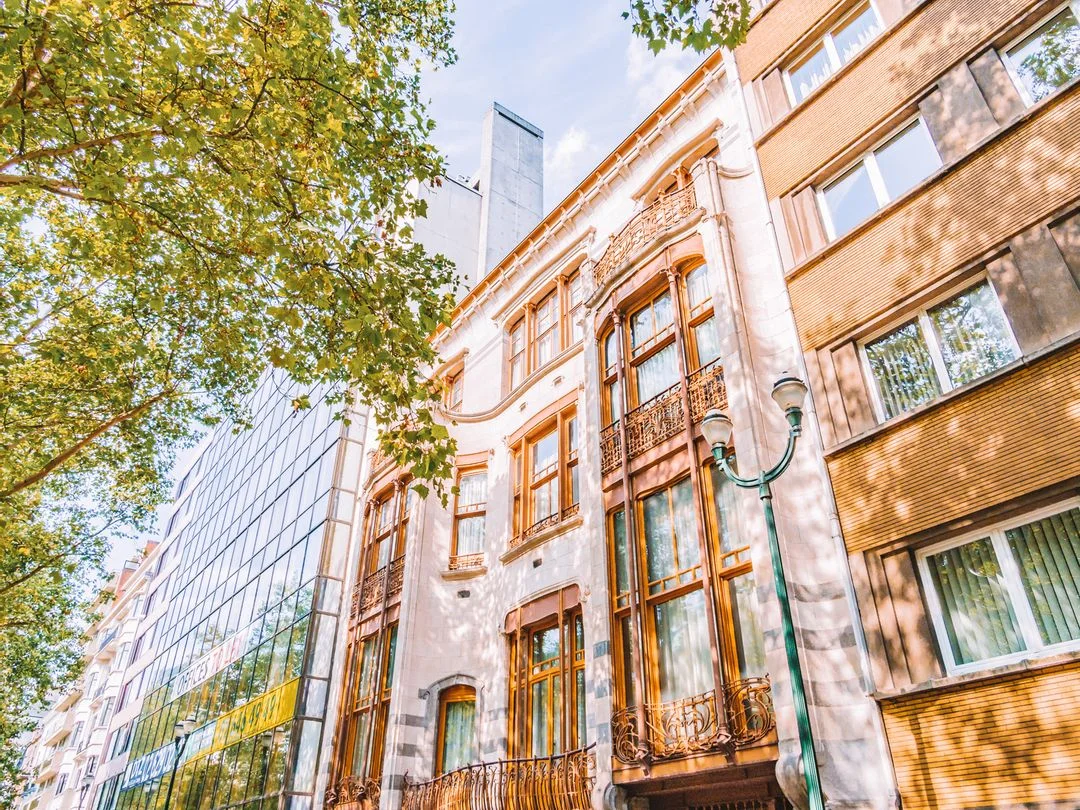 Got tired of Baroque? Here is Art Nouveau. Another town listed as a heritage of UNESCO, the house stuns with the game of light, the glasswork and different soft colors melting in one another. An individual tour lasts 40 minutes, but you'd better book your tickets in advance. This house is considered a masterpiece of Victor Horta, a Belgian architect and one of the founders of Art Nouveau.
11. Castle of Laeken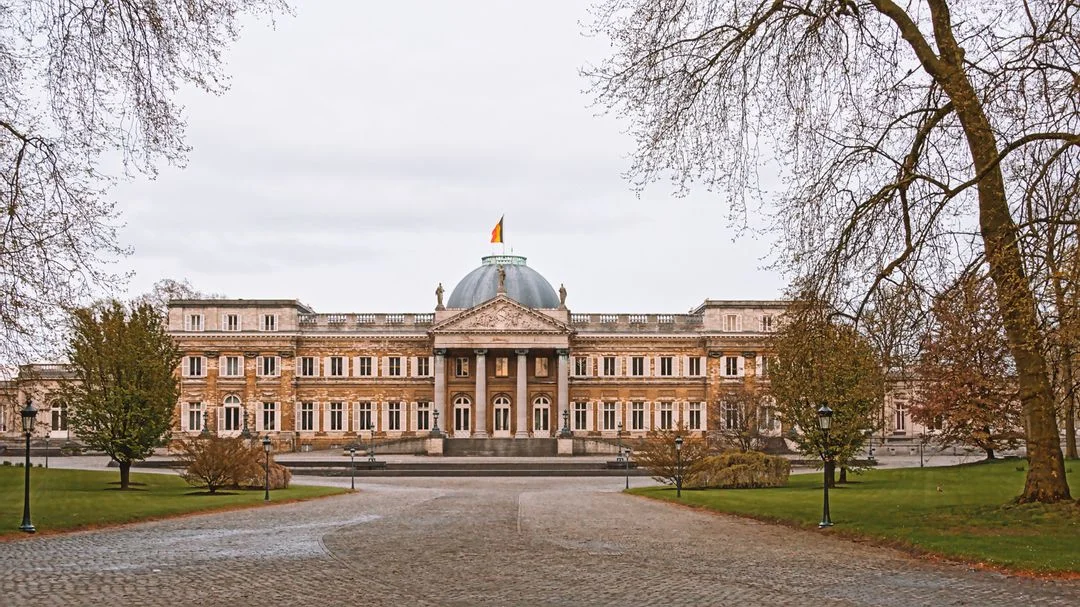 We can't tell what we liked most – the building or the garden! Since 1831 this castle has been a part of the Belgian king's residence. The classical design is based on the style of Charles de Wailly, a French architect and one of the principals in the Neoclassical revival of the Antique. After the revolution, the castle became the residence of Leopold I, king of Belgium, and his son expanded it and added greenhouses to the park. But be aware it is open only for three weeks in spring!
12. Church of Our Lady of Victories at the Sablon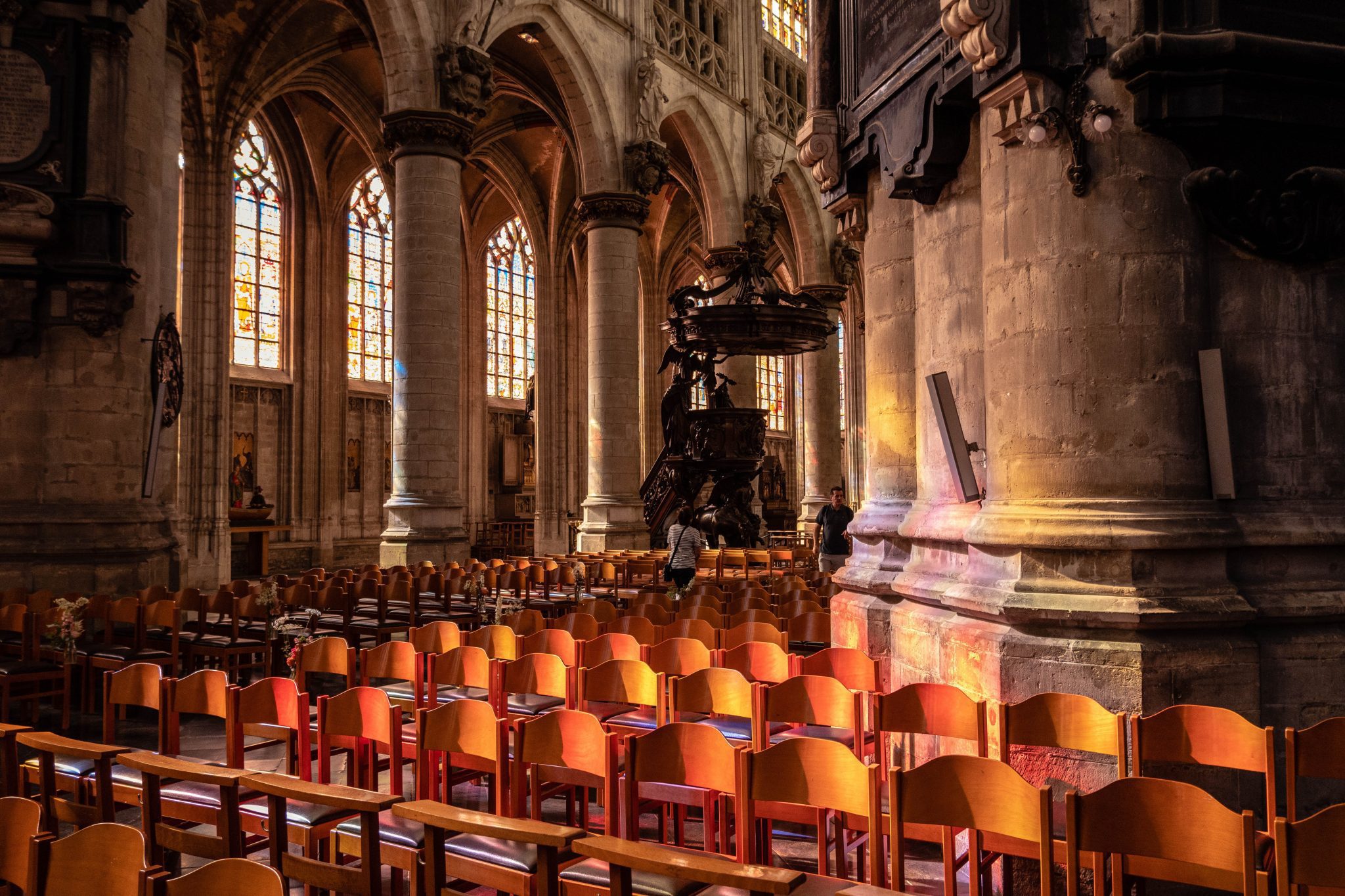 A Gothic church of Brabantine style became our favorite church in Brussels. The Brabantine Gothic is a type typical for Low Countries (Belgium, the Netherlands, and Luxembourg), and Sablon is Brussels' neighborhood. Legend says the chapel (which later became the church) became famous after a local devout woman had a vision of the Virgin Mary. The latter told her to steal the miraculous statue in Antwerp and bring it to Brussels, and place it in the chapel. And now each year Belgians celebrate a religious festival Omnegang when they carry that statue around.
13. Museum of Natural Sciences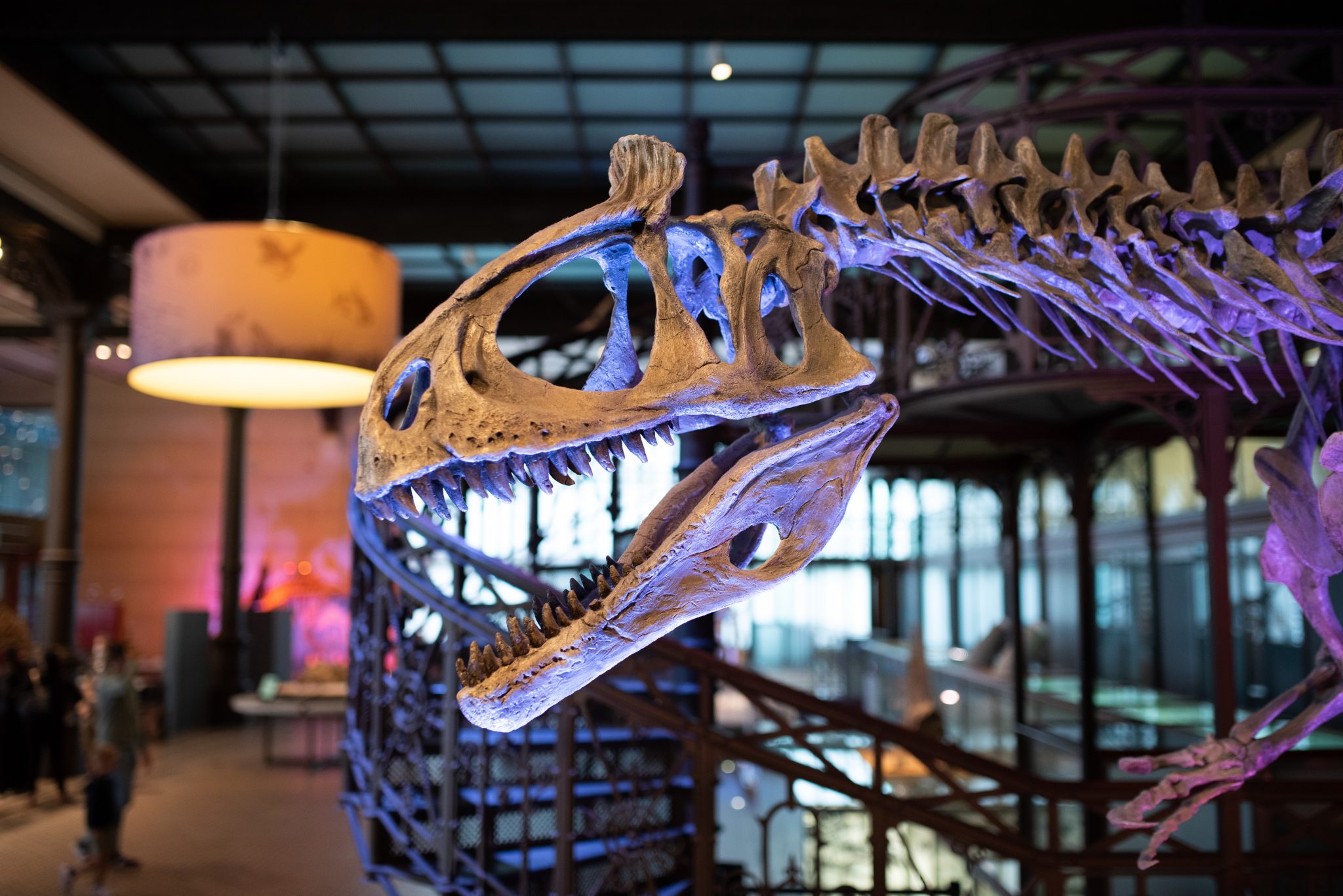 Would you pay 7.50 Euros to see the skeletons of dinosaurs? We bet you should! Not to mention the interactive part, which is absolutely brilliant, an amusing day is guaranteed. Your kids will like that place, especially when they like dinosaurs (and we're sure almost every kid likes dinosaurs!). And the European Parliament is about 10 minutes away by foot.
14. Black Tower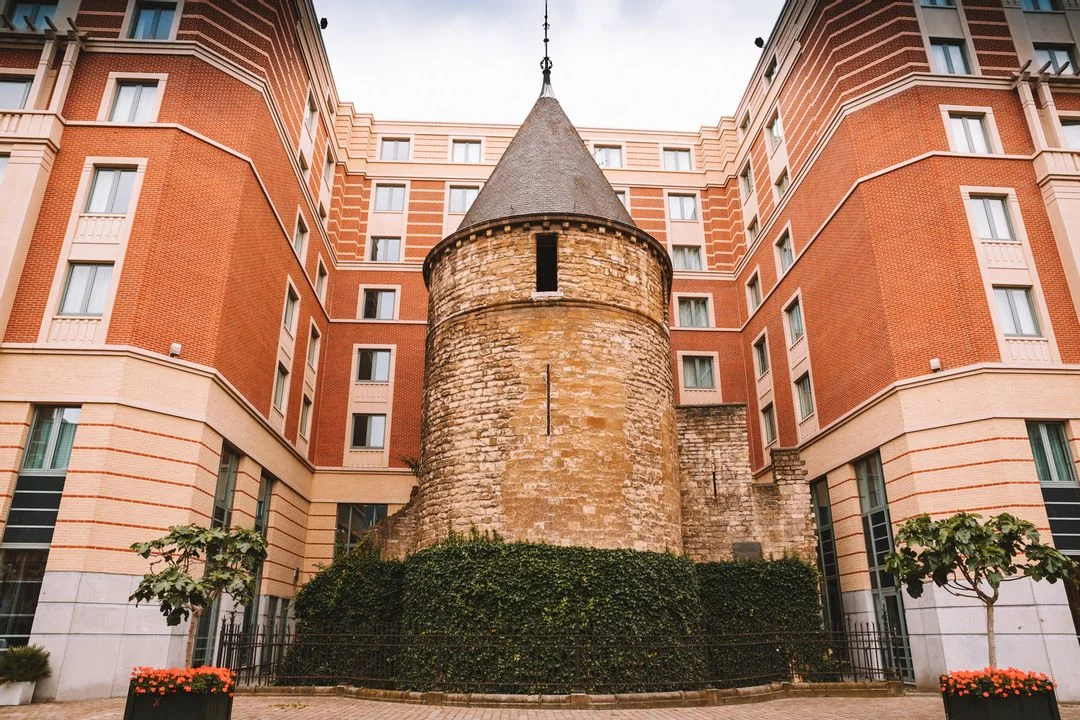 This medieval tower was part of the first fortifications of Brussels and remained well. The location of it is rather odd – it is surrounded by modern buildings. Yet, that location will make it a perfect background for surreal pictures. It shows us how Belgians are abcanrve their history even if it looks unusual to the third eye.
15. Mont des Arts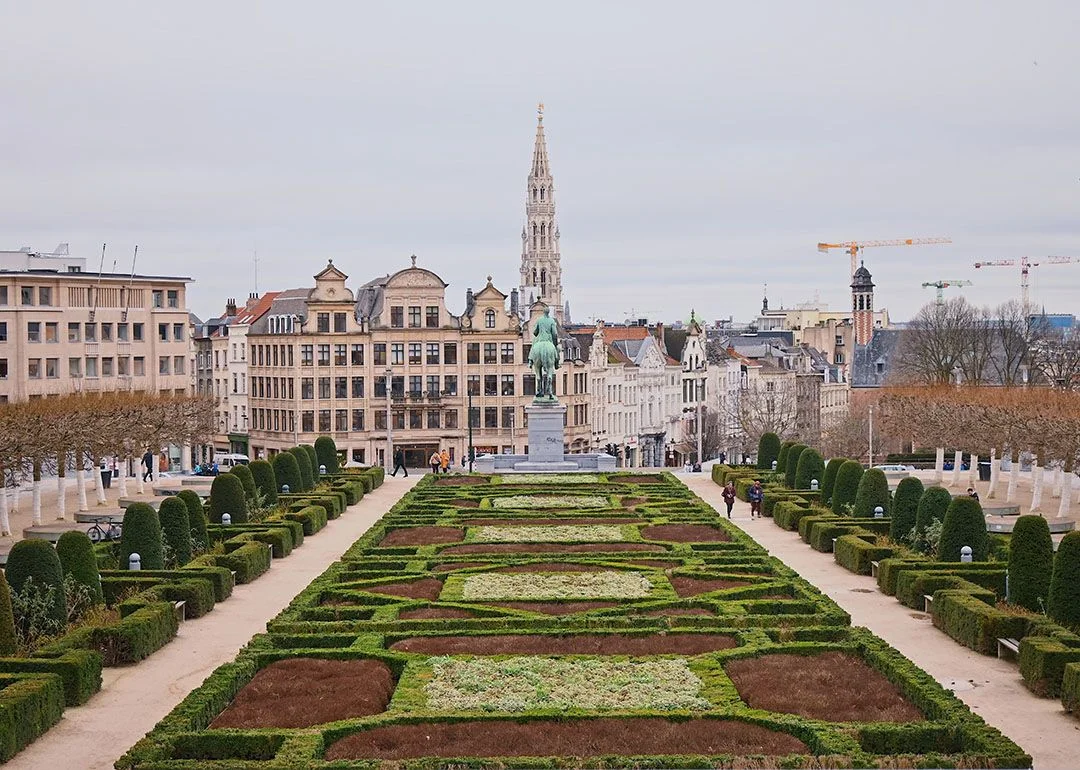 The square is located near the city center and a natural transition between upper and lower towns. It is famous for its garden – the Jardin du Mont des Arts which was created more than 100 years ago. This place was earlier the seat of the kings until it suffered from a fire and an artistic center was created here. Here you can sit and listen to carillon or go skating with other young people.
16. Royal Museums of Fine Arts of Belgium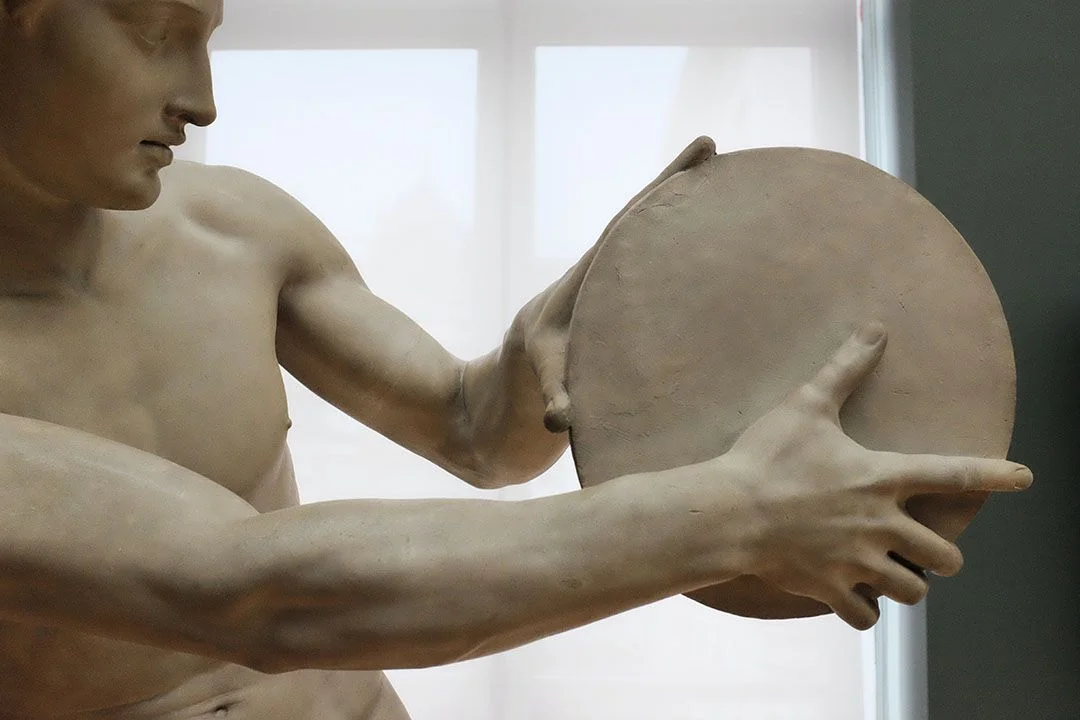 The spot for art lovers – these museums include the Museum of Modern Art, Fin-de-Siècle Museum, and the Museum of Old Art. They both contain collections of Belgian paintings and sculptures. A lot of pieces of art were confiscated in Paris when Belgium was under occupation and came again when Napoleon was deposed. The Museum of Old Art contains 1200 masterpieces from the 14th to 18th centuries. The world-known "The Death of Marat" by Jacques-Louis David is also here.
17. Parlamentarium
Every person who is a bit interested in politics knows Brussels as a strategic center of the European Union. The European Parliament has the largest visitor center Parlamentarium with free entrance, but you need to register. If you are at least a bit interested in historical affairs, that place is for you. TherSome guides tell everything and answer all your questions.
18. Atomium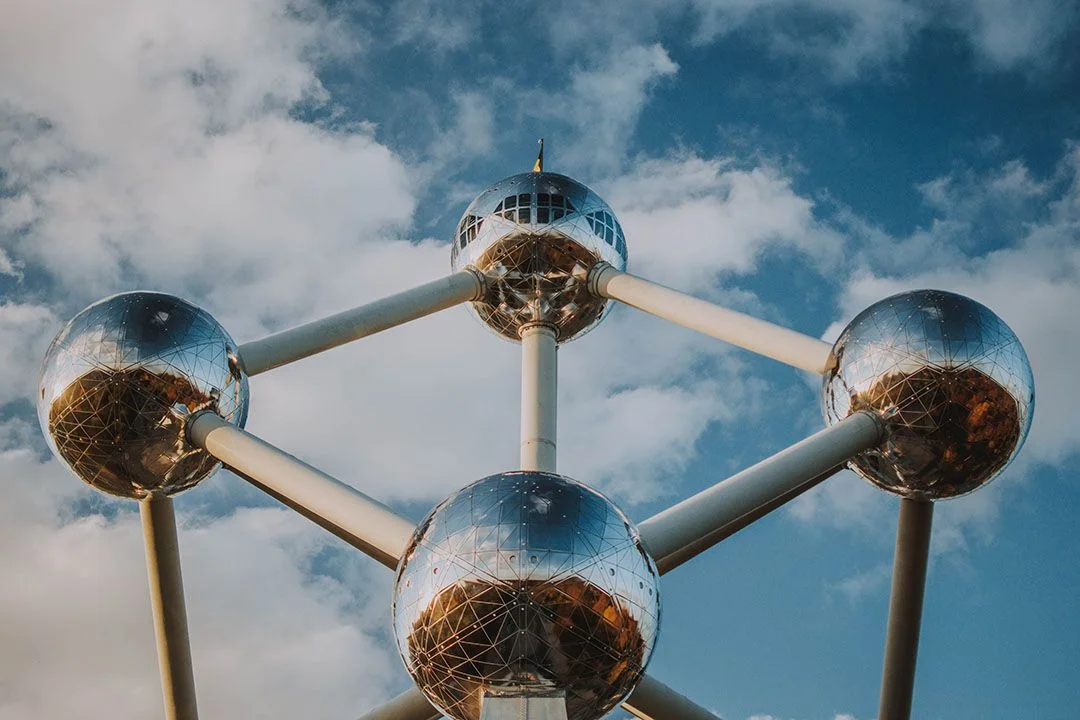 We know it's popular – that's why we didn't list it at the beginning. But how would it be possible not to mention it at all? Atomium is a symbol of the peaceful use of nuclear energy and the entry into the atomic era. You can also sit there – but visit it in the morning when it's less touristy.
19. Le Botanique
So you've heard enough of the royal past of Brussels and now want to feel like a royal? We got you! Here, in Botanique, you can have the most wonderful promenade in Brussels. It is a place of culture where art and nature combine and that garden became the place for music events, and it also has a gallery and a café.
20. Monument of Dynasty
This monument is dedicated to the first King of Belgium Leopold I who helped to strengthen the nation's parliamentary system. Each column represents a province and has a statue that symbolizes it. The monument is an example of neo-Gothic and is 50 meters high. Its architect, Louis De Curte, also built Hôtel des Postes in Strasbourg.
21. Halle Gate
Another sign of Brussels in the medieval era! A fairytale location for photoshoots, whether you decide to stay outside or climb the ladder and face a breathtaking view. This monument is now the museum of medieval Brussels and a part of the Royal Museums of Art and History. The entry is 7 Euro and the museum is open every day except Mondays and the weekend.
22. Leopold Park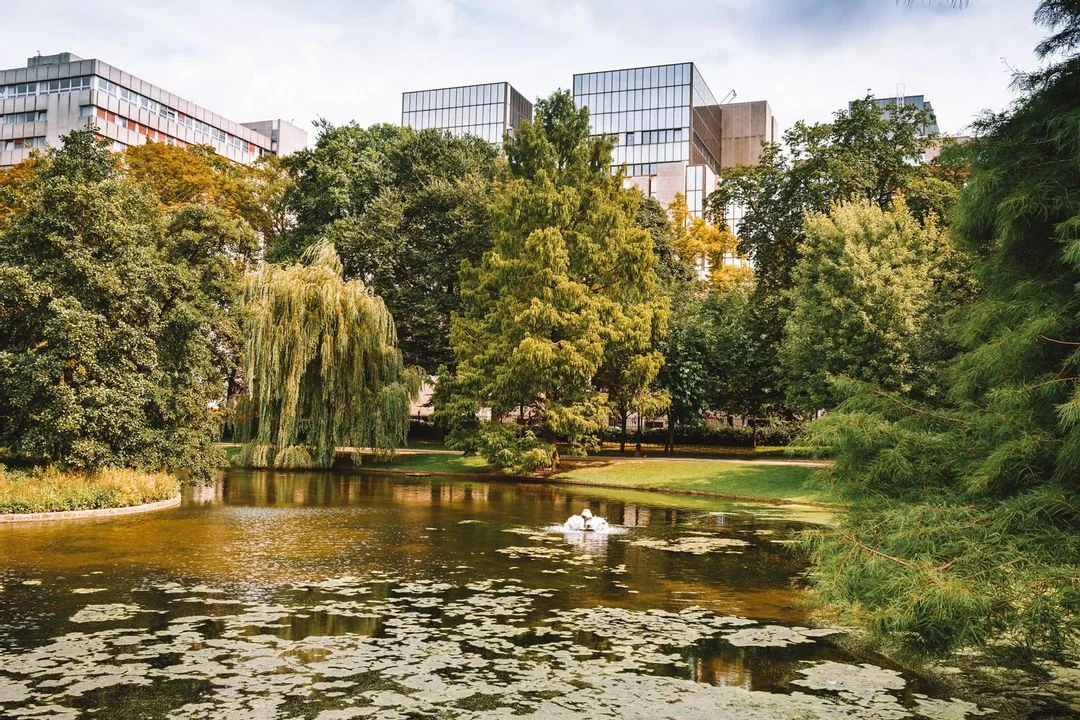 If you got tired from going around and watching grand monuments, we suggest you rest here, in a place of serenity. This park is where the Museum of Natural Sciences, which we told about before, is located as well as Solvay Library which hosts cultural events. It is near the European Parliament, and there is a cozy restaurant where you can see them having lunch.
23. Château du Belvedere
This castle is a royal residence of Albert II, a member of the Belgian royal family, and his wife, Queen Paola. In the 19th century, it was empty until the fire broke out in the Royal Castle of Laeken, and king Leopold moved there with his wife. In 1958 it was used for the World Expo, and the Brussels World's Fair, and the following year Albert II moved here with his wife.
24. Petit Sablon Square
Brussels hosts many cultural styles. If you want to boast to your friends that you had a walk in the Flemish Neo-Renaissance-styled park, go there. It is a gem of Brussel, a gift from us for those who read this article to the end. There are a lot of monuments and 48 Roman columns decorated with bronze statues of craft guilds.
25. Maison du Roi
Aren't you tired of neo-Gothic? We personally love it, therefore advise you to visit Maison du Roi. It was built in the 13th century, and now the square near the building is one of the most stunning in Brussels. The house is turned now into a museum where you can see a lot of medieval artifacts (from 1400 to 1500 years).
In conclusion
Brussels is the city of richness and royalty which is authentic and therefore doesn't tire. The city manages to have a lot of different things on its plate. Yet, they all are only about one thing – our dreams which are created here and make the city beyond our expectations.
If you are sure we forgot to list something important, tell us about it on Framey. Enrich the trips of others with your experiences!