10 Spectacular Castles in Europe
Europe is home to some of the most majestic and breathtaking castles in the world. Whether you're looking for a romantic getaway, an exciting adventure, or just a chance to explore history and culture, these top 10 castles in Europe are guaranteed to provide an unforgettable experience. From ancient fortresses to fairytale-like palaces, this list has something for everyone. Get ready to be dazzled as we take you on a tour of Europe's most spectacular castles that you simply must visit! C
✅ Make sure you'll see the entire collection in Framey App, including addresses, opening hours, and contact information!
Bran Castle (Dracula's Castle), Romania – 10 Spectacular Castles in Europe
Located near Bran, Romania, Bran Castle is known as "Dracula's Castle" and is one of Romania's most popular tourist attractions. This stunning medieval castle was built in the 13th century by the Teutonic Knights, and its strategic location atop a steep mountain surrounded by dense forests earned it the nickname "The Fortress of the Impregnable". Its distinct architecture is a mixture of Gothic, Renaissance, and Baroque styles, giving it a unique look that can't be found anywhere else.
The castle is also associated with Bram Stoker's novel Dracula, making it a hot spot for vampire enthusiasts and movie buffs alike. Inside the castle, you'll find ornate furniture, paintings, and artifacts from the 15th century. You can even take a tour of the dungeons where Vlad Tepes (the real-life inspiration for Stoker's Dracula) was once held, prisoner.
Bran Castle is sure to provide you with an unforgettable experience. 
Whether you're looking to indulge your inner vampire enthusiast or just appreciate its historical significance, there's something here for everyone. 
So don't miss out on this iconic Romanian attraction – book your visit today!
Peles Castle, Romania
Located in the Romanian Carpathian Mountains, Peles Castle is a magnificent castle surrounded by lush gardens. It was built between 1873 and 1914 as a summer home for King Carol I of Romania, who was a great admirer of German Renaissance architecture. The castle is also known for its elaborate Neo-Renaissance style, with an emphasis on ornate wood carvings and intricate stone decorations. 
Peles Castle features 160 rooms, each decorated with fine furniture, oil paintings, and other antiques from different parts of Europe. One of the most interesting features of the castle is the armory, which houses more than 4,000 pieces, including swords, handguns, rifles, and even armor. You can also see a variety of art collections in the castle, which include sculptures by French sculptor Auguste Rodin and paintings by renowned artists such as Hans von Marées and Franz von Lenbach. 
During your visit to Peles Castle, make sure to explore its beautiful gardens. There are more than 700 species of plants, some of which were planted more than 100 years ago. There's also a large park that's perfect for a stroll or a picnic. 
Visiting Peles Castle is a must-do if you're ever in Romania! It's an exquisite reminder of Romania's past and one of the most beautiful castles in Europe. 
Mont Saint-Michel, France – 10 Spectacular Castles in Europe
One of the most impressive castles in Europe, Mont Saint-Michel is a breathtaking site situated on an island just off the coast of Normandy in northern France. The castle was originally constructed in the 8th century and stands as a testament to its builders' remarkable engineering skills. Visitors can explore the ancient ramparts, towers, dungeons, and chapels, as well as take in the stunning views of the surrounding coastline. The castle is also renowned for its architecture, including its two spires, intricate masonry, and centuries-old stained glass windows. After exploring the castle grounds, visitors can enjoy the quaint shops and eateries located within the walls of the village of Mont Saint-Michel.
Rocca Guaita and Torre Cesta, San Marino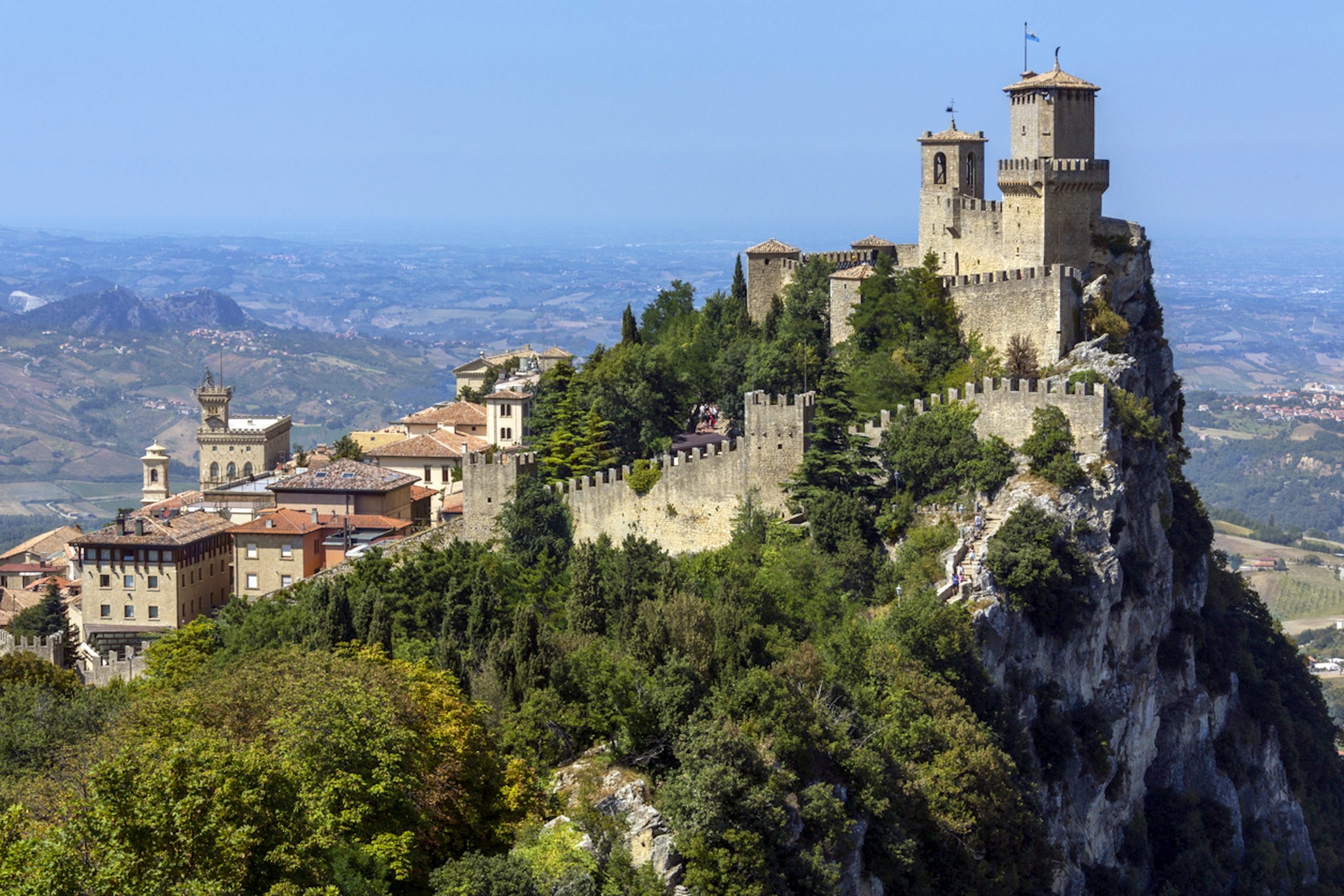 Rocca Guaita and Torre Cesta, two of the three fortresses of San Marino, have been standing since the 11th century. Sitting atop the Monte Titano, they are an awe-inspiring site to behold. The first, Rocca Guaita, is the older of the two towers and was constructed in the 10th century. It has served as a prison as well as a watchtower for protecting the town from attack. Torre Cesta was added in the 13th century and serves as the smaller tower in comparison.
The towers are connected by a wall, which offers a breathtaking view of the surrounding landscape. It is one of the most picturesque spots in San Marino and makes for a great photo opportunity. The towers also feature a museum that houses artifacts from San Marino's long history.
Visitors to Rocca Guaita and Torre Cesta can explore the towers at their own pace and learn about San Marino's fascinating history. These two towers offer a unique look into San Marino's medieval past and are definitely worth visiting if you are in the area.
Semur en Auxois Castle, France – 10 Spectacular Castles in Europe
Located in the Burgundy region of France, Semur en Auxois Castle is a majestic and well-preserved example of medieval military architecture. The castle was originally constructed as a fortress in the 11th century and over the centuries has seen many alterations and additions to its original design. Visitors can explore its beautiful grounds, including an impressive keep and several towers.
The castle's keep stands proudly atop a natural rocky promontory that overlooks the town and surrounding countryside. Inside the keep are several rooms, including the chapel, refectory, and kitchen. Adorning the walls are impressive collections of ancient weaponry, armor, and tapestries.
The surrounding grounds of Semur en Auxois Castle are equally impressive. Visitors can explore the beautiful courtyard gardens and ramparts, which have breathtaking views of the nearby towns and villages. The castle is also home to some magnificent trees, including an impressive array of chestnut trees.
Whether you're looking to explore a piece of French history or admire the stunning scenery, Semur en Auxois Castle is a must-visit destination for those looking to explore France's charming castles. From its well-preserved keep to its beautiful surrounding gardens and courtyards, it will surely be an unforgettable experience.
Chateau de Chenonceau, France 
Situated along the banks of the River Cher, Chateau de Chenonceau is one of the most beautiful castles in Europe. Built in 1515 by Katherine Briçonnet, this majestic structure boasts a combination of French Renaissance and Italian architectural styles.
The castle's grounds include an immense garden full of blooming trees and colorful flowers, as well as a small maze. On the inside, visitors will be enchanted by the gallery that spans across the bridge and through the middle of the castle, taking them from one side of the river to the other. In addition, the many towers, turrets, and winding staircases make it easy to explore every corner of this remarkable structure. Chateau de Chenonceau is also home to many works of art and furnishings from all over the world. This includes several pieces of furniture from the 16th century and several tapestries from renowned artists such as Raphael and Jean Goujon. 
Moreover, the castle is known for its grand receptions and balls thrown for kings and aristocrats over the centuries. It is believed that even Marie Antoinette once visited the castle for a secret rendezvous with her lover, Fersen.
Today, visitors can enjoy a guided tour of the grounds and marvel at the beauty of Chateau de Chenonceau, a truly breathtaking castle in France.
Castle Stalker, Scotland – 10 Spectacular Castles in Europe
Situated on the rugged coast of Scotland, Castle Stalker is one of the most beautiful and unique castles in Europe. The castle was originally built in the 14th century as a defensive fortress and was later renovated in the 19th century.
This castle is well known for its picturesque location and views of Loch Laich and the surrounding hills. It was featured in the 1975 movie Monty Python and the Holy Grail as "Castle Aaaargh" and has been used in many films and television shows since then.
Today, Castle Stalker is open to visitors for tours and photography. You can explore the courtyard, and battlements, and enjoy the stunning views from the top of the castle walls. There are also historical displays and educational activities that help you learn more about this majestic structure. 
Whether you're a fan of Monty Python or just looking for a unique destination, Castle Stalker is an amazing castle to visit. Its beautiful location and history make it an unforgettable experience.
Pena Palce – Sintra, Portugal
Sintra is an absolute must if you are visiting Portugal. The following stunning locations sit against the backdrop of rolling hills and lush greenery, making it a breathtaking destination. We are talking about the National Palace of Pena, The Castle of the Moors, and Quinta da Regaleira.
– The National Palace of Pena is undoubtedly the most popular of all the castles in the area. It is a perfect example of the Manueline style, with intricate decorations made of brightly colored azulejos tiles. Inside the palace, you can marvel at the incredible painted ceilings, grandiose rooms, and gothic stairs.
– The Castle of the Moors is located on the nearby hill and is quite different from its neighbor. This ancient fortress dates back to the 9th century and has some incredible views over Sintra. It is also one of the few European castles that are still partially inhabited.
– Quinta da Regaleira is another interesting building to explore. It is a 19th-century palace full of secret tunnels and ornate carvings. This castle also includes a large garden with grottoes, fountains, and statues.
No trip to Sintra would be complete without a visit to one of these amazing castles. With so much history and beauty to take in, this is one of the most spectacular castle towns in Europe.
Frederiksborg Castle, Denmark – 10 Spectacular Castles in Europe
Located in the picturesque town of Hillerød, Denmark, Frederiksborg Castle is a spectacular piece of Danish Renaissance architecture. Built-in 1602 by King Christian IV, it is considered one of the most beautiful castles in Europe. With its ornate exterior and lush gardens, Frederiksborg Castle is the perfect place for a day trip.
Inside the castle, you can explore the lavish Royal Chapel, constructed in baroque style. Other attractions include the Great Hall, its magnificent staircase, the Palace Church, and the Audience Hall. The surrounding lake also adds to the majestic beauty of this historic site.
The castle's grounds contain many interesting attractions as well. There are three different gardens to explore – the Baroque Garden, the Renaissance Garden, and the Romantic Garden. Each garden contains a variety of plants and sculptures, along with views of the lake and surrounding countryside. There is also a museum that houses a collection of paintings and artifacts related to Danish history.
Whether you're looking for an exciting day trip or a romantic getaway, Frederiksborg Castle is sure to be a memorable experience. This incredible site captures centuries of Danish history and offers visitors a unique glimpse into a bygone era.
Caernarfon Castle, Wales
Located in the historic town of Caernarfon, Wales, Caernarfon Castle is an iconic castle that is among the finest surviving medieval fortifications in Britain. Built in 1283 by Edward I of England, the castle was designed to be a symbol of his power and authority over the people of Wales. The castle is characterized by its impressive concentric walls, towers, and gateways which make it one of the most recognizable castles in Europe. 
The castle also boasts several spectacular features such as the Eagle Tower, a four-story tower built as a guardhouse for the castle. It was here that the future King Edward II was born in 1284. In addition, the castle contains two royal apartments, a Great Hall, and a chapel. There is also a series of murals that depict various stories from Welsh history. 
Today, Caernarfon Castle is open to visitors year-round and offers a wealth of activities to explore and experience. Visitors can take a guided tour of the castle and its grounds or they can join a ghost tour or enjoy one of the many festivals that take place at the castle throughout the year. There are also a variety of shops and cafes located within the castle walls where visitors can purchase souvenirs or refreshments. With its rich history and breathtaking beauty, Caernarfon Castle is worth a visit when exploring Wales.
Conclusion
If you're looking to travel to Europe and explore its many beautiful castles, then the top 10 list we've put together is sure to give you plenty of ideas. Visiting each of these stunning locations will surely leave you with some amazing memories and photos. 
And speaking of photos, why not share your European castle experience with your friends using Framey App? 
With Framey, you can easily share all your holiday photos with your friends, and get inspired for your next trips!
❗Keep Reading about Magical Places To Visit Around The World and Beyond: