Kuala Lumpur is one of the most exciting cities in Southeast Asia. With its stunning skyline, bustling nightlife, and endless attractions, it's no surprise why so many tourists flock to this amazing city each year. From stunning religious sites and vibrant markets to world-class restaurants and stunning natural beauty, there's something for everyone in Kuala Lumpur. 
To help you make the most of your time in this vibrant city, here are 20 tourist attractions you won't miss.
✅ Make sure you'll see the entire collection in Framey App, including addresses, opening hours, and contact information!
1. Islamic Arts Museum of Malaysia – Attractions in Kuala Lumpur
The Islamic Arts Museum Malaysia (IAMM) is an impressive architectural landmark located in the heart of Kuala Lumpur, the capital of Malaysia. It is home to the largest collection of Islamic art and artifacts in Southeast Asia, with over 7,000 items from the 7th century onward on display.
IAMM has six permanent galleries showcasing traditional Islamic art and artifacts from Malaysia, the Middle East, North Africa, Central Asia, and South Asia. The museum offers an array of interactive exhibitions and educational activities, making it one of the best tourist attractions in Kuala Lumpur. 
Visitors can admire a wide range of intricate works of art and craftsmanship including stone carvings, metalwork, ceramics, manuscripts, calligraphy, and jewelry. Some of the most notable pieces on display include a replica of the 17th-century King's Throne from Isfahan, a 15th-century Persian astrolabe, and a 9th-century Qur'an manuscript from Uzbekistan. 
For those interested in learning more about Islamic culture and history, IAMM offers a range of guided tours, workshops, and lectures. The museum also boasts a library with more than 10,000 books and periodicals on topics related to Islamic art and culture. 
Whether you're a history enthusiast or just looking for something unique to do in Kuala Lumpur, a visit to the Islamic Arts Museum Malaysia is an absolute must!
2. Sri Maha Mariamman Temple
The Sri Maha Mariamman Temple is one of the most iconic Hindu temples in Kuala Lumpur and the oldest Hindu temple in the city. Situated in the heart of Chinatown, this temple serves as a symbol of the strong Indian presence in Malaysia. Built-in 1873, it is dedicated to the Hindu goddess Mariamman. The temple features a bright façade with intricate sculptures and vibrant colors. Visitors can marvel at its unique architecture, including its stunning gopuram (tower) and ornate statues. Inside, visitors will find a large prayer hall where devotees perform rituals and prayers. The temple also offers a variety of special events, from blessing ceremonies to music festivals. Whether you're a devout Hindu or just want to explore some local culture, the Sri Maha Mariamman Temple is a must-see for any traveler.
3. The Petronas Towers
The iconic Petronas Towers are a must-see when visiting Kuala Lumpur. Standing at a staggering 451.9 meters, the twin towers are an impressive sight. The towers are connected by the Sky Bridge, located on the 41st and 42nd floors. This bridge provides beautiful views of the city, as well as being a popular attraction for tourists. Inside, you can explore the Petronas Art Gallery and the Petronas Philharmonic Hall. The Petronas Towers also have a shopping mall and some great restaurants to choose from. It's a must-visit spot while you're in Kuala Lumpur!
4. Menara Kuala Lumpur – Attractions in Kuala Lumpur
The Menara Kuala Lumpur, also known as the Kuala Lumpur Tower, is an iconic structure in the heart of Malaysia's capital city. This towering communication tower stands at a whopping 421 meters (1,381 feet) and is the tallest freestanding telecommunications tower in the whole of Southeast Asia. It also has the distinction of being the 7th tallest tower in the world. 
Menara Kuala Lumpur was constructed between 1991 and 1995, with the foundation stone being laid by the former Malaysian Prime Minister, Tun Dr. Mahathir Mohammad. The grand opening was officiated by him too, on 1 October 1996.
The observation deck of Menara Kuala Lumpur is located 276 meters above the ground and provides stunning views of the surrounding city. There is also a revolving restaurant located at 282 meters, called Atmosphere 360. It takes approximately one hour to do a complete rotation and offers guests a luxurious dining experience that is hard to come by. Other attractions inside Menara Kuala Lumpur include a 'Skybox', a mini zoo, and an Islamic Science and Technology Center. 
The design of Menara Kuala Lumpur was based on the concept of a Minaret, which is a tower-like structure used for calling Muslims to prayer. It is one of the most recognizable structures in the city and is featured prominently on postcards and souvenirs from Kuala Lumpur.
5. KLCC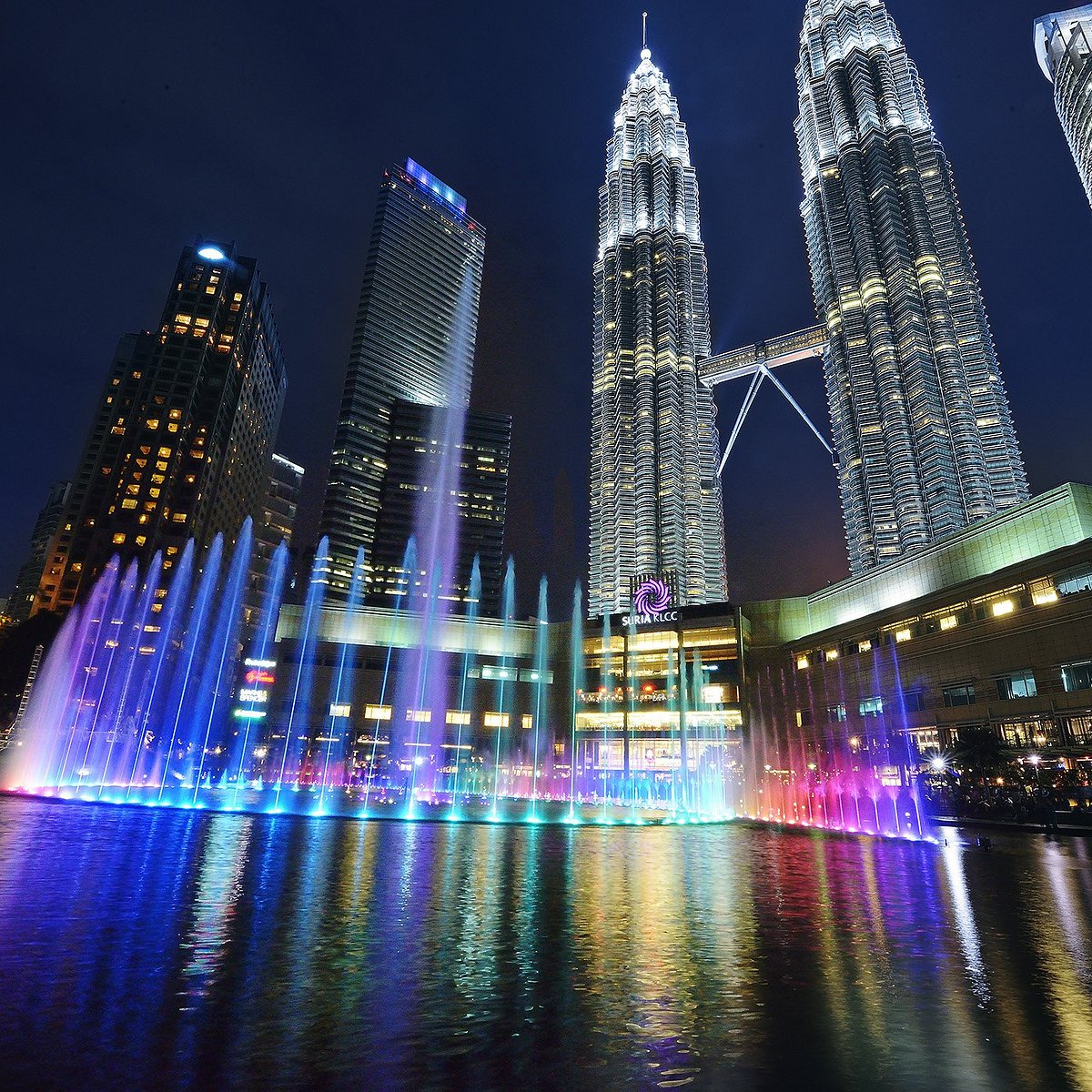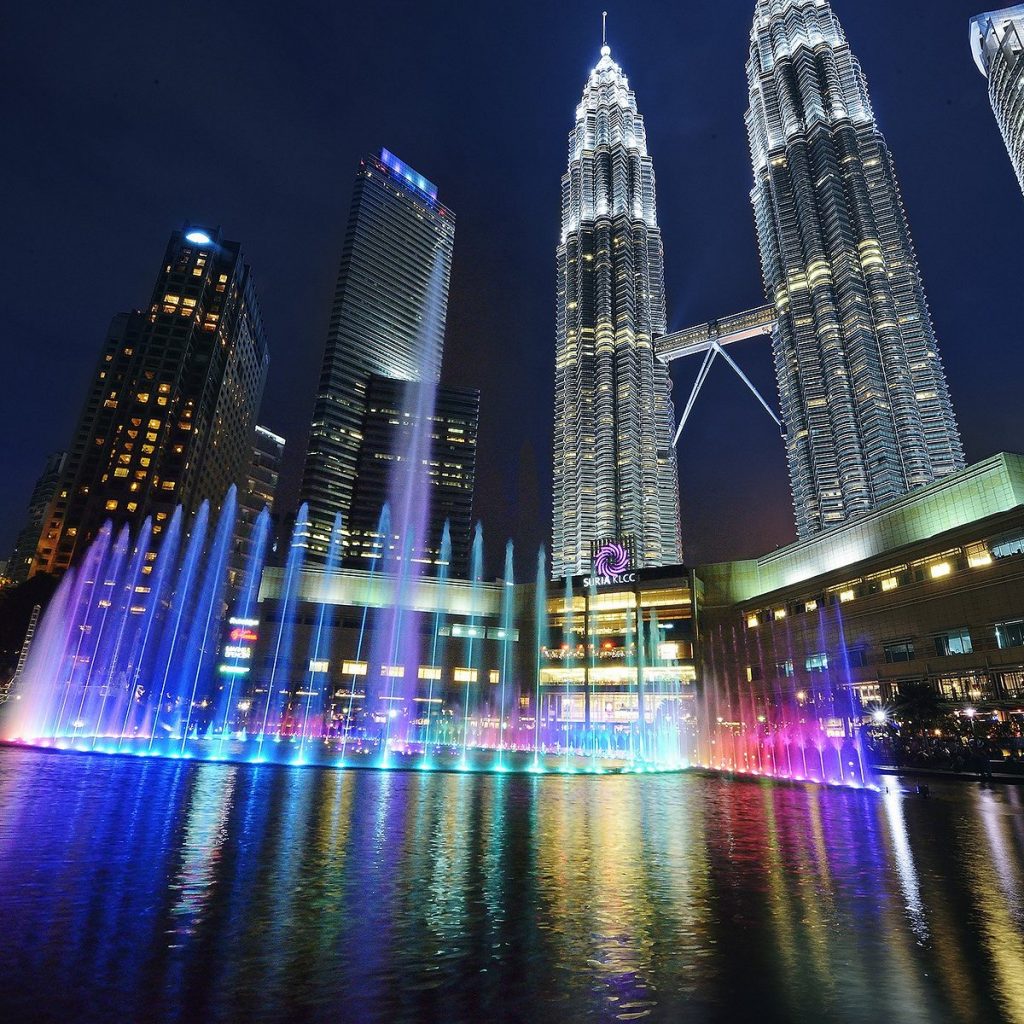 KLCC, or Kuala Lumpur City Centre, is a major business and shopping district in the Malaysian capital. Located in the Golden Triangle area, it houses some of the city's most impressive skyscrapers and iconic buildings. The main feature of KLCC is the Petronas Twin Towers, the tallest twin towers in the world, standing at 451.9 meters tall. These imposing buildings are connected by the Sky Bridge, a double-decker bridge that offers stunning views of the city from its 57th-floor vantage point. Other attractions within the complex include the Kuala Lumpur Convention Centre, Suria KLCC mall, and the Aquaria KLCC aquarium. The nearby KLCC Park is also a popular place to relax and take in the views. With so many things to see and do, it's no wonder why KLCC is one of the most popular tourist destinations in Kuala Lumpur.
6. National Mosque of Malaysia – Attractions in Kuala Lumpur
The National Mosque of Malaysia is located in the heart of Kuala Lumpur and is an impressive sight to behold. It was constructed in 1965 and is the largest mosque in Malaysia, with a capacity of 15,000 people. The architecture is stunningly beautiful and reflects the beauty of Islamic art. Its most iconic feature is the 73-meter minaret, which can be seen from almost anywhere in Kuala Lumpur. Visitors are welcome here, although there are certain dress requirements and all visitors must take their shoes off before entering the prayer hall. Inside, visitors can admire the unique decoration and detailed craftsmanship, as well as learn more about Islam and Malaysian culture. There are also guided tours available for those who would like to gain more insight into the history and significance of this holy place. A visit to the National Mosque of Malaysia is sure to be an unforgettable experience.
7. Merdeka Square
Located in the heart of Kuala Lumpur, Merdeka Square is a landmark of national pride. The grand square was the setting for the country's declaration of independence from Britain on August 31, 1957, and has been a symbol of Malaysia's resilience ever since.
The 99-acre square is located between the Sultan Abdul Samad building, the Royal Selangor Club, and the National History Museum. The beautiful park is home to lush gardens, ornate fountains, and a flagpole in the center that stands at a height of 100 meters and proudly displays the Malaysian flag.
One of the most popular attractions in Merdeka Square is the Mahameru Monument. This monument honors Malaysia's founding fathers and pays tribute to those who fought to secure the nation's independence. At the base of the monument, you will find an eternal flame, which symbolizes courage, truth, and justice. 
Merdeka Square is also a popular site for festivals and events throughout the year. It is a great place to soak up some local culture and enjoy the sights and sounds of this vibrant city. Whether you want to learn more about Malaysia's history or just stroll through the gardens, Merdeka Square is an essential stop during your visit to Kuala Lumpur.
8. Kuala Lumpur Pavilion
If you're looking for a shopping haven right in the heart of Kuala Lumpur, then the Kuala Lumpur Pavilion is the place to be. Located in Bukit Bintang, this mall offers a great selection of retail stores, fashion boutiques, food outlets, and more.
The Pavilion boasts over 500 stores, including many international brands such as Topshop, Uniqlo, Coach, and Hugo Boss. If you're looking for souvenirs or unique Malaysian items, you can also explore the extensive range of local vendors offering traditional handicrafts, clothing, jewelry, and accessories. 
When it comes to dining, the Pavilion has something for everyone, from casual cafes to fine-dining restaurants. Sample local delights such as nasi lemak, char kway teow, and roti canai at the various hawker centers and food courts scattered throughout the mall. For a sweet treat, head over to the KL Food Court for a range of delicious desserts.
The Pavilion also features an impressive array of entertainment and leisure activities. You can catch a movie at one of the 15 screens at GSC Cinemas, enjoy a pampering session at the spa and wellness center, and even have fun at the game center. 
If you're after a shopping experience with a difference, then make sure you visit the Kuala Lumpur Pavilion. From world-class fashion stores to mouth-watering food outlets, this shopping destination will keep you entertained.
9. Central Market (Pasar Seni) – Attractions in Kuala Lumpur
Located in the heart of Kuala Lumpur, Central Market (Pasar Seni) is one of the best places to visit in the city. This vibrant market is divided into two main areas – a retail section that offers a variety of locally made crafts and souvenirs, and an entertainment area with art galleries, music performances, and cultural events.
Central Market is also home to some of Kuala Lumpur's most unique stores and restaurants. It's the perfect place to explore Malaysian culture and cuisine, from street food stalls serving delicious traditional dishes to shops that specialize in local handicrafts and accessories.
Central Market is also a great place to pick up some last-minute souvenirs. From hand-crafted jewelry to colorful textiles and traditional musical instruments, you'll find something special to remember your trip by. And if you're looking for a bargain, Central Market is the place to go! With its wide selection of products at discounted prices, you're sure to find something special at an affordable price.
10. Masjid Jamek Sultan Abdul Samad
This stunning mosque is located near the meeting point of the Klang and Gombak rivers and is one of the oldest mosques in Kuala Lumpur. Its construction began in 1909 and was completed three years later in 1912. This beautiful mosque is built in a Moorish style with its two main minarets standing 32 meters tall and its domes are painted in bright colors making it stand out in the city's skyline.
Masjid Jamek Sultan Abdul Samad is not just a place of worship, but also a symbol of Malaysia's rich history and culture. The mosque is open to visitors from all backgrounds and religions, although certain rules must be followed when visiting. The dress code for women should be long skirts or trousers that cover the knees and arms should be covered up to the wrists. Shoes should also be removed when entering the mosque.
Visitors can explore the grounds around the mosque and admire its intricate architecture. Inside, there are some galleries showcasing photos and artifacts from the time it was first built. For those looking for a more spiritual experience, there are regular prayer sessions throughout the day where visitors can join in and pray along with other worshippers.
11. Sultan Abdul Samad Building – Attractions in Kuala Lumpur
Located on the west side of Dataran Merdeka, the Sultan Abdul Samad Building is an iconic symbol of Malaysia's independence. This historic building was constructed in 1894 and served as the administrative center for the colonial government. The building is a prime example of Moorish architecture, with a 41-meter clock tower at its center. Its two stories are made up of red bricks and feature elaborate ironwork and stained glass windows. The building is now used as the Ministry of Information, Communication, and Culture. There are plenty of photo opportunities around this magnificent landmark, so make sure to bring your camera!
12. KL Forest Eco Park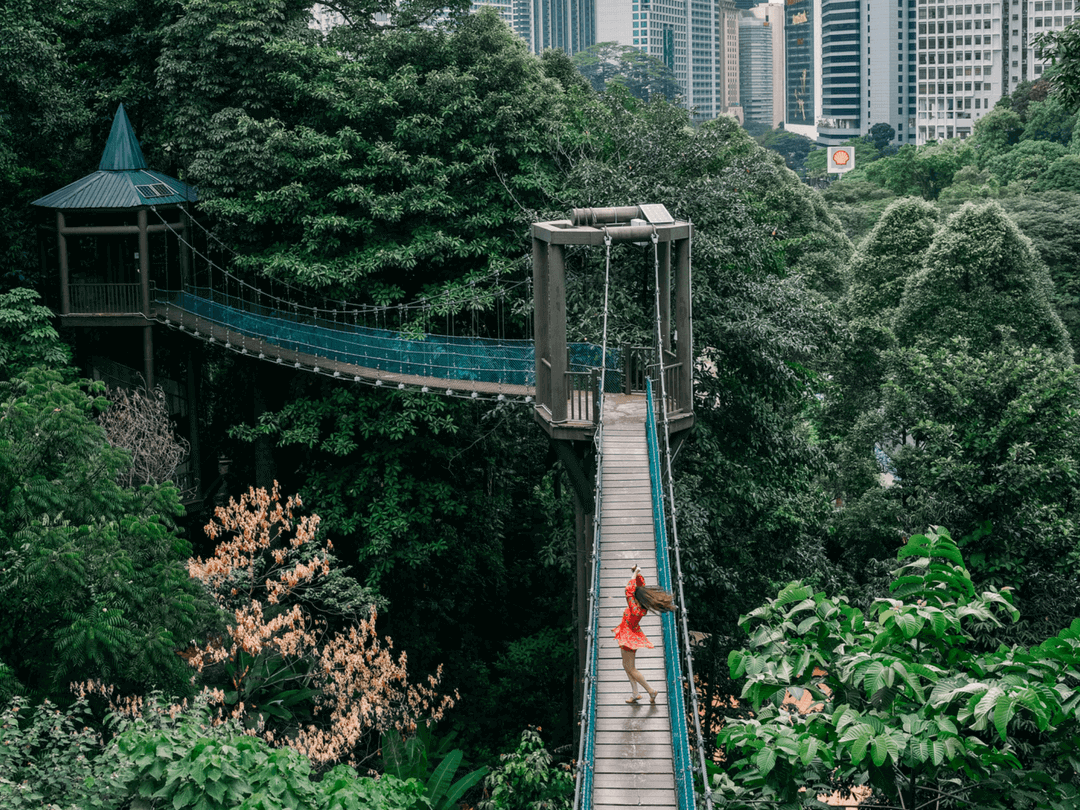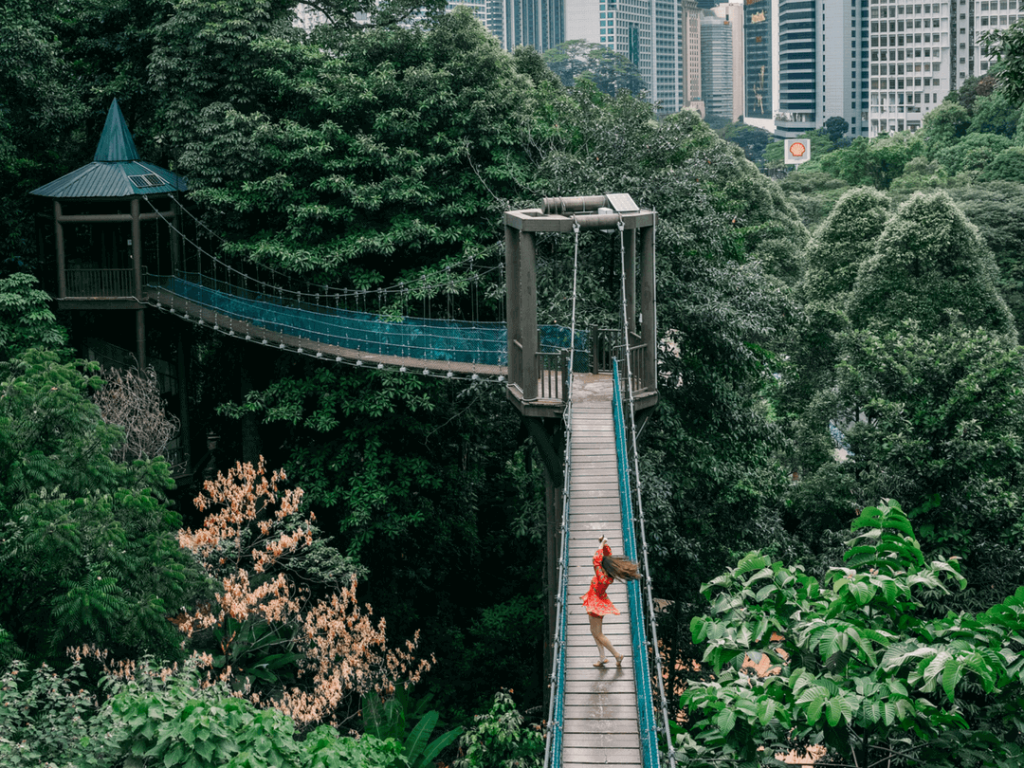 KL Forest Eco Park, located in the heart of Kuala Lumpur, is a great place for visitors to explore Malaysia's nature. This 60-acre urban oasis offers a range of activities such as hiking, biking, birdwatching, and more. The park also has educational displays and interactive programs so visitors can learn about the natural environment. If you're looking for a peaceful escape from the hustle and bustle of the city, the KL Forest Eco Park is the perfect place to unwind. Enjoy the lush greenery while taking in the stunning views of the city skyline and the nearby Gombak River.
13. Sunway Lagoon – Attractions in Kuala Lumpur
This is one of the most popular tourist attractions in Kuala Lumpur and a must-visit for thrill seekers. Located in Subang Jaya, this theme park has something for everyone – from water slides to a man-made beach, a surf beach, and more. The park offers a variety of rides, such as the Waterplexx 5D, the Python, and the Vuvuzela. For a unique experience, try Gravity Max, which is the world's first and only gyro drop ride. Sunway Lagoon also has an Adventure Park with rock climbing, archery, paintball, and a cable car. There's also an animal park where you can see exotic creatures such as macaques and wild boars. After a day of fun at Sunway Lagoon, be sure to check out their dining options, which include a variety of international cuisines.
14. Istana Negara
Located in the heart of Kuala Lumpur, Istana Negara is one of the top tourist attractions in Malaysia's capital. This grand palace was originally constructed as a residence for the Yang di-Pertuan Agong (King of Malaysia) and served as the official residence of the current monarch. It is surrounded by a sprawling garden that is perfect for a stroll, and visitors can get a glimpse of the stunning architecture of this imposing building from the outside. Inside, the opulent décor and intricate artwork will mesmerize you. Guided tours are available and allow you to learn more about the history and significance of Istana Negara.
15. Brickfields
Nestled in the heart of Kuala Lumpur, Brickfields is a vibrant area bustling with energy and life. Many locals refer to it as Little India, as there are several Hindu temples, restaurants serving delicious Indian cuisine, and colorful saree shops here. It's also home to some of the best street art in KL, so be sure to snap a few pictures while you're there! Of course, no visit to Brickfields would be complete without a visit to the many small street vendors selling all sorts of goods, from food to clothes and knick-knacks. Don't forget to barter for the best deal!
16. Chinatown Kuala Lumpur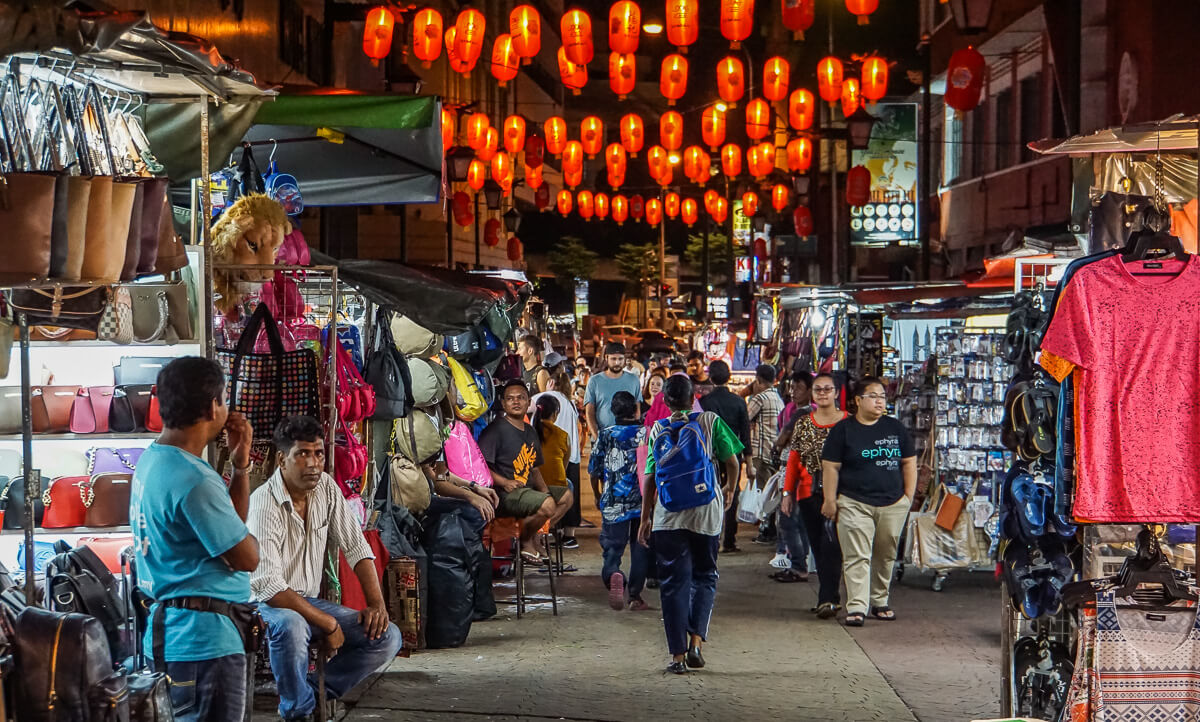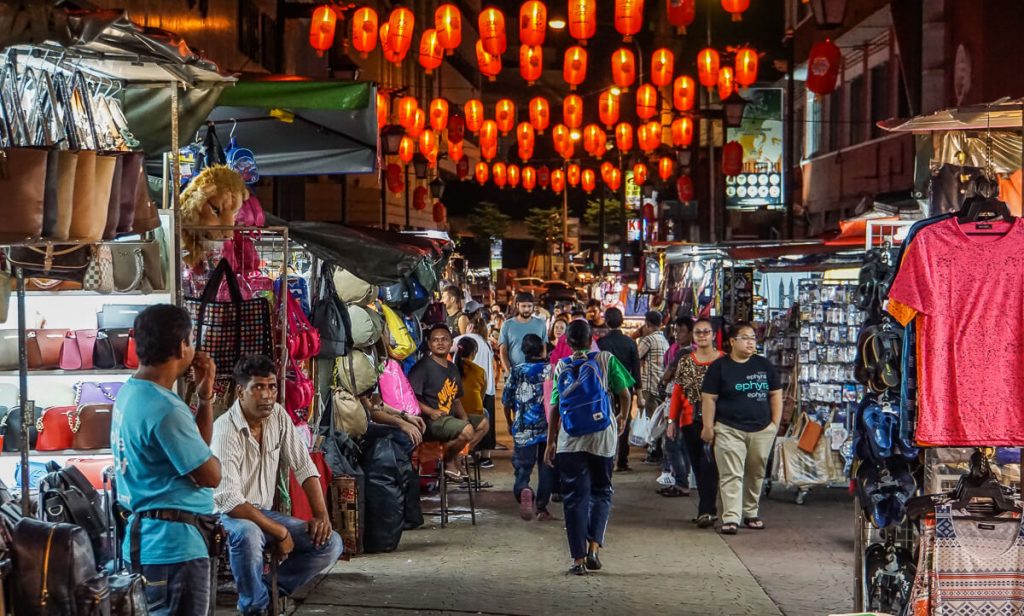 This one of the oldest and most vibrant areas in Kuala Lumpur. It is home to a variety of traditional Chinese shops, restaurants, and street markets. Spend a day walking through the area's narrow alleys and discovering its hidden gems. Be sure to visit Petaling Street Market, the most popular spot in Chinatown, where you can find anything from counterfeit goods to traditional Chinese dishes. Here, you can also find a variety of stalls selling herbal medicines, silk clothing, and Chinese handicrafts. Chinatown is also a great place to sample some authentic local cuisine such as wonton noodles, char kway teow (stir-fried flat rice noodles), and Hokkien mee (fried noodles).
17. Resorts World Genting – Attractions in Kuala Lumpur
Located just an hour away from Kuala Lumpur, Resorts World Genting offers visitors a luxurious escape in the misty hills of Malaysia. From shopping, dining, and entertainment to outdoor activities, this integrated resort is a perfect day-trip destination. Visit First World Plaza for exclusive shops, a wide range of dining options, gaming facilities, and thrilling theme park rides. If you're looking for a more relaxing activity, take a stroll through Chin Swee Caves Temple or enjoy spectacular views from the Awana Skyway. For a unique experience, be sure to check out the world's first 20th Century Fox World Theme Park which features iconic movie-themed attractions and rides. Whether you're looking for adventure or relaxation, Resorts World Genting has something for everyone.
18. Sin Sze Si Ya Temple
Located in the heart of Chinatown, Sin Sze Si Ya Temple is one of the oldest temples in Kuala Lumpur. Built-in 1864, the temple is dedicated to the patron of the business community and sea travelers, Sin Sze Ya. The main shrine inside the temple houses a three-meter-tall statue of the deity and is decorated with many colorful carvings and sculptures. Visitors will also find various Chinese deities such as Kuan Yin and the 'God of Fortune (Cai Shen). Apart from the main shrine, there are also other shrines and halls dedicated to various gods and goddesses. Visitors can participate in traditional religious activities such as blessing ceremonies, worship services, and chanting activities.
19. Guan Di Temple Chinatown 
This is a popular tourist attraction in Kuala Lumpur, located in the city's bustling heart. The traditional Chinese temple is dedicated to Guan Yu, a revered military figure in Chinese history. The temple features intricately decorated red and gold pillars and an ornate roof, making it a perfect spot for taking photos. Inside, visitors can admire the striking artwork of the statues and sculptures depicting ancient gods, including those of Guan Yu himself. The temple offers a variety of activities such as traditional Chinese opera performances and lion dance performances. Visitors can also learn about Chinese culture through guided tours of the temple and its surroundings. The temple is open daily from 8:00 am to 6:00 pm and is free to visit.
20. Thai Buddhist Chetawan Temple
Located in the vibrant Chinatown district of Kuala Lumpur, the Thai Buddhist Chetawan Temple is a must-see for tourists visiting the city. This beautiful temple was built in 1971 and was constructed to honor Chinese immigrants who had settled in Malaysia. The temple features unique Thai-style architecture with golden dragons, colorful murals, and intricate carvings. Within the grounds of the temple, there are several shrines dedicated to various deities, and visitors can also explore the many statues and sculptures that adorn the courtyard. Visitors should note that there are strict rules to be followed while visiting this sacred site. Modest attire is expected, and no photography is allowed inside the temple.
For the best way to capture your experiences in the city, we recommend Framey App – the perfect way to share your holiday photos with friends and family, or to use for inspiration when planning your next trip!
✅ Make sure you'll see the entire collection in Framey App, including addresses, opening hours, and contact information!