Top 15 Things to See and Do in Oaxaca
Are you looking for the perfect getaway? Look no further than Oaxaca, Mexico, a city full of rich culture and history. With its beautiful colonial architecture, vibrant nightlife, and delicious cuisine, there's something for everyone to enjoy. From exploring ancient archaeological sites to learning about traditional folk art, these are the top 15 attractions and things to do in Oaxaca. 
Whether you're looking for a relaxing vacation or an adrenaline-filled adventure, you'll find it all in Oaxaca.
✅ Make sure you'll see the entire collection in Framey App, including addresses, opening hours, and contact information!
1. Catedral Metropolitana de Oaxaca
The Catedral Metropolitana de Oaxaca is the grandest religious site in Oaxaca City. The church, which was built in the 17th century, is a stunning example of Spanish Baroque architecture. It is located on the main square of the city, Plaza de la Constitución, and is one of the most visited attractions in Oaxaca. The façade of the cathedral is made up of two levels and is decorated with intricate floral carvings and statues of saints. Inside, visitors will find an impressive display of religious artwork, including an 18th-century altarpiece. Several chapels contain pieces from the colonial period. Visiting this beautiful site is an absolute must while in Oaxaca.
2. Hierve el Agua – Top 15 Things to See and Do in Oaxaca
Situated in the spectacular Sierra Madre de Oaxaca mountain range, Hierve el Agua is one of the top attractions in Oaxaca. This natural wonder consists of two mineral water springs that cascade down a limestone cliff to create a stunning landscape of petrified cascading waterfalls. The dramatic effect of the white limestone and blue-green waters of the spring make Hierve el Agua one of the most picturesque spots in all of Oaxaca. 
Hierve el Agua is an excellent spot to take a dip in the cool, refreshing waters of the spring. There are also two smaller swimming pools and a sectioned-off area for children. Visitors can enjoy the stunning views from the top of the cliffs as well as explore the limestone formations that were created by centuries of mineral deposits. For those looking for more adventurous activities, there are also hiking trails and a zip line. 
Hierve el Agua is a must-visit destination for anyone looking to experience some of the best nature has to offer. From the crystal clear waters to the majestic limestone formations, it's a sight you won't soon forget.
3. Templo de Santo Domingo de Guzmán
One of the most iconic churches in Oaxaca, Templo de Santo Domingo de Guzmán is located in the city's main square and is the oldest existing building in Oaxaca City. This beautiful Spanish colonial church dates back to the 16th century, and its interior is truly magnificent. It houses some of the most important works of religious art in Oaxaca, including a Baroque retablo with paintings of saints, a carved wooden pulpit, and an 18th-century statue of St. Dominic of Guzman. Visitors can also explore the cloisters and gardens surrounding the church, or visit the adjoining Museo de las Culturas de Oaxaca to learn more about the history of the city. There are daily services at the church, and it's worth a visit for any traveler exploring this beautiful part of Mexico.
4. Jardín Etnobotánico de Oaxaca – Top 15 Things to See and Do in Oaxaca
Situated on the outskirts of Oaxaca City, the Jardín Etnobotánico de Oaxaca is a must-see for any visitor to the area. This sprawling botanical garden is home to over 800 native species of plants and trees, as well as several endangered species. Visitors can explore winding paths and enjoy the tranquil atmosphere while admiring a wide variety of plants, flowers, trees, and wildlife.
This is a great way to learn more about the local flora and fauna, as each section of the park is dedicated to a specific type of species or region. There are also interactive displays and educational programs offered throughout the year. Visitors can also explore the butterfly sanctuary, which houses various species of butterflies, as well as a turtle pond. 
The Jardín Etnobotánico de Oaxaca is open daily from 9 am to 5 pm and provides a wonderful day out for anyone interested in exploring the natural beauty of this region.
5. Basílica de Nuestra Señora de la Soledad
The Basilica of Our Lady of Solitude is one of the most stunning churches in Oaxaca and a major pilgrimage site for Roman Catholics. Located in the city center, the church was built in the 17th century and boasts a Baroque-style facade with pink stone, crowned with towers and a main dome.
Inside, visitors will find an impressive main altar, golden-colored walls, a spectacular organ, and several beautiful chapels, including a small chapel dedicated to Our Lady of Solitude, which is a large wooden sculpture depicting the Virgin Mary dressed in black.
As if all of this weren't enough, visitors can also admire the incredible view from the terrace of the church, which offers sweeping views of Oaxaca. The Basílica de Nuestra Señora de la Soledad is a must-see for anyone who visits Oaxaca!
6. Tree of Tule – Top 15 Things to See and Do in Oaxaca
The Tree of Tule, or "Árbol del Tule" as it is known in Spanish, is a giant Montezuma cypress tree located in the town of Santa Maria del Tule just outside of Oaxaca City. Believed to be over 2000 years old, the Tree of Tule is one of the oldest living organisms on the planet and is surrounded by a fence to protect it from people wanting to touch or climb it. 
Standing at nearly 40 meters tall and measuring over 14 meters in diameter, this ancient tree has been declared a national monument by the Mexican government. In addition to its impressive size, its branches are also incredibly thick and heavy and have been compared to the trunk of an elephant. 
The exact age of the Tree of Tule is still unknown and has yet to be confirmed. However, experts estimate that it could be anywhere between 1,200 and 3,000 years old which makes it one of the oldest living trees in the world. Visiting the Tree of Tule is an amazing experience and something you should add to your list when visiting Oaxaca.
7. Monte Albán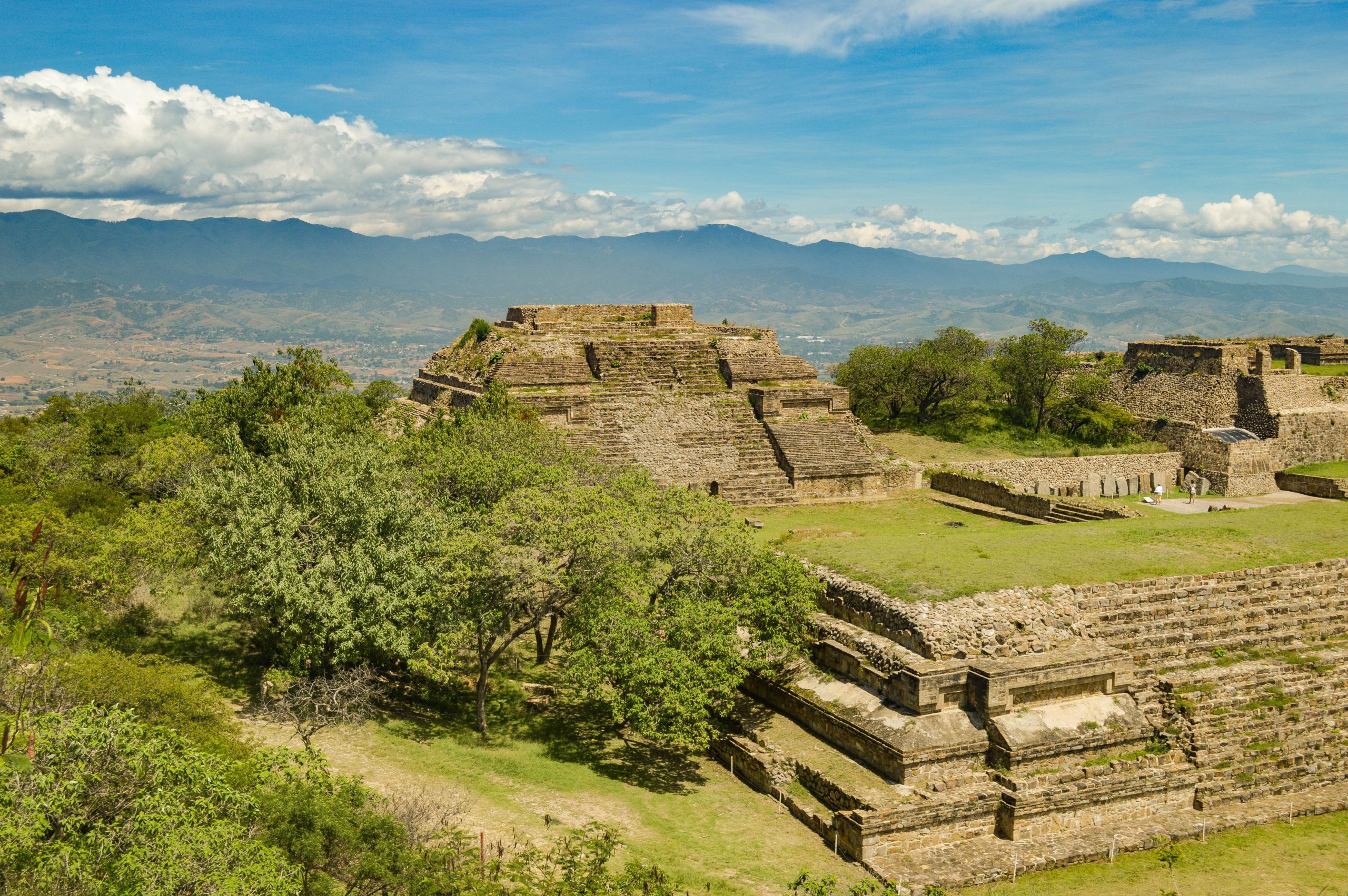 Monte Albán is one of the most famous attractions in Oaxaca, Mexico. It was once the capital of the Zapotec civilization, and it remains one of the most important archaeological sites in Mexico. The city is situated atop a hill and offers incredible views of the surrounding countryside.
At Monte Albán you will find several impressive ruins, including several pyramids, palaces, plazas, and temples. These ruins were constructed between 500 BC and 700 AD, and they offer a glimpse into the past. There are several plazas where you can explore the artifacts left behind by the Zapotec people. You can also take part in guided tours that will explain more about the site and its importance.
If you visit Monte Albán at night, you'll be able to see the breathtaking view of the stars above. It's a sight that will stay with you long after you leave this amazing place. Don't miss out on exploring this unique site while in Oaxaca!
8. El Llano – Top 15 Things to See and Do in Oaxaca
Located in the city of Oaxaca, El Llano is a historic and cultural center that offers visitors a glimpse into the past. This small town features cobblestone streets, vibrant churches, traditional markets, and even an old train station. Visitors will find several charming plazas lined with colorful facades and plenty of traditional Mexican eateries. There are also a few museums and galleries in the area. 
A stroll through El Llano will take you back in time with its quaint cobbled alleys and restored houses. The El Llano Church is a great place to start your journey. Built-in the 1700s, it is considered to be the oldest religious building in the area. The church's interior is home to beautiful artworks, including paintings and sculptures.
Nearby, you'll find the El Llano Market, where locals buy all kinds of food items such as fresh fruits and vegetables, meats, cheeses, and other items. It's also a great spot to buy traditional Mexican clothing or souvenirs.
After exploring El Llano, make sure to stop by the El Llano Train Station. This historic landmark was built in the 19th century and is now home to a museum that displays locomotives from different times in history. The museum is open for visitors every Tuesday through Sunday. 
When visiting El Llano, you'll be sure to experience the unique culture and history that the area has to offer. From its picturesque plazas to its quaint markets, it's no wonder why El Llano is one of the most popular tourist attractions in Oaxaca.
9. Zona Arqueológica de Monte Albán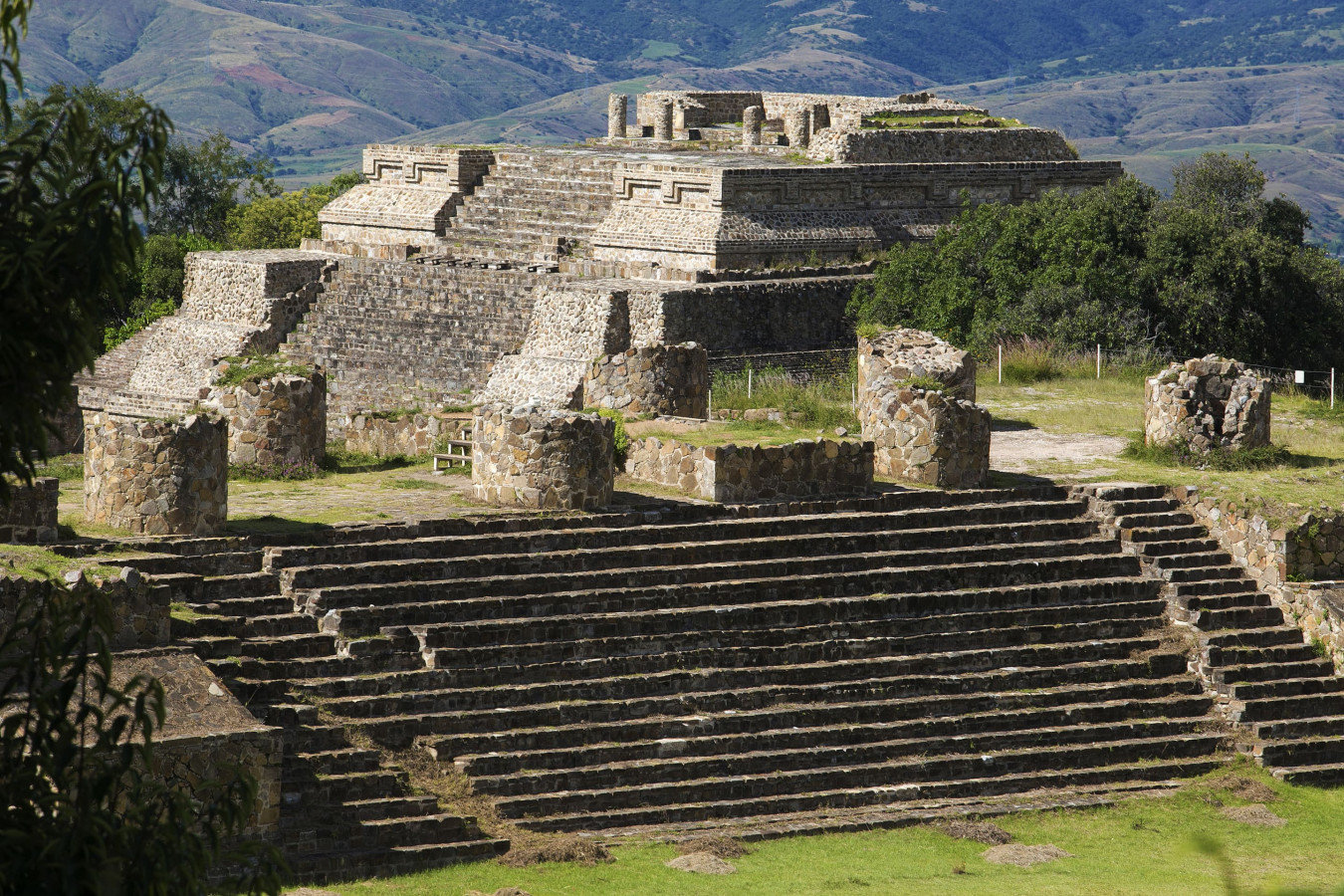 This is a Pre-Hispanic archaeological site located in the Central Valleys of Oaxaca, Mexico. This ancient city was a powerful political, religious, and economic center for the Zapotec civilization and is known for its amazing architecture and art. The site is divided into three zones: the Great Plaza, the North Platform, and the South Platform.
The Great Plaza is the main area of the site and contains many of the archaeological wonders. Here you will find the Grand Basement, an impressive ball court, and two altars. The North Platform holds two palaces, while the South Platform has many smaller structures.
At Monte Albán, you can see some of the best-preserved Zapotec ruins in Mexico. This is a great place to visit if you're interested in learning more about the ancient cultures of this region. It also provides a great view of the surrounding mountains, valleys, and countryside. Make sure to bring your camera to capture the incredible views!
10. Templo de San Felipe Neri – Top 15 Things to See and Do in Oaxaca
One of the most beautiful religious sites in Oaxaca, Templo de San Felipe Neri is a must-see attraction for those who want to experience the rich history and culture of the city. Located in the downtown area of the city, this magnificent temple was built in 1690 and is known for its intricate Baroque architecture.
The stunning façade of the temple is characterized by ornate columns and arches as well as two large bell towers. Inside the temple, visitors will find breathtaking works of art and stained glass windows that depict the life of San Felipe Neri. Visitors can take a guided tour of the temple, learn about its history and significance, or spend some time simply admiring its beauty and peaceful atmosphere.
11. Oaxaca Artisan Market
A must-visit for any traveler to Oaxaca, the Oaxaca Artisan Market is a vibrant and bustling spot to pick up some of the best handmade crafts and souvenirs in the city. Located in the Plaza de los Artesanos, this market features a wide selection of art and jewelry, as well as traditional Mexican clothing, such as serapes, rebozos, and guayaberas.
Explore the many stalls and stands full of local products, including ceramics, textiles, wood carvings, woven baskets, and more. Browse through jewelry featuring handmade silver pieces with inlaid opal stones. Purchase colorful artwork inspired by Mexico's rich history and culture. With so many unique items on offer, the Oaxaca Artisan Market is an excellent destination for finding quality souvenirs from your trip to Oaxaca.
12. Fuente de las 8 Regiones – Top 15 Things to See and Do in Oaxaca
Be mesmerized by the beauty of Fuente de las 8 Regiones, a stunning fountain located in the heart of Oaxaca City. This iconic monument symbolizes the amalgamation of the 8 regions of the state of Oaxaca. Constructed in the mid-1800s, this unique fountain features ornate stonework in an incredible pattern, representing each region.
Visit this incredible attraction and be captivated by the intricate design and vibrant colors of Fuente de las 8 Regiones. Whether you are looking for a peaceful place to relax or want to learn about the history of Oaxaca, a visit to this amazing fountain is sure to make your trip to Oaxaca one to remember.
13. Espacio Zapata
Located in the vibrant heart of Oaxaca city, Espacio Zapata is a must-visit attraction for all tourists. This historic plaza is dedicated to the famous Mexican Revolutionary Emiliano Zapata and features many monuments, plazas, and murals that celebrate his life and legacy. From the majestic bronze statues of Zapata and his horse to the various memorial plaques honoring his achievements, visitors will be able to gain an insight into the life and times of this great man.
Visitors can also take advantage of the numerous food stalls in the area to sample traditional Oaxacan cuisine while soaking in the atmosphere of the beautiful plaza.  Make sure to check out Espacio Zapata on your next trip to Oaxaca, Mexico!
14. Jardín Labastida – Top 15 Things to See and Do in Oaxaca
Visit the beautiful Jardín Labastida for a tranquil and romantic stroll. Located in the historic district of Oaxaca, the Jardín Labastida is a picturesque botanical garden with a wide variety of exotic plants and flowers. The garden was created in 1867 by Don Miguel Labastida, who was a prominent Mexican botanist. This tranquil spot is perfect for soaking in the natural beauty of Oaxaca and admiring the colorful flowers that adorn the garden.
The Jardín Labastida also serves as an educational center, offering classes and seminars on horticulture and the cultivation of local plants. Whether you are looking for a romantic spot to take your special someone or a peaceful place to spend an afternoon, the Jardín Labastida is sure to provide you with a serene and unforgettable experience. 
15. Museo de Los Pintores Oaxaqueños
The Museo de Los Pintores in Oaxaca, Mexico is a must-see attraction for those looking to learn more about the city's rich cultural heritage. Located in the historic district of Santo Domingo, this art museum showcases some of the most famous and influential works of Mexican painters from the 19th and 20th centuries. Visitors can find works by renowned artists such as Diego Rivera, Frida Kahlo, and David Alfaro Siqueiros, among many others.
With its large collection of paintings and sculptures, the Museo de Los Pintores provides an excellent opportunity to learn more about Mexican art and culture. Additionally, the museum regularly hosts events such as lectures and workshops, giving visitors even more insight into the history of Oaxaca's art and culture. Whether you're a fan of Mexican art or simply want to learn more about Oaxaca, a visit to the Museo de Los Pintores should be at the top of your list!
Don't you think these places are exciting?
If yes, plan a trip around the world, head to your favorite destination, and spend some wonderful time with your family or friends! 
There's a whole world out there for you to explore!
If you're searching for more amazing and unique travel inspirations, don't forget to check Framey App(available on Google Play and Apple Store) and start planning your next adventure Around the World!
✅  Make sure you'll see the entire collection in Framey App, including addresses, opening hours, and contact information!