When you say Moldova, the first thing that comes to mind is wine but, besides the best places to visit in Chisinau, there are so many more outdoor attractions and dining experiences than what meets the glass. You might even think that it is like the Napa Valley of Europe, and indeed it is a country that captivates the senses and beckons adventurers, wine connoisseurs, and cultural enthusiasts alike. 
Best Places to Visit in Moldova
While it is undeniably celebrated for its world-class wines and illustrious wineries, Moldova offers a multifaceted experience that transcends the boundaries of a typical wine tour. In this comprehensive guide, we invite you to explore Moldova's hidden treasures, uncover its architectural marvels, indulge in its delectable cuisine, and embrace its warm hospitality.
The Enchantment of Moldovan Wines
The story of Moldova is intimately intertwined with its vineyards and winemaking traditions. This Eastern European nation boasts some of the most fertile soil for viticulture, where acres of lush vineyards are nurtured under the gentle embrace of the sun. As we embark on this journey through Moldova, you'll come to understand why its wines have earned international acclaim.
Best Places to Visit in Moldova
Moldova wines, characterized by their rich flavor profiles and historical significance, offer more than just a taste; they provide a glimpse into centuries of winemaking expertise. Our exploration begins here, where the aroma of grapes fills the air, and you're welcome to sample exquisite vintages in cellars that have preserved the essence of Moldovan winemaking.

Curious to learn more about Moldova's wines? Check Framey's 2 most comprehensive collections covering the Best wines in Moldova and the very Best Country Retreats and Wineries and check while on your wine tour!
Chisinau Landmarks: Architectural Wonders and Hidden Gems
The capital city of Moldova, Chisinau, is a dynamic tapestry of the old and the new. Its wide boulevards are lined with architectural treasures that speak to a bygone era, while modern cafes and bustling markets infuse a contemporary vibrancy. As we wander through the streets of Chisinau, you'll encounter landmarks such as the Nativity Cathedral, a neo-classical masterpiece, and the Arc de Triomphe, a testament to Moldova's resilience.
1. The National Art Museum Chisinau 
Located in the heart of Chisinau, the National Art Museum is a treasure trove of Moldova's artistic heritage. The museum showcases a vast collection of both Moldovan and international art, from classical to contemporary. Strolling through its hallowed halls you'll be captivated by the works of renowned artists, providing insight into Moldova's cultural tapestry.
📌 Address: 31 August 1989 St 115, Chisinau
ℹ️ Official website|📱 Instagram
2. The National History Museum – Best Places to Visit in Moldova
History enthusiasts will find their haven in the National History Museum. Here, the past comes alive through meticulously curated exhibits that trace Moldova's historical journey. From archaeological artifacts to captivating displays, this museum offers a profound understanding of Moldova's rich and diverse heritage.
📌 Address: 31 August 1989 St 121 A, Chişinău 2012
ℹ️ Official website|📱 Instagram
3. The Village Museum Chisinau
Best Places to Visit in Moldova
Step into a living tableau of Moldovan rural life at the Village Museum in Chisinau. This open-air museum transports visitors back in time, showcasing traditional architecture, folk art, and cultural practices. Wander among charming cottages and immerse yourself in the customs of Moldovan villagers.

📌 Address: Strada Aeroportului, Chisinau
ℹ️ Official website|
4. The Arch of Triumph – Best Places to Visit in Moldova
Standing as a symbol of Moldova's resilience and triumph, the Arch of Triumph graces Chisinau's skyline. This grand monument commemorates Moldova's victory in the Russo-Turkish War and is a testament to the nation's enduring spirit. Ascend its steps for panoramic views of the city.
5. The Nativity of Christ Metropolitan Cathedral Chisinau
The Nativity of Christ Metropolitan Cathedral is a striking architectural masterpiece. Its gleaming white facade and intricate detailing make it a must-visit attraction in Chisinau. A step inside the opulent interior, adorned with stunning frescoes and stained glass will take you closer to understanding the local religion and beliefs admire.
📌 Address: The Great National Assembly Square 12, Chisinau
6. Alexander Pushkin Museum – Best Places to Visit in Moldova
Moldova pays homage to the great Russian poet Alexander Pushkin with the Pushkin House Museum. This charming abode preserves the memory of Pushkin's time spent in Chisinau. It would be a pity to miss the chance to explore the rooms where the poet once lived and gain insights into his life and work. 
📌 Address: Strada Anton Pann 19, Chisinau
7. Stefan cel Mare Park Chisinau
Stephen the Great Park, named after the revered Moldovan ruler Stephen the Great, offers a serene escape in the heart of Chisinau. This park is a haven of greenery, featuring manicured lawns, walking paths, and sculptures. It's an ideal spot for a leisurely stroll or a relaxing picnic amidst nature.
📌 Address: Stefan cel Mare si Sfant Boulevard, Chisinau 2012
8. Water Tower – Best Places to Visit in Moldova
This historical landmark underwent a significant revival in the autumn of 2011, marking its return to the cityscape. Rising to a height of 27 meters, it continues to stand as a symbol of endurance and architectural grandeur.
Inside its walls, the Water Tower houses four permanent exhibition halls, each offering a glimpse into the region's rich history. And also interestingly, The Chisinau Water Tower proudly states that it is one year younger than the Eiffel Tower.
📌 Alexei Mateevici St 60A, Chisinau, Moldova
9. Palace of the Republic Chisinau

Built in a modern, Soviet architectural style, the Palace of the Republic takes you back in time. The building is not just a sample of the Societ style, but it is also today a theater and concert hall, standing up to its former name of Friendship Hall. 
📌 Maria Cebotari St 16, Chisinau 2012, Moldova
10. National Museum of Ethnography and Natural History – Best Places to Visit in Moldova
Best Places to Visit in Moldova
The National Museum of Ethnography and Natural History in Chisinau is a treasure trove of cultural and natural wonders. Housed within a historic architectural complex constructed in 1889, featuring a captivating pseudo-Moorish design, this museum stands as a testament to Moldova's rich heritage.
Within its walls, visitors encounter a wealth of knowledge and a priceless collection boasting over 135,000 exhibits of national, European, and global significance. Many of these artifacts have graced exhibitions in countries across Europe, Asia, America, and Africa.
📌 Mihail Kogalniceanu St 82, Chisinau 2009, Moldova
These architectural wonders and cultural gems in Chisinau and beyond offer a glimpse into Moldova's history, artistry, and the essence of its people. Each location has its unique charm, making your visit to Moldova an enriching and memorable experience.
BONUS: The fairytale coffee shop "Bonjour Café"
Locations:
📍Parcul Catedralei
📍Grădina Publică Ștefan cel Mare
📍Parcul Valea Morilor
📍Parcul Cuza Vodă
Outdoor Adventures and Warm Hospitality
Moldova's outdoor adventures offer a blend of stunning landscapes, cultural heritage, and the genuine warmth of the local people. Whether you're exploring ancient monasteries, hiking through unique geological formations, or discovering the natural wonders of Moldova's deltas, you'll find a deep connection to the country's traditions and its friendly inhabitants.
1. Orhei National Park and Orheiu Vechi
Best Places to Visit in Moldova
Orhei National Park and Orheiu Vechi offer a breathtaking natural and cultural landscape. This historical and archaeological complex boasts ancient cave monasteries, picturesque cliffs, and the serene Raut River. Visitors can explore cave dwellings carved into limestone cliffs and explore Moldova's spiritual heritage. The warm hospitality of the locals, who often welcome travelers into their homes for traditional meals and cultural experiences, makes this a destination where outdoor adventures and Moldovan warmth go hand in hand.
ℹ️ Official Webpage|📱 Instagram
2. Lower Prut Delta – the Protected Area – Best Places to Visit in Moldova
Best Places to Visit in Moldova
The Lower Prut Delta is a pristine natural sanctuary, home to some of the most incredible views you can discover in Moldova. It's also a haven for birdwatchers and nature enthusiasts, offering opportunities for birdwatching and boat tours. The warm hospitality of local guides adds to the experience, as they share their knowledge and passion for this ecologically significant area, so it might just be the best idea to book the experience.
ℹ️ Official Webpage|
3. Beleu Lake
If you are into bird watching, this next location is for you! The shallow Beleu Lake is one of Moldova's biggest natural lakes and a paradise for those who want to check the bird migration. When to visit? The best seasons for bird watching are spring and autumn but don't forget to bring along your binoculars. 
4. 100 Movile (Suta de Movile) – Best Places to Visit in Moldova
Suta de movile (A Hundred Mounds) is a unique geological wonder in Moldova. These ancient mounds, or "movile," are a natural curiosity that provides an excellent hiking adventure. Visitors can explore these cone-shaped formations, each with its microclimate. The locals and their stories about these enigmatic mounds make the visit truly memorable.
ℹ️ Official Webpage|
5. Tighina Fortress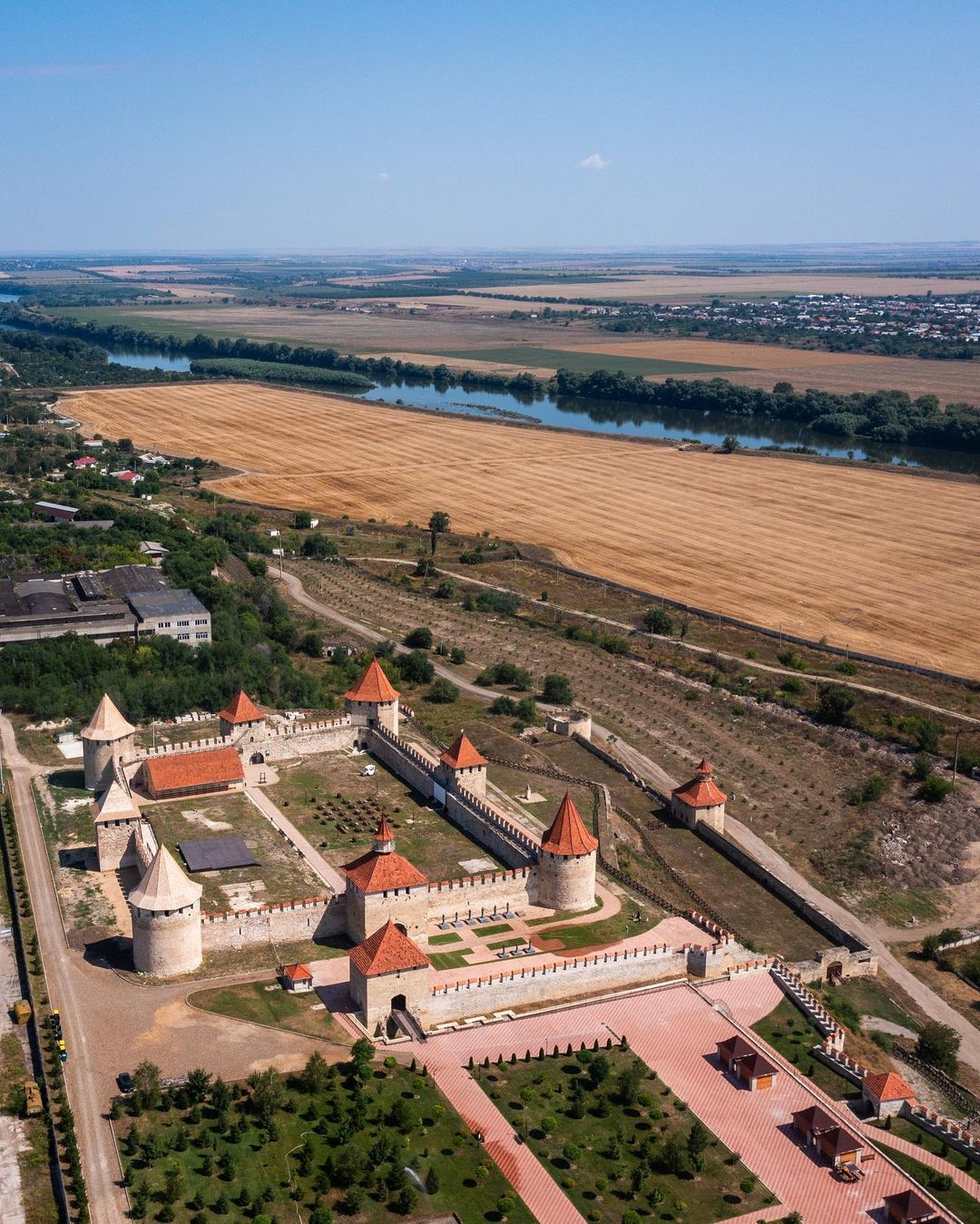 Tighina Fortress, also known as Bender Fortress, is a historic gem with a rich past. Exploring its well-preserved walls and towers is like literally stepping into a bygone era. And if you want to know more about it, it might just be a good idea to take advantage of the guides. It's a good way to learn about the fortress's history and legends and adds a personal touch to the visit, making it an outdoor adventure that blends seamlessly with Moldova's heritage.
ℹ️ Official Webpage|
6. Saharna Monastery – Best Places to Visit in Moldova
Best Places to Visit in Moldova
Saharna Monastery is nestled in a picturesque valley, surrounded by lush forests and cascading waterfalls. It's a place of serenity and spirituality. Visitors can hike through the beautiful landscape, enjoy the tranquility of the monastery, and even partake in the warm hospitality of the monks who reside there. Saharna is a testament to Moldova's natural beauty, welcoming spirit, and uplifting beliefs.
ℹ️ Official Webpage|
7. Stanca-Costesti Lake 
Located on the river Prut and the border between Romania and Moldova, the Stanca-Costesti Lake is considered to be the Northern Sea of Moldova. The huge dam feels like the perfect retreat in the hot summer days with its natural beaches, waves, and easy access, making it a perfect alternative to Moldova's seaside. And when you add the fact that it is part of a natural park with protected bird species you understand why it is one of your must-see Moldovan outdoor options.
8. Dendrarium Park – Best Places to Visit in Moldova
You can not visit Chisinau and miss out on the best collection of roses the city has! And it's not just that! The Dendrarium Park is more than a park. It's the favorite place for locals, the most romantic one, and one of the most refreshing experiences you can have in the capital of Moldova. 
9. The Natural Reserve Plaiul Fagului 
Best Places to Visit in Moldova
The Natural Reserve Plaiul Fagului or the land of the Beeches is not your ordinary former hunting reserve. It is a haven of beech, oak, ash, and hornbeam trees, along with other 900 different species of plants. But what makes it most particular is the fact that it is the landscape is wild and varies and leaves you wondering what to see next!
10. Rudi-Arionesti Landscape Reservation – Best Places to Visit in Moldova
The landscape of Rudi-Arionesti Reservation is all about steep banks and deep forests! It is a  wonder of the Park and sometimes you can just hear the wind singing through natural cracks. The locals call the wind harps and it is indeed a song that warms the heart.
11. The Royal Forest (Padurea Domneasca)
Along the river banks of Prut River, you get to discover the largest Natural and scientific Reserve Padurea Domneasca. It is the only area in Moldova where you get the chance to see where and how the European bison live. Even though the species has been classified as extinct in Moldova, has been reintroduced to the country from Poland.
12. La Castel Natural Preserve, Edinet District – Best Places to Visit in Moldova
Edinet is one of the 32 districts in Moldova. But it is one that will enchant you with its pearl of charming villages like Fetesti and Gordinesti, and reserves like the Cultural Reserve of Cuconestii Vechi and Trinca and Barzeni.  And while you are in the city of Edinet, don't miss the Vasile Alecsandri Public Garden.
The valley above the Racovat River makes one of the most spectacular sights. The legend talks about a castle that was here long ago. All that is now left is the heights of the cliffs but no castle, no beautiful young lady trapped inside, and no parents to protest against the engagement! Only incredibly beautiful rocks and fresh springs and a sight that makes your heart beat faster and your mind dreamy. 
Conclusion: Unveiling Moldova's Best Destinations and Outdoor Adventures
As our journey through Moldova comes to a close, we've unearthed a few of the treasures of this enchanting land. It's a place where natural beauty and cultural heritage intertwine seamlessly, where you can explore ancient monasteries, hike through pristine landscapes, and savor the richness of Moldovan cuisine.
But what makes Moldova truly special is its people. The Moldovan hospitality is genuine and heartwarming. Locals take pride in sharing their traditions, stories, and flavors with visitors, creating connections that go beyond borders.
So, we invite you to embark on your own adventure and discover Moldova's hidden gems, indulge in its culinary delights, and bask in the warmth of its people. Moldova awaits your exploration, and its friendly embrace will make you feel right at home. Come, be part of the Moldovan tapestry, and let its charm and warmth enchant you.
And if you enjoyed getting to discover this incredible culture, don't miss out on the chance to uncover other hidden gems. Download the Framey App today and start planning your most unforgettable adventures!