There's something about an evening on the rooftop that makes even a simple drink taste better. Maybe it's the breeze, maybe it's the view. Either way, there's no denying that rooftops are some of the most magical places to be in London.
From hidden gin palaces to buzzing cocktail bars and everything in between, these 25 rooftops will all leave you feeling on top of the world. If you love exploring new places and getting to know hidden corners of your city, this blog is for you!
1. Aviary, Finsbury Square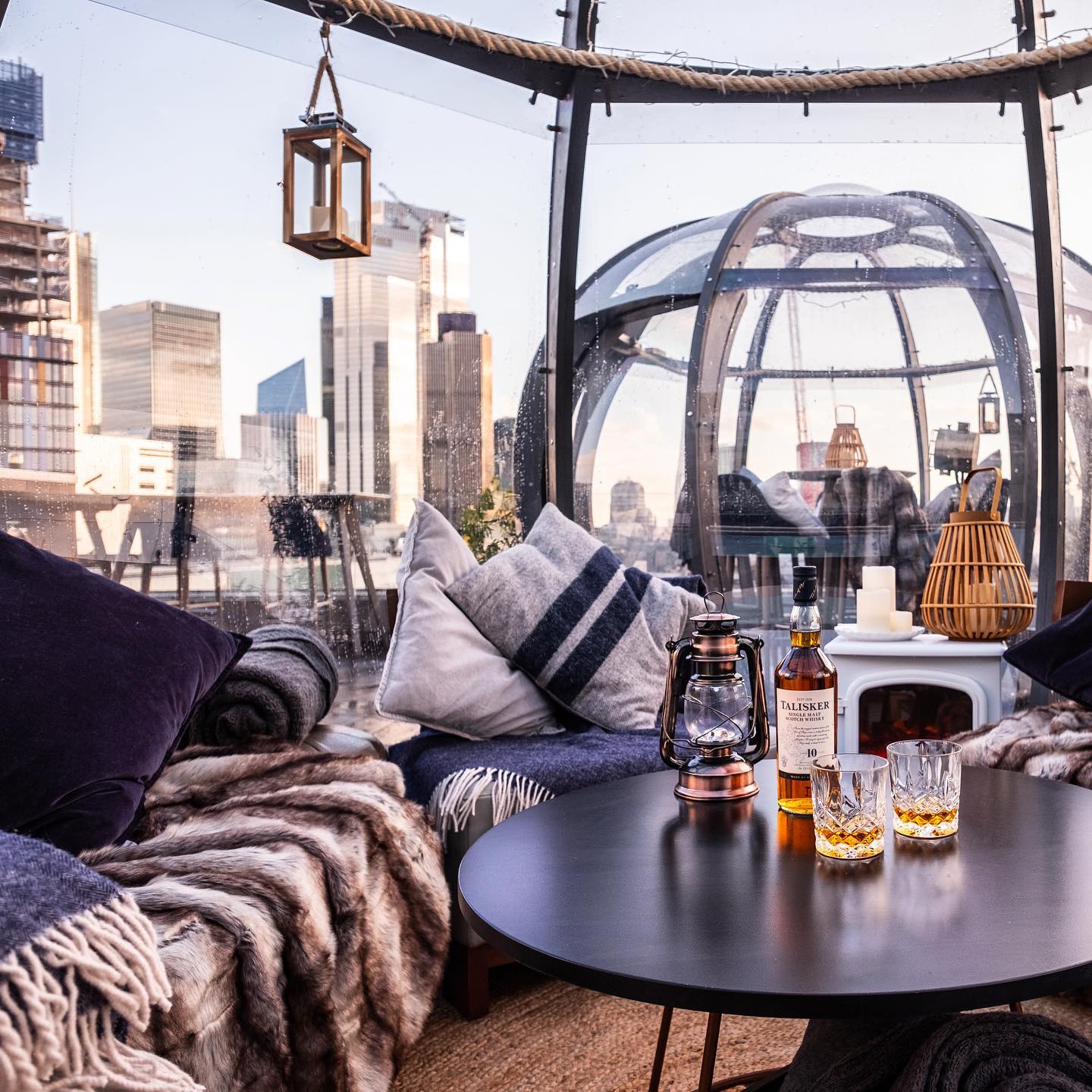 Keep an eye out for the eye-catching rainbow sign, and you'll soon be sipping gin in stylish comfort on one of the rooftop's plush sofas, enjoying the sunset over the city.
Good to know: There's a stunning outdoor terrace, too.
Drinks to try: The house specialty is the Aviary Sour – a potent mix of gin, lemon juice, egg white, and sugar syrup, served in a glass shaped like a beaker.
What people are saying: "The rooftop terrace is really beautiful and a great place to spend a few hours in the sun with friends. The cocktails are delicious, too!"
2. Alto by San Carlo, Oxford Street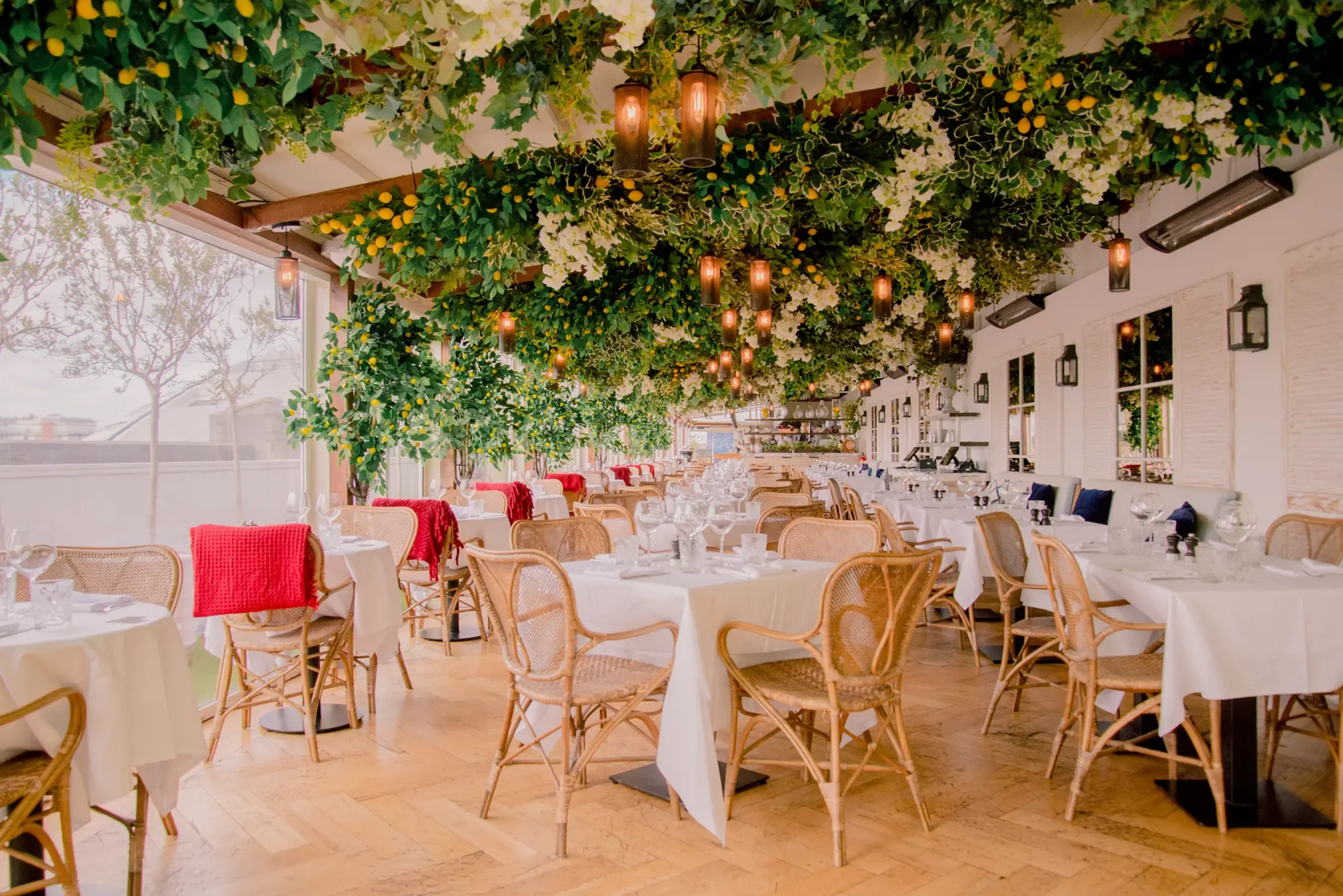 This rooftop bar at the top of Oxford Street's Selfridges is the ultimate destination for shopping bag-toting city dwellers. Grab a cocktail and make yourself at home in the rooftop sun lounge, or choose to perch on one of the stools at the bar, with a view of the busy London streets below. The food menu is extensive, but if you'd rather keep things light, there's also a small selection of lighter bites to choose from, too.
Good to know: There's a rooftop cocktail garden, too.
Drinks to try: The Skyline – a refreshing gin, cucumber, and elderflower cocktail.
What people are saying: "The rooftop cocktails are delicious and the view from the rooftop is perfect for a summer evening."
3. Radio Rooftop, Strand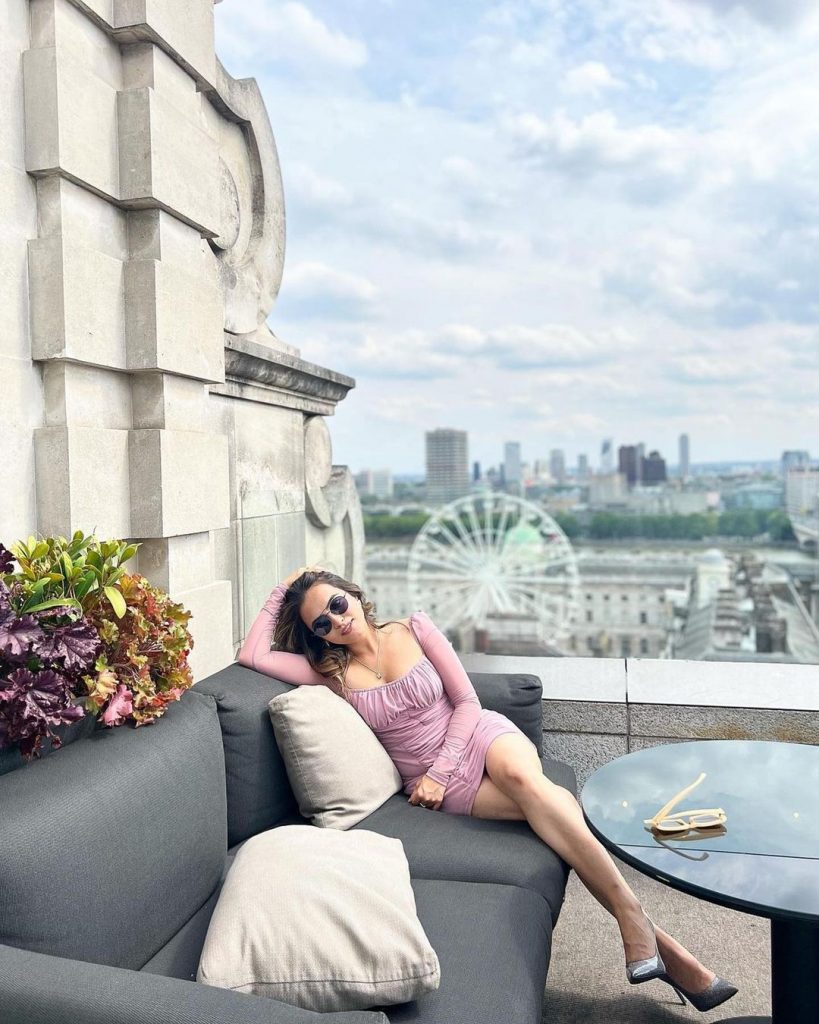 This rooftop bar has a true sense of history. Perched above the iconic and historic Strand station, Radio Rooftop is the perfect place to sip a drink while taking in the sights of one of the city's most famous and beautiful areas. Relax on the terrace with a glass of bubbles or enjoy the warm summer evenings with a classic cocktail.
Good to know: The rooftop bar is inside the station, so you'll need to go up the stairs!
Drinks to try: The classic With a Twist is a twist on a classic martini with the addition of a rose.
What people are saying: "The rooftop bar is great for a grab-a-drink-and-stand-and-chat spot. The cocktails are delicious and the view of the Strand is the cherry on top."
4. The Rooftop, Trafalgar Square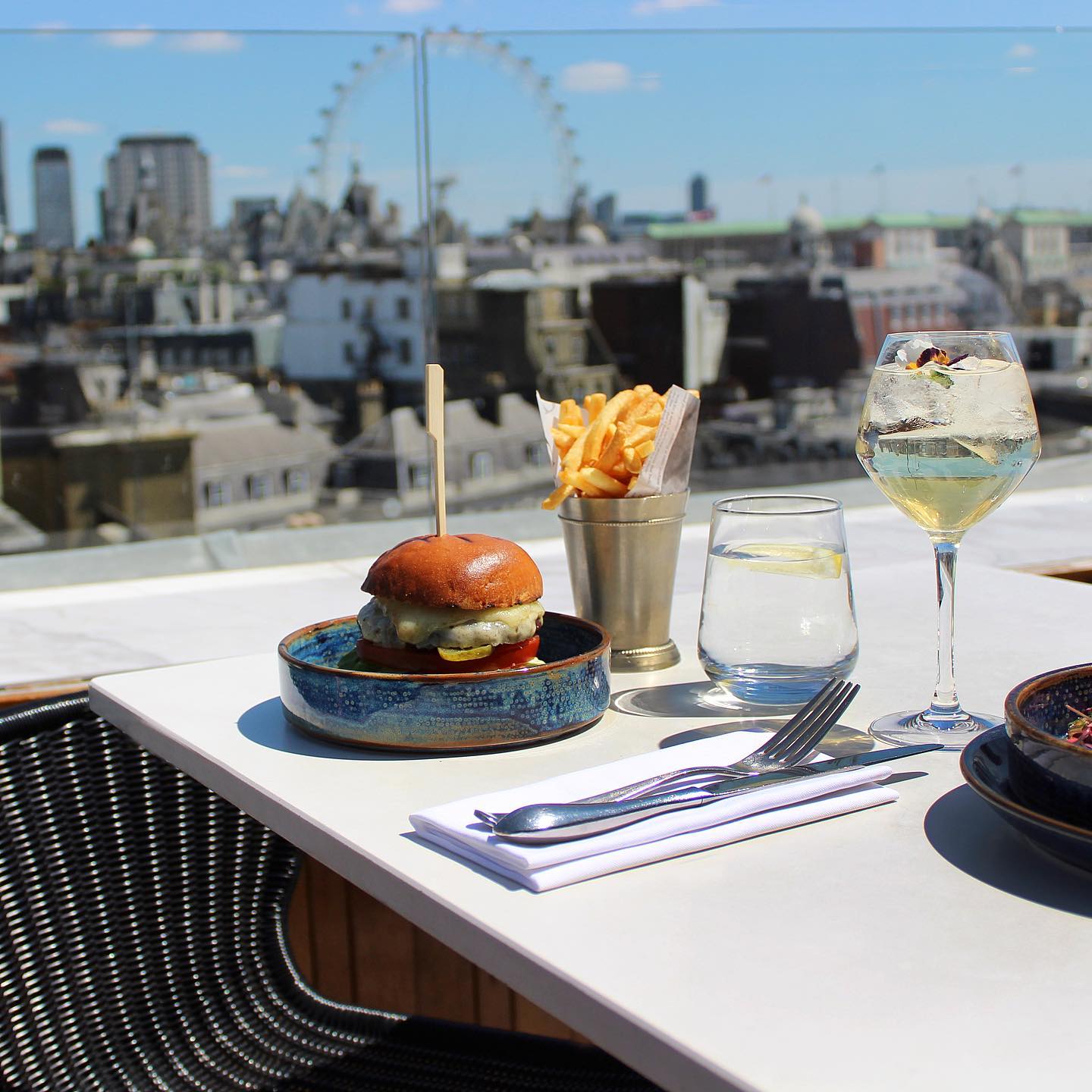 The rooftop bar at the Park Hyatt is the ultimate city escape. Enjoy sweeping views of the London skyline from the terrace, or take your drinks up to the sofa area for a more intimate moment with friends. The Rooftop is open throughout the year, rain or shine, and makes for the perfect destination on a sweltering summer's day or a frosty winter evening.
Good to know: The Rooftop Café is open for breakfast, lunch, and afternoon tea
Drinks to try: The signature cocktail, of course!
What people are saying: "The view is stunning and it is a great place to relax after a day of exploring London. There are also plenty of options if you are looking for a light meal or just want to enjoy a glass of wine."
5. The Rooftop, Leicester Square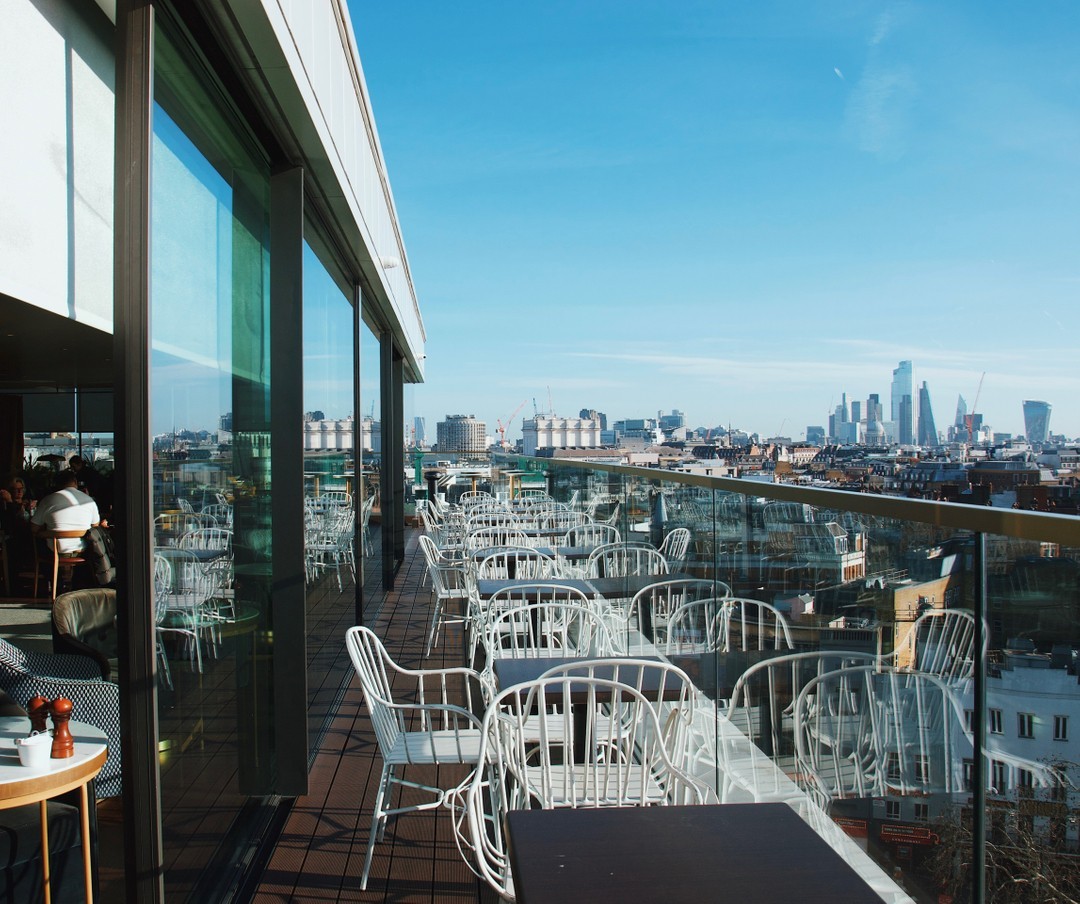 This rooftop bar is one of the most stylish places in London to sip on a cocktail, with a beautiful atmosphere. The bar serves an exciting menu of cocktails, making it a great place to catch up with friends, celebrate a special occasion, or just enjoy a night. The rooftop is open all year round, so you can enjoy drinks in the sunshine or cozy up under the stars when it gets chilly.
Good to know: There's also an indoor bar.
Drinks to try: The signature cocktail is a mix of lychee, blueberry, and lemon
What people are saying: "This bar is a great place to go on a warm evening. The cocktails are delicious and the rooftop has a great view of the London Eye."
6. Sabine Rooftop Bar, St Paul's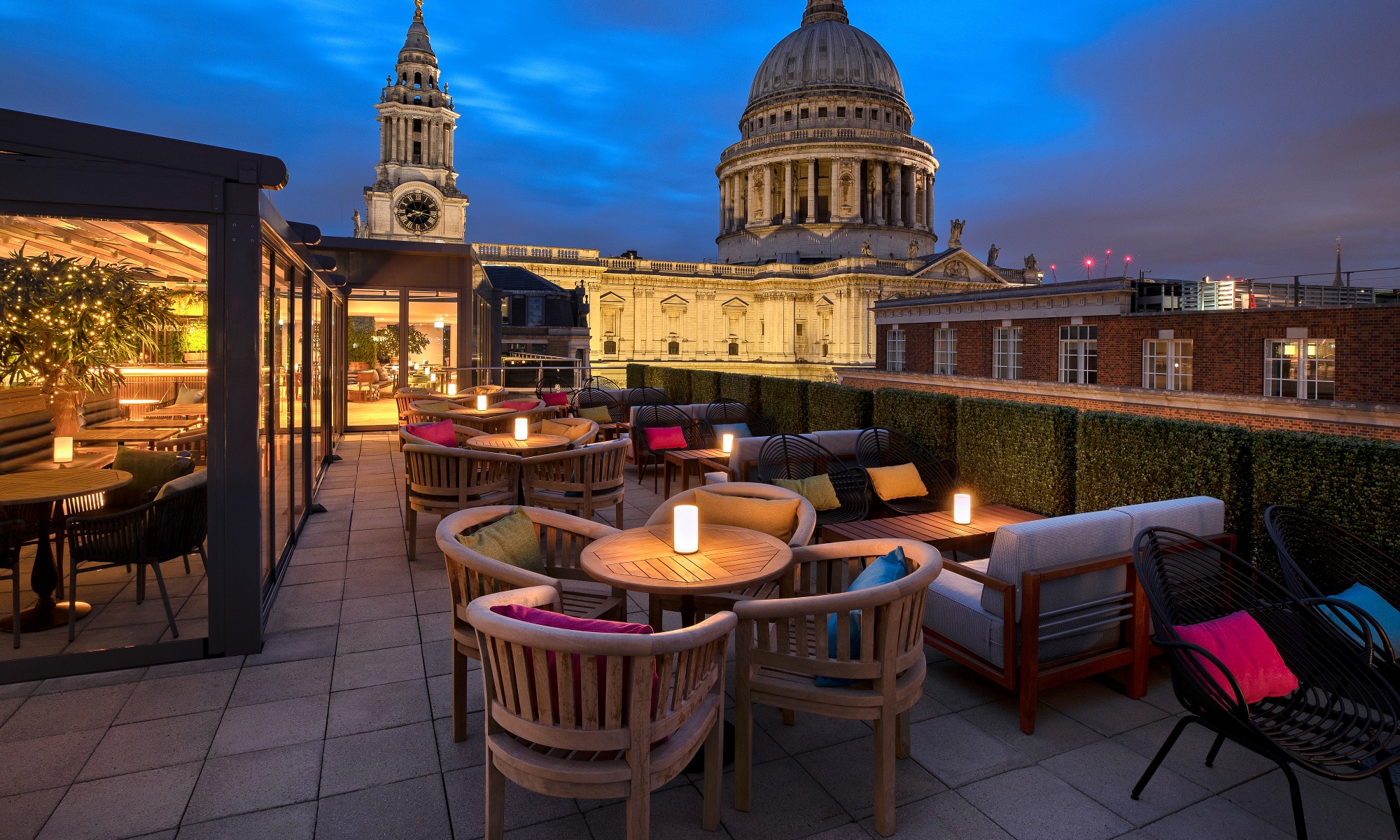 This rooftop bar is one for the Instagram-obsessed. With interiors to die for and stunning views of one of London's most iconic landmarks, Sabine is the ultimate rooftop cocktail bar. The bar serves a range of cocktails, wine, champagne, and soft drinks, so there's something for everyone. The bar is open every day of the week, so you can enjoy drinks here any time of the year.
For ideas on museums to visit head to Best museums to visit in London in 2022
7. The Rooftop, Trafalgar Square
This is the Trafalgar Square rooftop bar, but it's also the rooftop bar in London. Located at the top of the InterContinental, this buzzing rooftop bar is a perfect mix of city views and sophisticated style.
Enjoy a cocktail or two and the stunning views from the terrace, or grab a cocktail and head up to the roof terrace for a more intimate drink.
8. Nine Lounge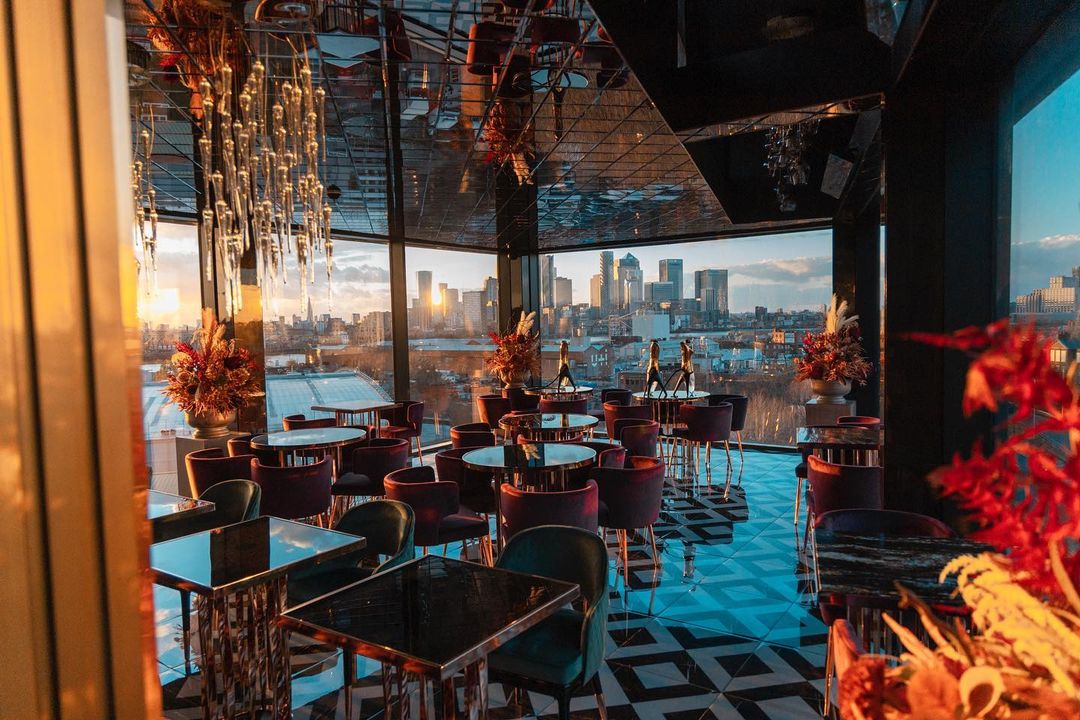 First of all, if you are a vegetarian, do not bother to come here if you are hungry. Veggie options are not very vast, being a pan-Asian restaurant. They also have a small menu of desserts, all of which are chocolate-based. The interior is lush and the view, especially at sunset is unforgettable, and if you love shisha, then there is this too. Treat yourself like a king!
TIP: Click here to learn more about London and make your trip to your advantage.
9. The Standard Rooftop, King's Cross St Pancras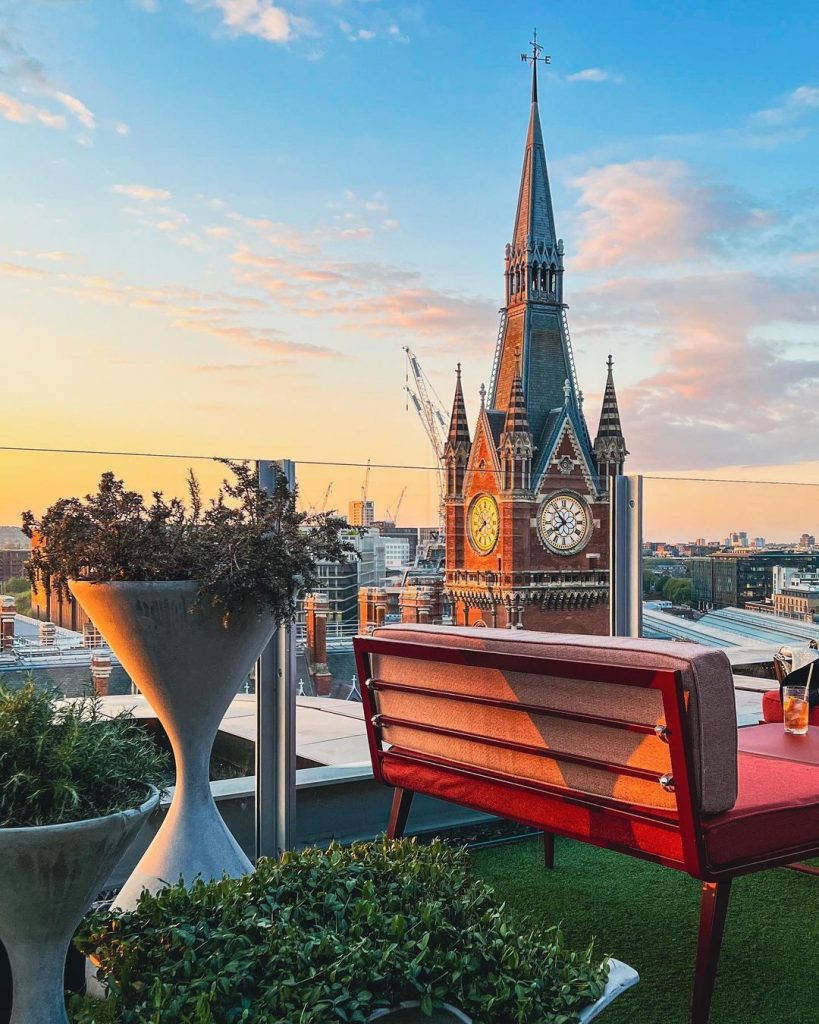 If you can get past the slightly intimidating door staff and somewhat pretentious vibe, this rooftop bar is pretty amazing. With views across the Thames to the West End, comfy couches to lounge on, and cocktails that are both delicious and Instagrammable, you really can't go wrong.
Tip: You'll need to book ahead if you want to visit.
10. Near & Far, Camden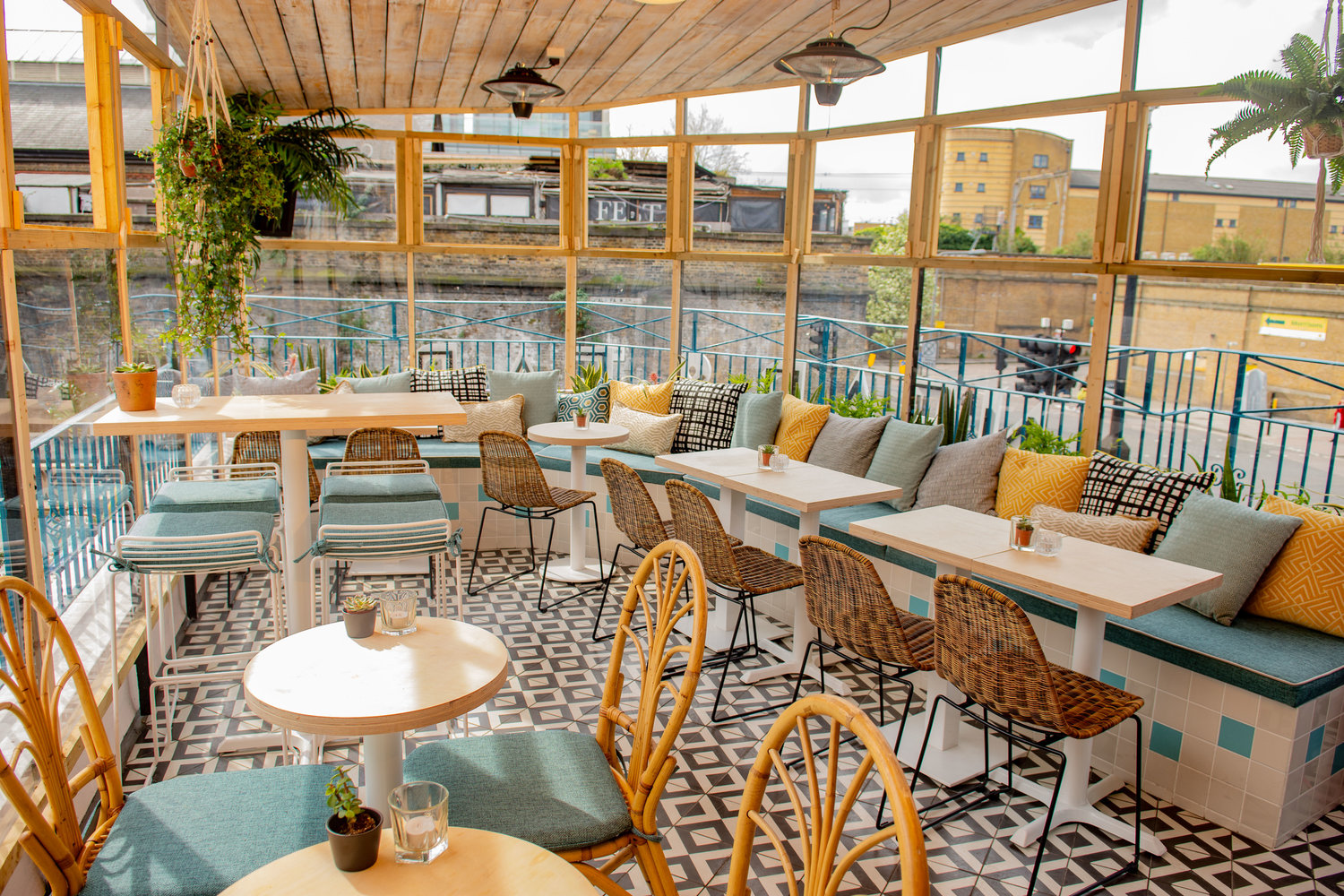 This amazing bar stands on a roof above a pizza joint. Inside, the design is based on all the quirky characters, but Near&Farm is famous for it. So, here you will find a great place for drinks after work on a warm day or why not, maybe great in the evening with friends or even alone.
Get yourself a pizza and a cocktail and sit outside in the sunshine – you really can't ask for much more.
Good to know: 
100% gluten-free menu
Cocktails
4 levels of Californian vibes
11. Roof East, Stratford
This rooftop bar and restaurant sit atop the Stratford Hilton, offering views of the Olympic Stadium and Orbit. You can eat indoors, or out on the terrace.
An Asian fusion menu, it's a great choice if you want something a little different, but with a lot of variety.
12. Netil360, Hackney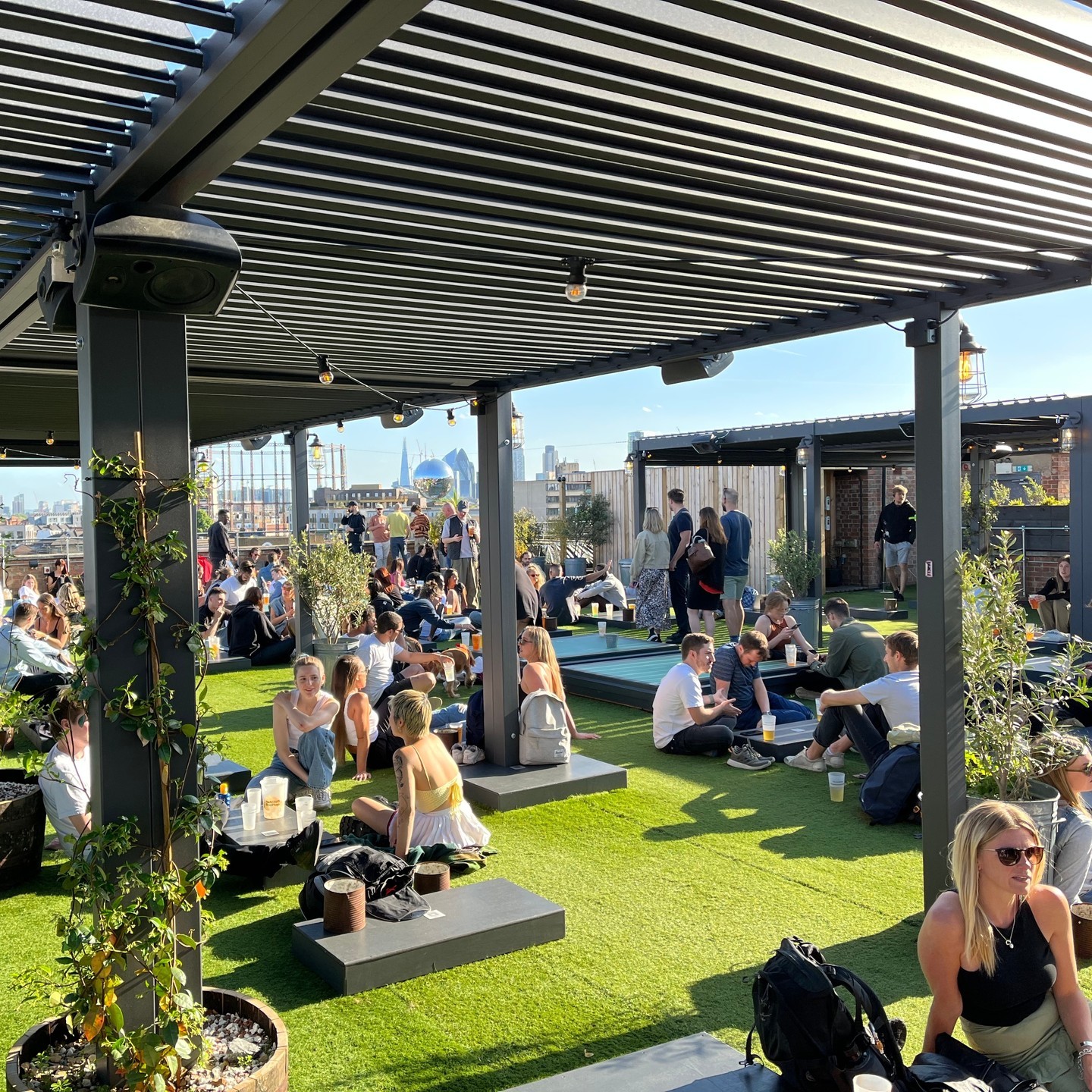 At the top of Netil, you'll find this rooftop bar, which is perfect for a sunny afternoon. With plenty of outdoor seating and a view of the Thames that is truly stunning, it's a great place to relax and forget you're in one of the most hectic cities in the world.
13. Skylight, Wapping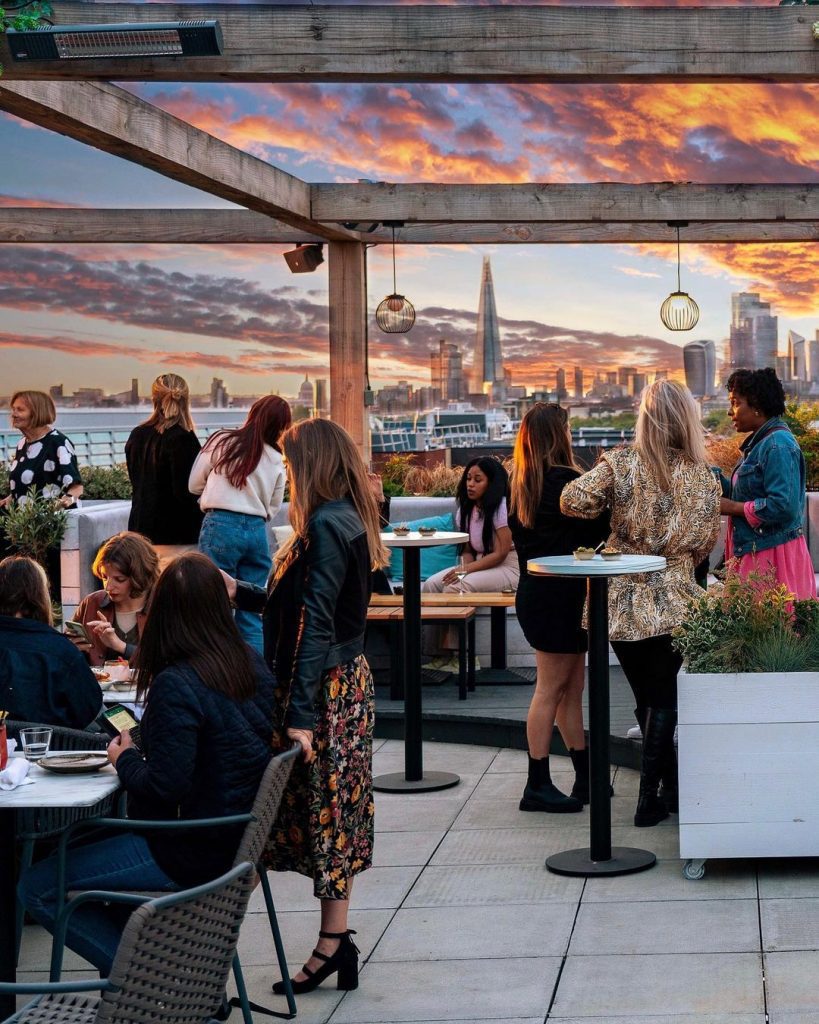 This rooftop bar and restaurant sits atop the Hilton at Wapping Wharf and has amazing views across the pier. With plenty on the menu, it's a great place to head if you're with a big group and need somewhere that can seat everyone. The drinks are pretty good, too, which is always a bonus!
14. The Boundary, Shoreditch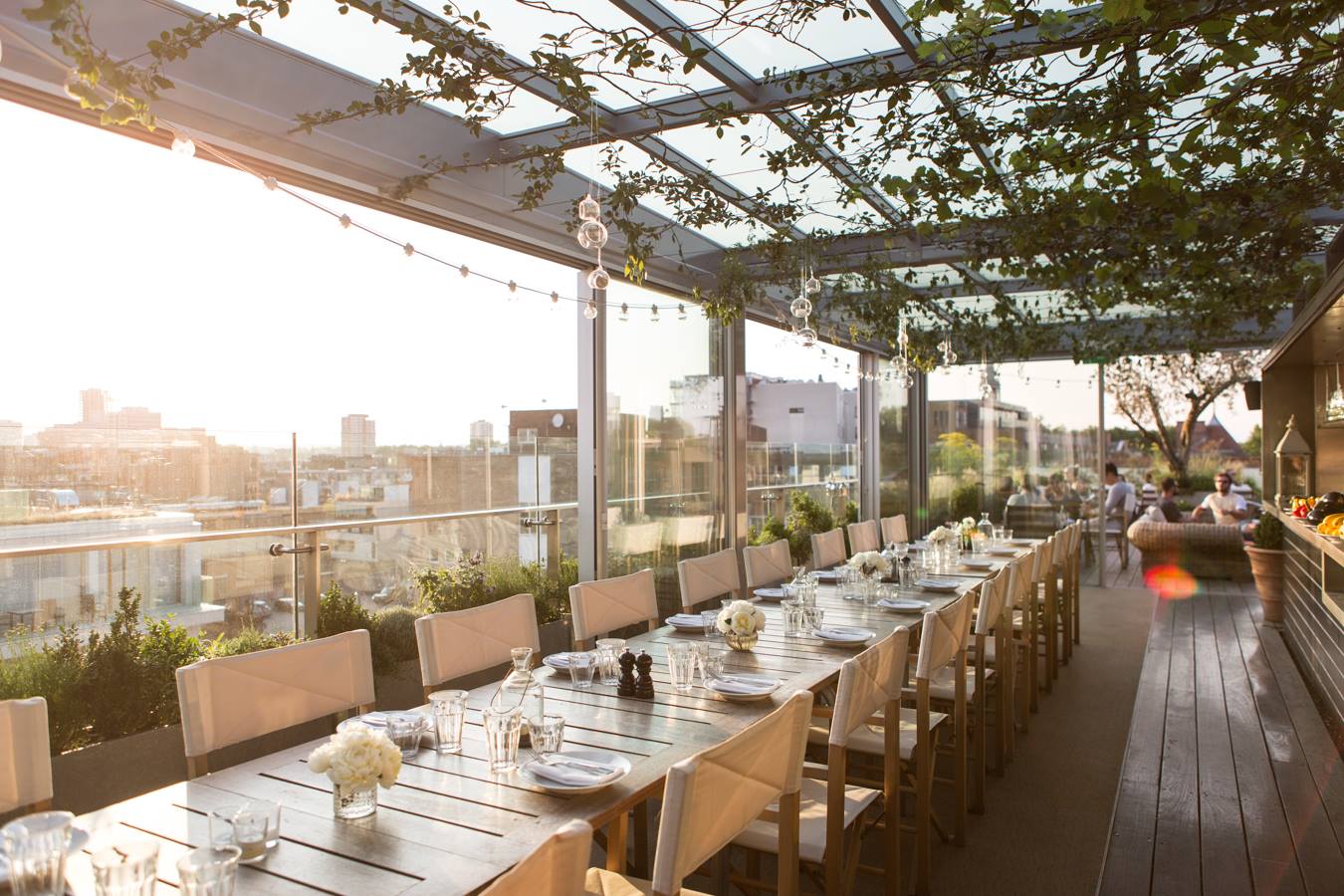 If you're a fan of a good old-fashioned British pub, this rooftop bar is right up your street. Fun, friendly, and with a great beer selection, you won't regret a visit to The Boundary Rooftop.
It's a great place to kick back and relax with friends – and the rooftop is heated so you needn't worry about the weather!
15. Jin Bo Law, Aldgate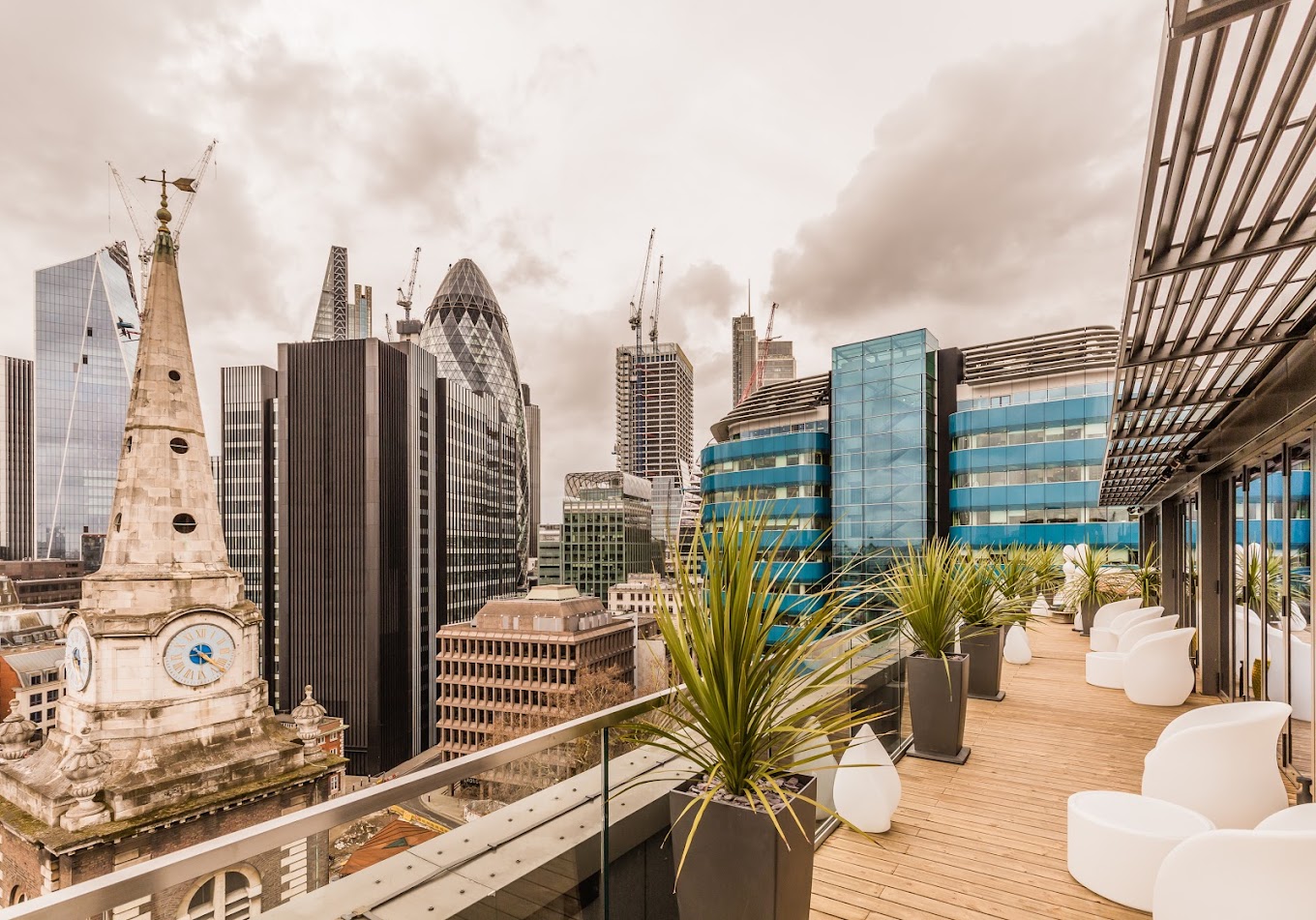 Another rooftop bar that's great for large groups, Jin Bo Law sits on top of the Aldgate Hotel. The drinks are pretty good, the atmosphere is lively, and the views are incredible, especially at sunset. It's also a good place to head for Chinese food if that's what you're in the mood for.
16. Queen of Hoxton, Shoreditch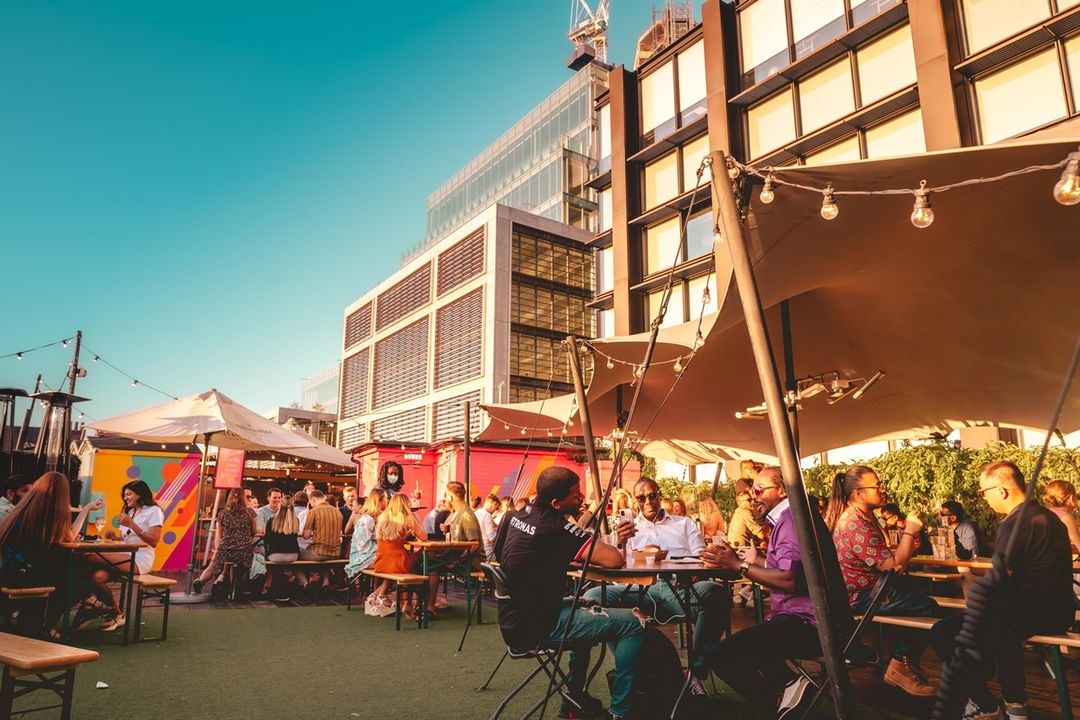 If you want somewhere a little bit fancy but still urban, with a good vibe, the rooftop bar at the Queen of Hoxton is perfect. The cocktails are delicious, the vibe is relaxed, and the view across the rooftops of Shoreditch is stunning. It's a great place to spend an evening out with friends and you won't regret visiting.
17. Lost In Brixton, Brixton
A rooftop bar that's 'lost in Brixton' might seem like an oxymoron, but this bar's unique location has made it a firm favorite with locals and tourists alike. It's situated on top of a car park, accessible by lift. The 360-degree views of London's skyline are the main draw of the Lost in Brixton rooftop bar. You'll be able to see both the Shard and the Gherkin from this bar.
The drinks list is pretty standard for rooftop bars, but if you're hungry then there's also the option of buying a few tacos.
18. Bussey Rooftop Bar, Peckham
This rooftop bar, cocktail lounge, and dining space are located on top of a car park in Peckham. It has views of the city skyline, the Thames, and the Houses of Parliament. The bar's interior is decorated in a very contemporary style using lots of natural materials such as wood and stone. Bussey Rooftop Bar has an extensive drinks list that includes a variety of cocktails, wines, beers, and whiskeys. They also serve up a range of modern British and Asian-inspired dishes.
Tip: Bussey Rooftop Bar is open seven days a week, but it does get very busy on weekends and evenings, so it's worth booking to avoid disappointment.
19. Prince of Wales, Brixton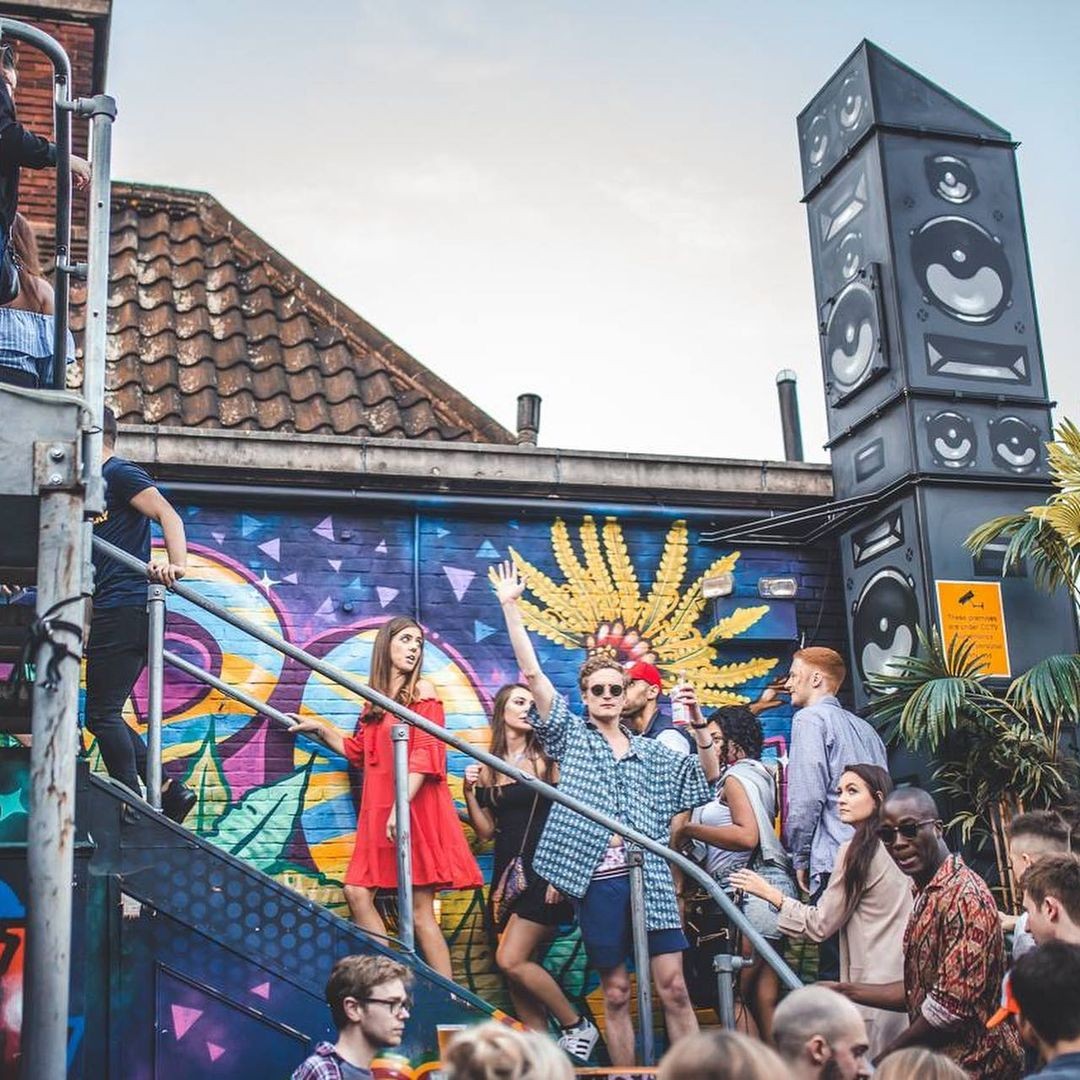 The Prince of Wales is one of Brixton's best rooftop bars. It's located on top of the Brixton Village shopping center so that you can combine your visit with a trip down to the market. The atmosphere at the Prince of Wales is very casual and welcoming, making it a great place to come with a group of friends or even with your family. There's an extensive drinks list and an equally good food menu to suit all tastes. The views from the rooftop bar are pretty good too, with you able to see the London Eye, the Shard, and the Gherkin all from one spot.
20. Bar Elba, Waterloo
Located in the middle of Waterloo station, Bar Elba is a rooftop bar that's worth checking out if you've never been. The views from the rooftop are far better than the views you'll get from the tube platforms below. The bar has a Mediterranean-themed food menu consisting of a few simple dishes like pizzas, sandwiches, and salads. There are also cocktails, some of which are served in teapots.
21. Pergola on the Wharf, Canary Wharf
This rooftop bar is located in one of London's most modern, yet still very traditional, areas. The Pergola on the Wharf is on top of the One Canada Square building and, thanks to its 360-degree views, it's one of the best rooftop bars in London for taking photos. The drinks list is pretty standard for rooftop bars, but the food menu is more distinctive, with dishes like Wagyu beef burgers and lobster mac 'n' cheese. There's also a fairly extensive wine menu with bottles available for as little as £20. The Pergola on the Wharf is open every day and does get busy, so it's best to arrive early for a table with a view.
22. Bokan, Canary Wharf
If you're looking for a rooftop bar that's a bit different from all the other London rooftop bars, then check out Bokan. It's located on the roof of a shipping container. The bar is inspired by Korean culture, architecture, and design, with a few elements of British craftsmanship thrown in for good measure.
23. The Culpeper, Aldgate
The Culpeper is a rooftop bar that manages to be both modern and traditional simultaneously. It's located in one of London's most historic districts and has views of the city skyline from its rooftop. The drinks menu is pretty standard for rooftop bars, but the food menu is more distinctive with its British-Asian fusion dishes like momo dumplings and fish and chips. It's best to go in a group, as there's no table service at the Culpeper. You order and pay for your drinks at the bar and then take them upstairs to the rooftop where plenty of tables and chairs exist.
Further readings:
24. Savage Garden, City
This swanky rooftop bar, located 12 stories above the DoubleTree Hilton in Tower Hill, serves eye-catching views of Tower Bridge. Savage Garden serves up 'ferociously Portuguese' wines, delectable bites, and prices to match, but surely all this is worth it!
25. One New Change at Madisons, St Pauls
The terrace bar at One New Change makes our rooftop bars roundup due to its excellent location adjacent to Madison's, the adjoining restaurant and bar. We don't need to tell you how great this location is. Look at the photo background for the hint!
And there you have it: the 25 rooftops in London you can't miss out on. Whether with friends or on a romantic date, these rooftops are perfect for a night out.
Whether you want somewhere edgy or classy, somewhere with great drinks or great views, this list has something for everyone. What's more, most of them are within walking distance of each other, meaning you can easily visit several in one night!
With London being such a big city, it can be tricky to know where to go and what to do, especially if you're visiting for the first time. But Framey App will help you to navigate the city and find the best rooftops in London!
Download here and enjoy the whole world with Framey (available on Google Play and App Store)!