10 Days in Vietnam
Vietnam is an incredible country, and a visit to this Southeast Asian nation is an experience you won't soon forget. With its diverse culture, stunning landscapes, vibrant cities, and delicious cuisine, there is something for everyone to enjoy in Vietnam. If you're planning a 10-day trip to Vietnam, you want to make sure you make the most of your time and get the best out of your experience. 
In this blog post, we'll share our perfect 10-day itinerary for Vietnam, including all the highlights, must-see attractions, and delicious eateries.
✅ Make sure you'll see the entire collection in Framey App, including addresses, opening hours, and contact information!
Day 1: Arrive in Hanoi – 10 Days in Vietnam
Welcome to Vietnam! Begin your 10-day journey through the country by arriving in Hanoi, the bustling capital city of Vietnam. This lively metropolis has a unique mix of old and new architecture, as well as a wide variety of cultural and historic sites to explore. After checking into your hotel, take some time to wander around the Old Quarter and get acquainted with the local atmosphere. There are countless cafes and restaurants for you to sample some of the delicious Vietnamese cuisines. Enjoy a tasty bowl of pho or some banh mi for a delicious introduction to the food scene. In the evening, be sure to check out some of the city's famous night markets, where you can find a variety of traditional arts and crafts, as well as street food snacks.
Day 2: Hanoi City Tour
On your second day in Vietnam, you'll be taking a city tour of the capital, Hanoi. The city is a great blend of the traditional and the modern, which makes it an interesting place to explore. Here, you'll find stunning temples, ancient pagodas, and unique local street markets. You'll also find plenty of bustling restaurants and cafes, great for sampling the delicious local cuisine.
The tour will take you through some of Hanoi's most iconic landmarks. Start your day off by exploring the historic Hoan Kiem Lake. This lake has been at the heart of Hanoi since the city's foundation and is home to some of the most beautiful temples in the city. After that, make your way to the Old Quarter, where you can see the traditional narrow alleyways and shops.
Continue to the Temple of Literature, which was built in 1070 and is dedicated to Confucius. This is one of the oldest educational institutions in Vietnam and you'll learn about the history of education in Vietnam here. Next is the iconic One Pillar Pagoda, an important symbol of Hanoi. You'll also be able to explore Ngoc Son Temple which sits atop Hoan Kiem Lake. 
End your day with a visit to Ho Chi Minh's Mausoleum, where you can pay respects to this great leader of Vietnam. Lastly, visit the stunning Ho Chi Minh Complex, which includes his former residence and the presidential palace. This is a great opportunity to learn more about this amazing leader and his legacy. 
After a full day of exploring Hanoi, you'll have a much better understanding of the history and culture of this fascinating city.
Day 3: Halong Bay Cruise – 10 Days in Vietnam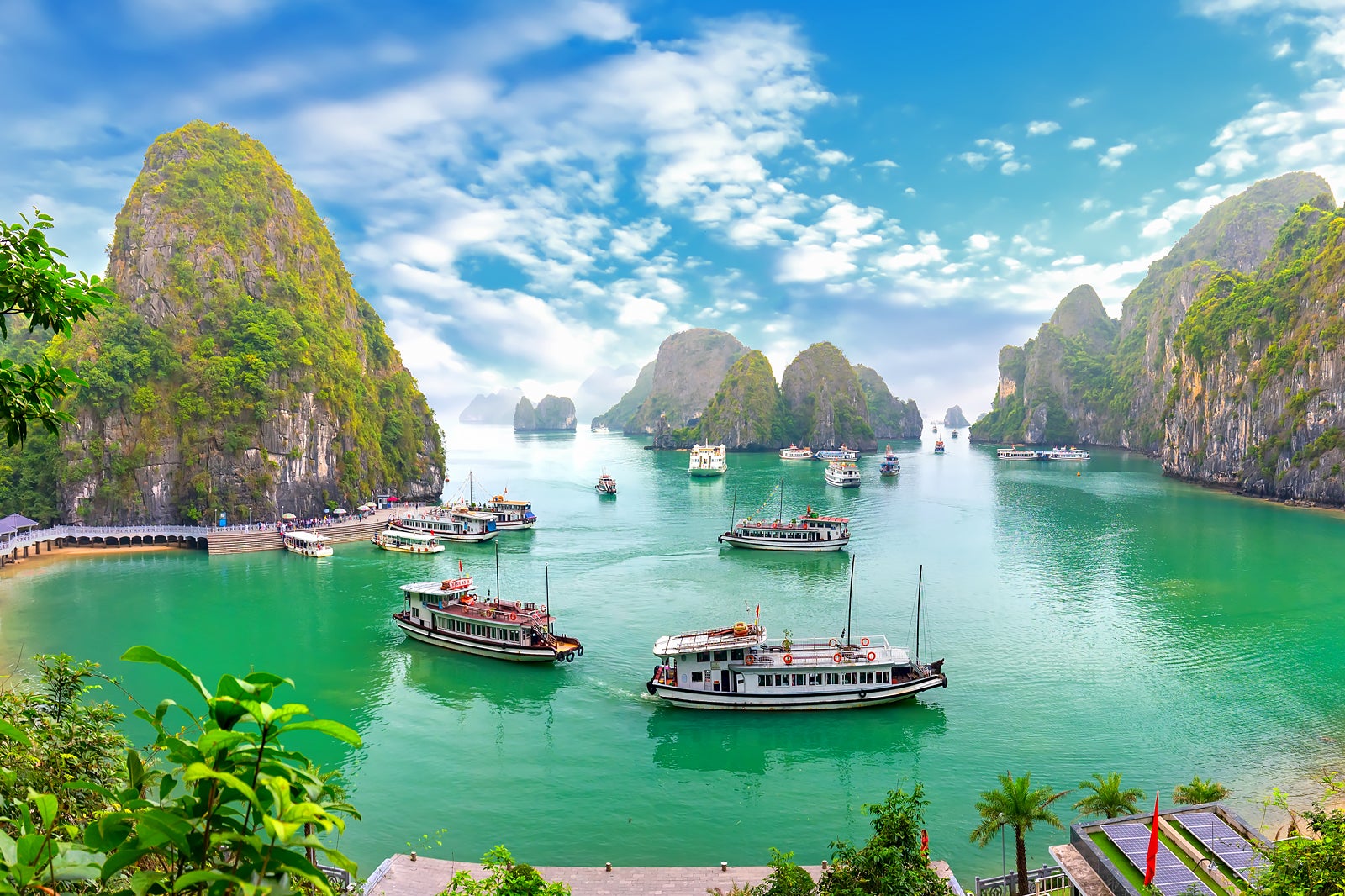 On day 3 of your 10 days in Vietnam, it's time to go on an unforgettable cruise through the majestic Halong Bay. 
As you depart from the port of Hanoi and make your way to the bay, you'll be captivated by the stunning beauty of the limestone karsts that tower above the emerald-green waters. It's easy to see why this UNESCO World Heritage Site is one of the most popular tourist destinations in Vietnam. 
Once you board your boat, you'll be able to experience some of Halong Bay's most famous sights, including Dau Go Cave and Thien Cung Cave. As you sail through the bay, keep your eyes peeled for a variety of wildlife, including monkeys and water birds. 
After a day full of exploring and sightseeing, you'll be able to relax and enjoy dinner and drinks onboard as the sun sets over the bay. If you're feeling extra adventurous, take a kayak out for a spin and explore some of the hidden coves and caves. 
At the end of the day, you'll return to port with a newfound appreciation for the beauty and serenity of Halong Bay.
Day 4: Hanoi – Hoi An
Start the fourth day of your 10-day trip to Vietnam in Hanoi and make your way to the coastal city of Hoi An. This journey will take about 16-17 hours by bus or train, and 1 hour and 20 minutes if you choose to fly. 
If you got there by air, or simply had the time to enjoy your sleep, be sure to spend some time exploring this charming old town. Take a stroll through the winding streets and visit the ancient buildings, many of which have been beautifully restored. You'll find plenty of restaurants, shops, art galleries, and other interesting sites to explore. The night markets in Hoi An are a great way to soak up the atmosphere and enjoy some local cuisine.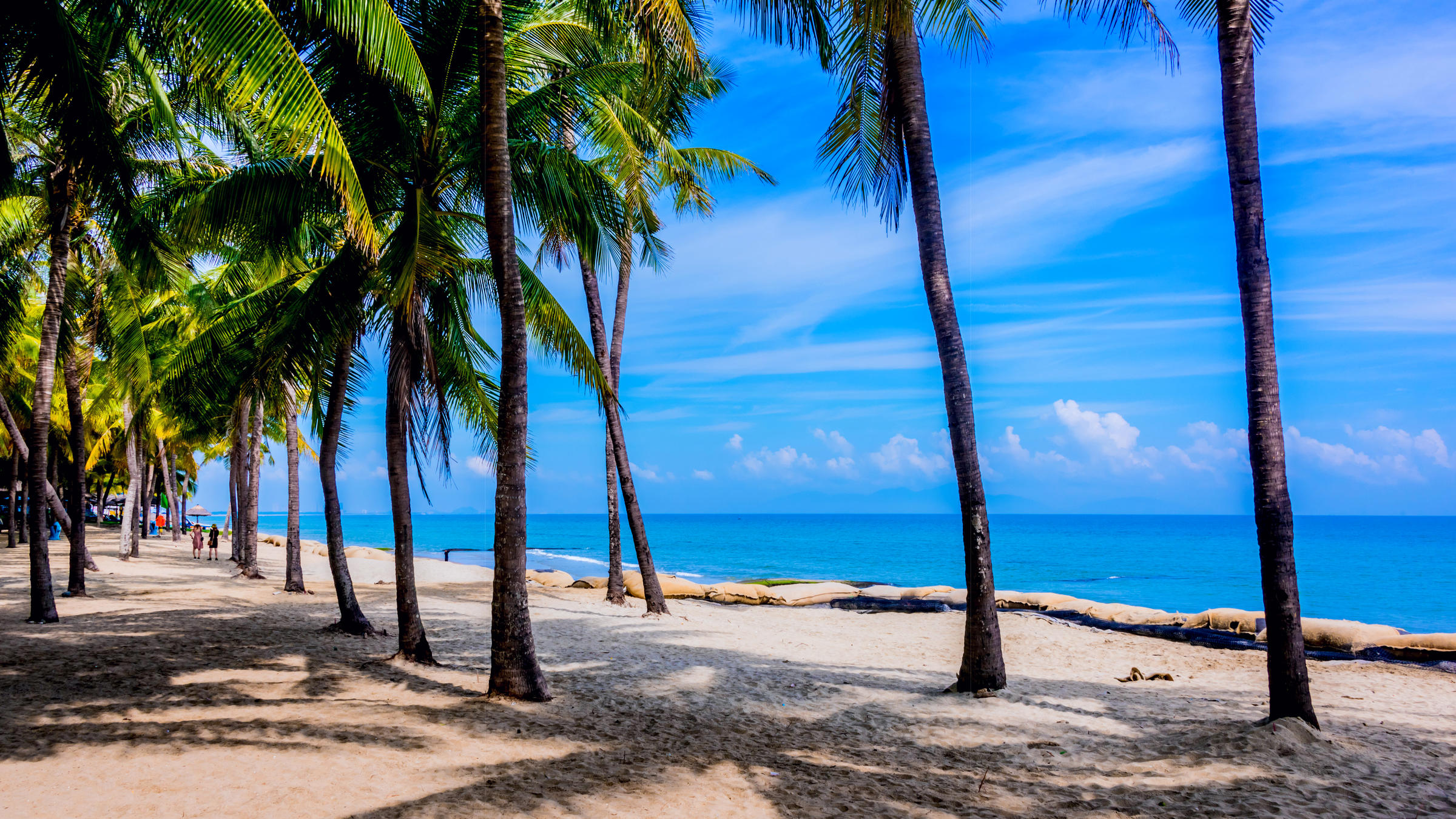 Hoi An is also home to many stunning beaches and a great spot for water sports like swimming, snorkeling, kayaking, and windsurfing. Head to Cua Dai Beach for a picturesque sunset before spending the night in Hoi An.
Day 5: Second day in
Hoi An – Fun activities to relax – 10 Days in Vietnam
On the fifth day of your trip to Vietnam, you'll be able to enjoy the charming city of Hoi An. This is an excellent opportunity to explore the area and soak up some of its unique atmospheres. So, if you feel up to do something after your journey, here are some things to do during your second day in Hoi An:
Visit the Ancient Town: Take a stroll through the narrow streets of the Ancient Town. Explore the famous Chinese-style houses and old merchant's homes, as well as the iconic Japanese Bridge and Hoi An Market.

Relax on An Bang Beach: If you're looking for some relaxation, head down to An Bang Beach and spend some time soaking up the sun and splashing in the waves.

Explore the countryside: Go for a bike ride around the countryside surrounding Hoi An and take in the stunning views of the rice paddies and lush green fields. Stop by some local villages for a glimpse of traditional Vietnamese life.

Shop for souvenirs: With its countless shops selling handmade items, Hoi An is a great place to pick up some souvenirs to remember your trip by. From stylish clothing to wooden carvings, you'll be sure to find something unique to bring home.
No matter how you choose to spend your day, you can be sure it will be an unforgettable experience!
Day 6: My Son Sanctuary – Tra Que Vegetable Village
The sixth day of your Vietnamese adventure begins with a visit to the ancient My Son Sanctuary, a UNESCO World Heritage site located just south of Hoi An. This Hindu-influenced archaeological complex consists of an impressive collection of ruins dating back to the 4th century. Spend some time exploring the ruins, which are considered to be some of the most important remnants of the Cham civilization. After visiting My Son, make your way to Tra Que Vegetable Village. Here, you will get to experience the daily life of Vietnamese farmers and learn about traditional methods of growing vegetables. Take a stroll around the village and enjoy lunch at one of the local eateries. 
Afterward, it's time to head back to Hoi An for some much-needed rest.
Day 7: Hoi An – Hue – 10 Days in Vietnam
Today, you will embark on a beautiful journey from Hoi An to Hue. This trip will take you through the picturesque Hai Van Pass, also known as the "Cloud Pass." As you drive along the winding road with stunning views of the mountain and ocean, you will also be able to spot some ancient citadels along the way. 
Once you arrive in Hue, your first stop should be Thien Mu Pagoda, a striking seven-story structure perched atop a hill overlooking the Perfume River. You will then visit the Imperial Citadel, which served as the home of the former Vietnamese emperors. The tour will continue to Khai Dinh's tomb, which was built during the 20th century with a unique blend of Eastern and Western influences. 
End your day at Dong Ba Market, where you can explore the bustling stalls and find some of Hue's best local delicacies. Don't forget to pick up some souvenirs for your loved ones back home!
Day 8: Hue City Tour
Welcome to the historic and beautiful city of Hue! Today you'll explore one of Vietnam's most beloved cities, rich in cultural and architectural gems.
The first stop is the Imperial City, the former home of Vietnam's Nguyen Dynasty emperors. Here you'll see grand monuments, gardens, and palaces, as well as tombs of past emperors. You can also visit the Citadel, a large walled fortress that served as the main royal palace for the emperors.
Next, head to Thien Mu Pagoda, one of Hue's most iconic temples. This temple was built in 1601 and is an impressive seven-story structure. It's surrounded by beautiful gardens and offers stunning views of the Perfume River below.
From there, hop on a boat and cruise along the Perfume River, taking in views of the lush scenery. Stop at Hon Chen Temple, a charming pagoda on the riverbank, before finishing up your tour with a visit to the bustling Dong Ba Market. Here you'll find a variety of stalls selling anything from fresh seafood to traditional crafts.
After exploring the city of Hue, it's time to move on to your next destination!
Day 9: Hue – Saigon (Ho Chi Minh) – 10 Days in Vietnam
On the ninth day of your 10-day journey through Vietnam, you will depart from Hue and head towards Saigon. This journey is an iconic part of any trip to Vietnam and one that you won't want to miss.
The drive between Hue and Saigon is at least 7-10 hours if you travel  by car or bus, 20-24 hours by train and 1 hour and 30 minutes by air, and will take you through some breathtaking scenery. On your way to Saigon, be sure to stop in Da Nang for some delicious local cuisine.
Once you arrive in Saigon, you will be greeted with a bustling city filled with vibrant energy and historic sights. Be sure to explore the city's famous French colonial architecture and its many outdoor markets, restaurants, and cafes. Saigon is also home to numerous museums, galleries, and theatres where you can learn more about the city's history and culture.
No trip to Saigon would be complete without a visit to the Cu Chi Tunnels. These underground tunnels were used as a hideout during the Vietnam War and provided a unique look at the harsh realities of war.
Your final night in Saigon can be spent exploring the city's bustling nightlife. There are plenty of bars, clubs, and restaurants where you can spend your last night in Vietnam. Enjoy the lively atmosphere before heading off on your next adventure.
Day 10: Saigon (Ho Chi Minh) City Tour 
For your last day in Vietnam, take a tour of the city of Saigon and discover its exciting attractions. Start your day by visiting the Reunification Palace, a former presidential palace built in the 1960s that served as a symbol of Vietnam's reunification after the end of the Vietnam War. Then head over to the Saigon Notre-Dame Basilica, a stunning example of French colonial architecture, for a peaceful moment of reflection.
Afterward, take a walk through the bustling Ben Thanh Market where you can purchase souvenirs and sample delicious local delicacies. Once you've had your fill of shopping, move on to the War Remnants Museum, which houses artifacts, photographs, and exhibitions dedicated to the effects of the Vietnam War. End your day with a visit to the picturesque Giac Lam Pagoda, one of the oldest pagodas in Ho Chi Minh City. This ancient temple is full of traditional Buddhist art and sculptures. 
Conclusion
Your 10-day Vietnam itinerary has now ended, and it is time to reflect on the amazing experiences you have enjoyed. From the hustle and bustle of Hanoi to the breathtaking beauty of Halong Bay, and from the quaint charm of Hoi An to the incredible sights of Hue and Saigon, you have seen it all. Vietnam is a wonderful country, with a rich culture and fascinating history. 
We hope this itinerary has given you the perfect introduction to this wonderful destination.
As you move on to your next adventure, don't forget to share your experiences with your friends. Framey App is the perfect way to do this-allowing you to easily share beautiful photos while giving them insight into the wonders of your travels. 
What better way to inspire your friends to plan their unforgettable trip to Vietnam?
✅ Make sure you'll see the entire collection in Framey App, including addresses, opening hours, and contact information!